Retaining the Rivalry's Prize

In the regular-season finale, Virginia Tech beat in-state rival Virginia for the ninth straight time, downing the Cavaliers 17-14 on Cody Journell's last-second field goal and keeping the Commonwealth Cup in Blacksburg. By the time these two teams meet next season, Tech will have held possession of the Cup for more than 3,000 days.
The Student-Athlete Experience
"The student-athletes at Virginia Tech would like to thank all the donors and supporters for their support. We wouldn't be a successful program without you all. God bless!"
Derrick Hopkins (Junior | Football)
"I feel so blessed to be a part of the Hokie Nation. I'm so grateful for all the support I have received!"
Zack McCray (Sophomore | Football)
The Donor File: F.W and Brenda Abernathy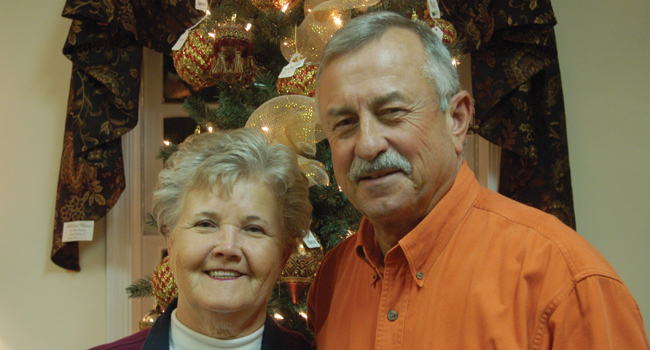 Hokie Club Level: Hokie Century Champion
Hokie Club member since: 1981
Currently resides: McKenney, VA
What year did you graduate? 1978
Family: Son-Trey Abernathy and Tori; daughter-Mary Beth Stout and Allen; grandchildren-Brandon and Caitlin Stout. ALL HOKIES!
Q: Being a member of the Hokie Club and supporting Virginia Tech athletics is important to me and my family because …
A: Virginia Tech is a big part of our lives, and we want that same feeling to continue throughout future generations. We also feel a great sense of pride in watching the student-athletes mature and become successful adults, knowing that we played a small part in their achievements.
Q: Do you have a specific moment when you realized that you were a fan of Virginia Tech athletics and knew without a doubt that you were a Hokie?
A: Without a doubt, being in the end zone and watching the ball come straight at us when Chris Kinzer made "The Kick" to win the Peach Bowl in Atlanta!
Q: Do you have any game day or tailgating traditions or superstitions? If so, what are they?
A: F.W.'s Hokie underwear – we don't leave home without it!
Q: You are involved with the Tri-Cities Hokie Club as the president. How and why did you get involved and has it been a good experience for you?
A: My father was an alumni and Hokie Club member in the 40's so you could say I was born to be a Hokie! Liebert Hawkins was a great mentor for us and made us realize what a great feeling it is to give back to something that gives back to you in so many ways. We would encourage anyone to become involved and join the fun and fellowship that goes with it.
Q: Virginia Tech has had a lot of successful teams and wins over the years. Do you have a favorite team/season or game that stands out the most?
A: That's a tough question – probably the 1999 football team that went on to the 2000 national championship game and the night in Lane Stadium when they accomplished it (a perfect regular season)!
Q: My all-time favorite Virginia Tech football player is and my favorite memory of him is .
A: Danny Coale because he always gave that extra effort and was such a team player. We will remember for a long time that great catch in the end zone to "win" the game against Michigan.
Q: My all-time favorite Virginia Tech student-athlete from another sport is ________ and my favorite memory of him or her is ________.
A: Angela Tincher (softball team of 2008), who won the NCAA National Player of the Year Award.
Hokie Club Year-End Items of Importance
The fall semester has been filled with many exciting moments for our Virginia Tech student-athletes. The football team is preparing for their 20th consecutive appearance in postseason play, which is the third-longest in the nation, and I hope to see you cheering on the Hokies at the bowl. Congratulations are also in order to coach Ben Thomas, ACC champion Will Mulherin and the entire men's cross country team on capturing the school's first ACC championship in men's cross country.
I hope that you are enjoying the exclusive content in each issue of Inside Hokie Sports magazine, as I am. The magazine highlights many of our outstanding student-athletes, student life on campus as well as the community involvement by our players and teams. We are surrounded by terrific young people who will be the leaders of tomorrow, and it is a pleasure to come to work each day to work on their behalf. I know that they appreciate your support from their comments as shown on the Student-Athlete Experience two-page photograph that leads off each issue.
As we think about year end, I ask that you please be sure to make your gift to the Hokie Club by the Dec. 31 benefits deadline. Each year, we are challenged to meet the rising cost of tuition, room, board and textbooks, and your annual fund gift helps us meet this goal. Also, I'd ask you to please consider increasing your gift this year. Your investment in Virginia Tech is paying real dividends, and you are making a difference in the lives of hundreds of young Hokies!
Cassell Coliseum Reseating
Information for the reseating of Cassell Coliseum for men's and women's basketball for the 2013 season is now available. A brochure was recently sent to all Hokie Club members and basketball season ticket holders and can now be found online by visiting either hokiesports.com or hokieclub.com. If you have questions about the reseating process or if you would like to receive a brochure, please contact the Hokie Club office at (540) 231-6618.
2013 Football Season Parking
As has always been the policy, parking for football season ticket holders is assigned yearly and parking locations are based on Hokie Club members point priority rank as of the most recent benefits deadline. For the upcoming 2013 football season, the opportunity to select parking will be based on your rank as of the benefits deadline of Dec. 31, 2012. When it is time to select parking, we will once again utilize the Ballena Technology software used last year.
Hokie Club Reception at Russell Athletic Bowl
The Hokies will be making their 20th consecutive bowl appearance at the Russell Athletic Bowl, being played Friday, Dec. 28, 2012 at Florida Citrus Bowl Stadium. The Hokie Club will once again host its annual Hokie Club Reception at the team hotel. We hope you will support the Hokies by attending the bowl game, and we hope to see you at our event at the Orlando Hilton. For more details on the Hokie Club Reception, please visit hokieclub.com.
Holiday Schedule
Because of the university's holiday schedule and the bowl game schedule, please make every effort to speak with the Hokie Club staff or visit with our office ahead of time. The Hokie Club office will be closed per the university's holiday schedule on Dec. 24, 25, 26, 31, and Jan. 1.
Benefits Deadline and Year End Giving
The benefits deadline for all Hokie Club benefits for 2013 is Dec. 31, 2012. If you are planning to make a gift to the Hokie Club as we approach the deadline, please make sure to take note of the following reminders and please contact the Hokie Club office at (540) 231-6618 in advance if you have any questions:
1. Checks must be postmarked by Dec. 31, 2012
2. Online contributions must be made at hokieclub.com before midnight, Dec. 31, 2012.
3. For your security, please do not send credit card payments via the mail.
Gift Acknowledgements and Year End Gift Accounting
Once the Hokie Club receives a gift, donors receive a gift acknowledgement letter. This letter is usually mailed within one to two weeks after the donation is made and serves as your VTAF tax receipt. As we move toward the end of the year, the number of gifts received and processed by the Hokie club typically increase. Because of the added volume of gifts, the amount of time it takes to mail out gift acknowledgement letters may increase. Our gift accounting staff is working diligently to process and acknowledge all gifts as quickly as possible, and we thank you for your patience.
Updated Point Priority Sheets to be mailed in late January 2013
Once all 2012 gifts are received, processed and acknowledged, the Hokie Club will send out updated point priority sheets to each member. We anticipate that these updated point priority sheets will be mailed to the entire Hokie Club membership in late January, 2013.