Tech coach James Johnson signed four prospects to letters-of-intent as part of his first recruiting class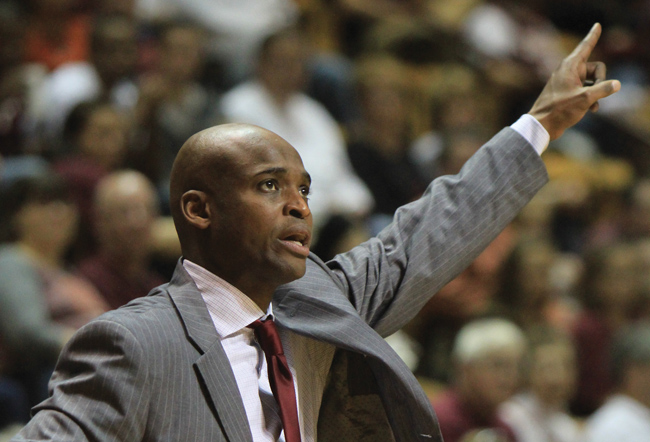 The lack of depth on the Virginia Tech men's basketball team certainly hurts related to on-court performance. But it does help in one respect.
Armed with a handful of scholarships, new coach James Johnson and his staff went out and signed four prospects to letters-of-intent during the early signing period, as the coaches went about stockpiling the roster for future years.
All four players fit in at different positions, giving the class some flexibility. The class includes shooting guard Donte Clark out of Charlotte, N.C., (via Hargrave), small forward Ben Emelogu from Grand Prairie, Texas, post player Maurice Kirby from Chandler, Ariz., and post player Trevor Thompson from Delafield, Wis.
"We addressed a lot of different areas with this recruiting class," Johnson said. "I'm extremely excited about these young men and know that they will be able to help us right away."
The 6-foot-4, 180-pound Clark chose the Hokies over offers from Miami, Providence, Oklahoma State, Missouri, Tennessee and Memphis. He averaged 15.6 points, 4.2 assists, 3.6 rebounds and 1.2 steals per game as a junior at Kennedy Charter Public School in Charlotte. He played his sophomore season at Queens Grant High School in Charlotte and averaged 15 points per game.
Rivals.com rated Clark a four-star recruit, while ESPN Scout.com ranked him as a three-star recruit. ESPN Scout.com ranked him as the No. 89 prospect nationally. Rivals.com rated him as the No. 27 shooting guard in the country (101st overall nationally).
"Donte is a good combo guard," Johnson said. "We look to play him at both the point and the off-guard spots. He's a long, athletic guard who can score the basketball. He can make plays for himself and for others. With our style of basketball – a running, fast-paced style of basketball – he has a chance to be a really good player. He also has a chance to be a very good defender."
The 6-5, 190-pound Emelogu chose the Hokies over TCU, SMU, Marquette, Texas Tech and Washington. He averaged 8.4 points and 2.3 assists last season and helped South Grand Prairie High to a 23-9 record.
ESPN Scout.com rated Emelogu a three-star recruit and ranked him the No. 56 shooting guard prospect in the nation. TexasHoops.com ranked him the No. 19 overall recruit in the state of Texas.
"Ben is a strong, athletic guard who can really score the basketball in multiple ways," Johnson said. "He's an excellent shooter with deep range. He has a strong body and can score in a lot of different ways. He's one of the better guards in the state of Texas. He is an underrated recruit, and we expect him to come in and help us early in his career."
The 6-9, 235-pound Kirby picked Tech after de-committing from Arizona State following his sophomore season at Poston Butte High School. He ended up choosing the Hokies over Northern Arizona, Loyola of Chicago and Brown University. He averaged 7.5 points, 7.8 rebounds and 1.2 blocks per game at Basha High School as a junior after averaging 12.9 points and 12.6 rebounds per game his sophomore season at Poston Butte. Kirby's mother played basketball at Northern Arizona.
Both Rivals.com and Scout.com rated Kirby as a two-star recruit.
"With Maurice Kirby being 6-9 and 235 pounds, he gives us a big, strong post player with very good skills," Johnson said. "He can step away to 15 feet and hit the jump shot, and he can definitely play with his back to the basket. He gives us a college-ready body right now."
The 6-11, 210-pound Thompson – who was Johnson's first recruit – actually played basketball in the state of Virginia as a freshman, suiting up for South Lakes High School in Reston. He transferred to Ben Davis High School in Indianapolis to live with his father, former Major League Baseball outfielder Ryan Thompson, and is now spending a postgraduate season at St. John's Northwestern Military Academy in Delafield, Wis.
Thompson chose Tech over offers from Kansas State, Arizona State, Mississippi State, Auburn and Southern Cal. He averaged 10 points, eight rebounds and 3.5 blocks per game at Ben Davis High last season. All three major recruiting sites rated Thompson as a three-star recruit.
"Trevor is a long, athletic post player with a lot of skill," Johnson said. "He can score inside with both hands. He can score facing up, and he runs the floor extremely well. He is another player who fits our type of style. He is a talented, young man who can help us right away."
Johnson still has one scholarship left to hand out, but has indicated that he plans on holding on to that scholarship until the spring signing period in April. He figures to sign a point guard to round out the class.
"When you add Adam Smith (the transfer from UNC Wilmington) to this group, you have three guards who can score the ball in different ways" Johnson said. "Then, you add the two guys up front. The way the league is, with the new teams (Syracuse, Pittsburgh, Notre Dame and Louisville) coming in, physicality, size and athleticism were very important to us with this class."