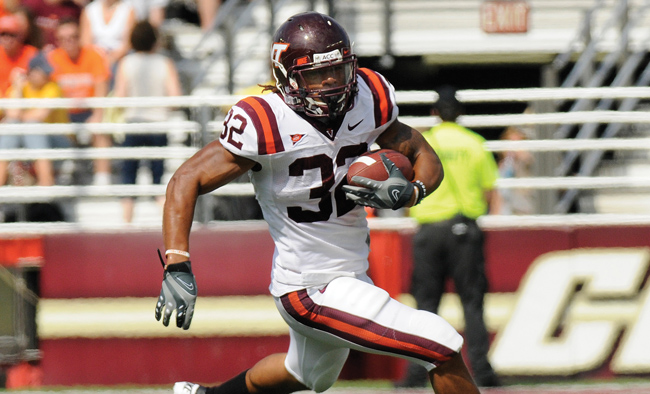 Darren Evans played football at Virginia Tech for three seasons, even setting a single-game rushing record his redshirt freshman season, and he later graduated with a degree in sociology.
So he never expected to be perfecting his acting skills – while working in the NFL, no less.
Like most players, Evans spent his youth emulating some of his favorite running backs, and for much of this 2012 season, he has done exactly that, taking the lead role as the opposing team's best running back while participating on the Tennessee Titans' practice squad.
In week 12, he finally got on the center stage, serving in a supporting role while on the active roster in the Titans' game against Jacksonville. Unfortunately, a quadriceps injury resulted in him being put on injured reserve shortly after the game, thus ending his season.
Still, being signed to the active roster served as payment of sorts for all his hard work up to that point in the season.
"They [Tennessee's coaches and personnel officials] told me that they were signing me to the practice squad and that I would have an opportunity to come up later in the year," Evans said via a phone interview before the Jacksonville game. "Here it is. They lived up to their word, and that's all you can ask."
Evans wound up in Nashville, Tenn., after his hometown Indianapolis Colts cut him on Aug. 31. The Colts had signed the Indianapolis native not long after Evans went undrafted in the 2011 NFL Draft, and while Evans spent most of his season on Indianapolis' practice squad, he was activated for six games and played in two. At the time, it marked a dream come true.
"That was just a proud feeling," he said. "Just to suit up and run out of the tunnel … that was a cool experience. I've just been so blessed. Just to experience what I did at Tech and then to get to do that in the NFL with the Colts, I've just been blessed. I'm so thankful and proud."
But Evans got caught up in the chaff after the Colts' owner, Jim Irsay, dismissed head coach Jim Caldwell last January following a 2-14 season. Irsay hired a new coach (Chuck Pagano) and a new general manager (Ryan Grison), and those two came in with their own plans on rebuilding the franchise. Unfortunately, those plans didn't include Evans.
"In the grand scheme of things, I didn't fit in," Evans said. "They had reassured me that I would have an opportunity. I thought I had worked hard and ran hard and played my tail off (this past preseason). I had played on special teams for them. But then, they cut me."
Evans, though, has become used to overcoming adversity. He became a father at a young age and took various odd jobs, such as working at P.K.'s and delivering office supplies, to support his girlfriend and his son. Then, before his redshirt sophomore season at Tech, he suffered a torn ACL in an August practice, and he missed the entire season.
He bounced back, but was forced to share the load with Ryan Williams the following season. He then left school early, citing a need to support his family, but he went undrafted, a stinging blow to a young man who had dreamed of playing in the NFL.
He thought the Colts had provided him with a lifeline to live his dream. But that lifeline lasted a year before the Colts cut it, forcing him to look at his future.
Evans wasn't sure where life would take him after the Colts cut him. But he only remained in limbo for about four hours. Four hours after being cut, he received a call from his agent, who had fielded an offer from Tennessee. The Titans wanted additional depth at the running back spot, and Evans packed his bags and headed to Nashville. A practice squad player makes at least $5,700 a week, but for Evans, the move was about taking advantage of an opportunity.
Fortunately, he didn't have to search for a place to stay. A friend of his family's – someone who used to attend his church – had moved to Nashville, and he invited Evans to stay with him until Evans got settled.
"I was pretty hurt after I got cut," Evans said. "Indianapolis was home for me, and I thought we had something good going. It's weird being away from there and from my family. But I'm blessed to have this opportunity."
The toughest part of the transition has been being away from his wife, the former Taneesha Lange, and their two children. As most Tech fans know, Evans and Lange had a son, James, before Evans came to Blacksburg. They married before he finished at Tech, and last year, had a daughter, who turned 1 in August.
Evans left his family in Indianapolis because both his and Taneesha's families live there and could help with the raising of the children. Plus, he wants to return to Indianapolis when he finishes playing football.
"My son was already in school, and being on the practice squad, nothing is guaranteed," Evans said. "So I'd rather keep them there and keep them settled. I miss them during the week, but Nashville is only about four hours from Indianapolis, so it's not a bad drive. I get to see them quite a bit on weekends."
Evans has enjoyed his time in Tennessee, but the tempo in practices is much faster than he expected. The Titans, under new coach Mike Munchak, want their practice squad players to learn the playbook right from the start to be ready for whatever may happen down the road.
Evans likes and respects Munchak, and he speaks glowingly of his teammates, especially the running backs. Guys like Chris Johnson and Darius Reynaud have been more than willing to help Evans make the transition from Indianapolis to Tennessee.
"All of those guys have been here," Evans said. "I follow those guys around a lot. They've been helpful with the playbook.
"It's also good that Xavier Adibi (a former Tech linebacker from 2003-2007) is here. He was leaving as I was coming in to Tech, but I used to watch him play all the time. It's good to be on the same team with him, just someone you share a common interest with."
Evans still manages to keep in touch with a lot of his teammates. His closest friends include Kenny Lewis, Jr., Josh Oglesby, Kwamaine Battle and Jarrett Boykin.
Of course, he also keeps in touch with Williams, who now plays for the Arizona Cardinals. Evans and Williams used to team up in the Tech backfield and create nightmares for opponents. Williams, though, has been plagued with injuries the past two seasons, injuring his knee last year and his shoulder this year. Both injuries cost him that particular season.
"There's not much that I can tell him," Evans said. "Ryan's such a positive and confident guy. He's determined to bounce back. He understands that this game can be brutal, but he's still upbeat. It's really cool to see how hungry and how positive he is."
As for Evans, he harbors no ill effects from the torn ACL he suffered during his sophomore season at Tech, or any other nagging injuries that he suffered in that same time span. He fully expects to recover from his quadriceps injury, one generally not considered too serious in NFL circles.
"I take good care of my body," he said. "Obviously, I haven't been out there week to week like a lot of NFL players, but I still take good care of myself. We've got a good lifting program here, and we do a lot of stretching. Those are the keys to keeping your body right."
Then he added with a laugh, "I haven't been eating right, though. That's another reason I miss my wife. She made sure I ate right. I avoid the bad takeout places, but it's still not the same."
Like most practice squad players, Evans doesn't know what the future holds. In many ways, that doesn't scare him. He's already overcome so much, and no matter what happens, he can draw confidence in knowing that he's persevered many times before.
"I just try to do what I can do," Evans said. "That's all I can control. You just have to work hard and take care of the little things and prepare yourself the best you can. Then when the opportunity comes, you have to be ready to produce. That's all I worry about – controlling what I can control. The rest will take care of itself."