Nick Becton is quiet off the field, but the left tackle's play this
season has spoken quite loudly to Tech's opponents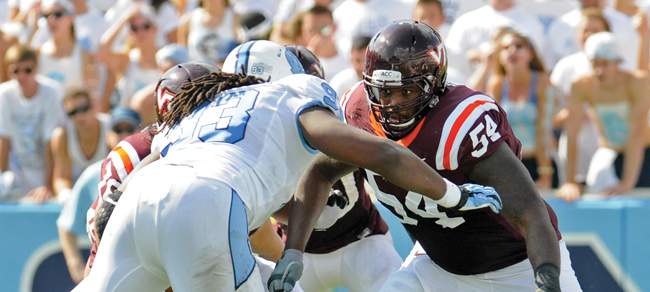 Occasionally, one who works in the journalism world comes across an athlete who is as quiet as Lane Stadium in July. Therein said journalist must put sleuthing skills to work, looking under every piece of artificial turf and every cranny in said athlete's football locker, so to speak, to find something of interest.
Detective work on a recent mission revealed that a certain Virginia Tech football player loves shoes, owns a pit bull puppy named Charlie, cruises around in a sweet-looking Dodge Challenger and, at least on one occasion, went to Taco Bell and purchased a 12-pack – of tacos, that is.
"You saw that on my Instagram," Nick Becton said, with a smile.
Guilty as charged.
When on the prowl for information, one often finds it handy to turn to social media, the places to find thoughts and opinions on a range of subjects like class work, politics, girlfriends, boyfriends and trivial details such as a subject's cereal of choice. Twitter, widely the preferred social media platform for many, reveals this information 140 characters at a time, and Instagram provides the pictures.
Of course, this recent mission wasn't exactly some nosy, perverted quest into Becton's life. This was simply a foray for information on a young man who shuns attention the way he shuns holding penalties from his left tackle spot. Indeed, he is a man of few words.
At 6-foot-6 and with 320 pounds of brawn, Becton rates as the biggest man on Tech's 2012 roster. But put together a list of the quietest dudes on that same roster, and Becton would rank in the top five in that category, too, maybe at the top.
"I'm probably in the running for it," he admitted. "Sometimes, I can open up a little bit, but most of the time, I'm quiet."
Despite his soft-spoken nature, Becton's play has been anything but quiet this season for the Hokies. In fact, his play has been quite the scream, a success story among an inconsistent, and at times, maligned group this season.
Technically, this season marks Becton's inaugural one as a starter. But without question, it marks the culmination in Becton's transformation from a basketball player into a college football player into a college football starter to a possible NFL Draft pick.
Actually, considering the NFL possibility, maybe his transformation isn't quite complete – after all, the big, quiet fella possesses a bountiful supply of potential. But at the least, he's come a loonnnnnnnng way from the young lad whose love affair with basketball superseded everything else while growing up in his hometown of Wilmington, N.C.
Becton lived a rather utopian lifestyle in Wilmington, a direct contrast to many of his teammates who grew up in broken homes or served as victims of certain socioeconomic situations. Becton's family lived 10 minutes from the beach. His father works at a bank, while his mother serves as the assistant superintendent for instruction and academic accountability for New Hanover County Schools. Her status in the local education hierarchy forced Becton to watch his step at school and in the community.
"I had to watch myself," he said. "She was my principal for a few years, and I had to be on my best behavior because I couldn't keep anything from her. Education is at the top of the list for her, so I always had to do well in school. I didn't want to disappoint my mom."
As an only child, Becton got the goodies. No, his parents don't have a bank account that rivals Donald Trump, but they took good care of their boy. They bought him multiple pairs of sneakers over the years, and Becton has since added to the collection – to the point that he now keeps more than 100 pairs, with roughly 30 back at home and the rest sitting in a big rack at his Blacksburg apartment.
They also bought him a Hummer for his first ride. They wanted him to be in a safe vehicle, thus the purchase of the SUV. Becton recently traded it in for his Dodge Challenger, with a sound system that rivals a MegaDeth concert and the horsepower of an Airbus.
"That's my baby. I love it," he said. "I got rid of the Hummer with the big rims and got a muscle car. I love the way it looks. I love all the horsepower I've got with it. I've always wanted a faster car. My parents wanted me to have a safe car for my first car, so I got the Hummer. But I got a little more input this time around.
"I loved the Hummer. I still wish I had it. But I'd rather have 470 horsepower."
Despite getting such special attention, Becton hasn't been afraid to put in some old-fashioned work. As a kid, most of that work was put in on Wilmington's local basketball courts, where round ball became his passion.
He became a good player, participating in both the travel and AAU circuits. By the age of 15, he started dunking. Not long after, he started shattering backboards.
He ripped off two in pickup games at New Hanover High. Then another one came down in the first game of his senior season, forcing the cancellation of the game. His power practically became a budgetary issue, as new backboards aren't cheap.
"I broke two at my high school and then one the first game of my senior year," he said. "I was just trying to dunk. I guess I weigh a little too much to be dunking."
Becton rolled on the court with some prominent names. George Bryan, the current NC State tight end, played with him at New Hanover. Also, Ty Walker, a 7-1 center who plays at Wake Forest, was on his team, along with David Pellom, who now plays at George Washington. The group won the 2007 North Carolina state basketball championship (Class 4A).
That Becton wound up playing football seems an unsolvable mystery, a fate that simply goes unexplained. He had never played before, and yet somehow, at the first football practice of his junior year, he found himself out there awkwardly stumbling around, participating in a sport he knew little about – and to this point, a sport in which he had shown little interest.
"It was something else to do," he said. "One of my friends wanted me to play, and the coaches always asked me to play. I figured I'd try it. I didn't really know what I was doing, but I was out there, being big.
"I didn't know what to do. They (the coaches) told me what to do. I wanted to play tight end, but George Bryan, who is at NC State, was our tight end, so I played on the offensive line. I wanted to play defense, but they had me on offense most of the time. I played both ways, but more on offense than on defense.
"It worked out pretty well."
Standing 6-6 and with flagpoles for arms, Becton became a very good offensive lineman. After his junior season, he decided to give up AAU basketball. In the summer before his senior season, he started attracting looks from college football recruiters. They arrived in Wilmington, drool buckets in tow, in awe of Becton's size and athleticism.
In December of 2007, he committed to Virginia Tech, choosing the Hokies over NC State. Bryan's pull wasn't enough to keep Becton from driving past Raleigh on his way to Blacksburg.
"When I came on my visit, it felt like everyone was together," he said. "It was like a big family. I liked the atmosphere, and there was a lot of good football up here. I didn't want to be too, too far away from home. It seemed like the best fit for me."
Tech's staff remained patient with Becton, redshirting him that first season and then watching with glee, as he got better day after day. He played in five games as a redshirt freshman in 2009.
He went into the 2010 season all set to start at left tackle, but then a toe injury stubbed those plans, and he ended up in a timeshare with Andrew Lanier – one that lasted two years.
"That was the most frustrated I've been in my life," Becton said, referring to the injury. "I had worked hard to get to that point, and to have it taken away, it was frustrating. I didn't know how bad it would be. I thought it was a little sprain, and I'd be back in a few weeks. But the whole season, I struggled. I had to get painkillers just to get through the year. I didn't feel better until the spring."
Becton certainly saved his best play for his last season. He has graded out better than 90 percent in nine of 12 games. Even in his worst game, he graded out at 83 percent – and that came against FSU stud end Tank Carradine, a likely high NFL Draft pick.
"I expected a tough day, and I got it," Becton said. "Hopefully, he feels the same way."
Becton hopes to follow in the same projected path as Carradine, or in the same path as former Clemson end Andre Branch or former North Carolina end Quinton Coples – two guys whom Becton battled and accounted himself well against last year.
He certainly possesses the size to play at the next level and also the athleticism, thanks to all those years of playing basketball. Fate is a funny thing, isn't it? The very sport Becton loved growing up may well lead him toward his dream of playing the sport he wants to play in the future.
"That's my goal – to get drafted and play," Becton said. "That's my dream. I've always wanted to play a professional sport, and that's my only route."
If that doesn't pan out, he can put his degree in residential property management to good use. He performed an internship with Prudential Laney Real Estate Company in Wilmington, which molded him for a potential future in the business. After all, there are certainly worse things than managing beachfront property.
Tech fans probably won't know what he ends up doing unless, of course, he works in the NFL. Barring that, whatever the big guy does, he'll do so quietly – just like he always has.
GETTING TO KNOW NICK BECTON
It's Friday night in the offseason, what are you doing?
NB: "I'm either working out or playing video games. I just like to relax. Maybe I'll be sitting around and playing with my dog, Charlie."
Facebook or Twitter?
NB: "I don't tweet a lot and I don't post a lot on Facebook. I post a few pictures on Instagram. That's about it."
Favorite food?
NB: "I've been eating a lot of sushi lately. I go to Sake House and get it. I also like fried shrimp and fried turkey."
Favorite movie?
NB: "He Got Game, with Denzel [Washington] and Ray Allen."
Who's your favorite football player?
NB: "In football, I don't really have one. I watch basketball, and I like the Heat. Right now, Lebron (James) is my favorite player. I own about 10 pairs of his shoes."
If you could trade places with someone for a day, who would it be?
NB: "Bill Gates [former CEO and founder of Microsoft]. I'd like to see how it feels to have billions of dollars."
Ten years from now, what will you be doing?
NB: "Hopefully, still playing football."