Antone Exum has been a lightning rod for his critics this season,
but his confidence in himself enabled him to become an All-ACC cornerback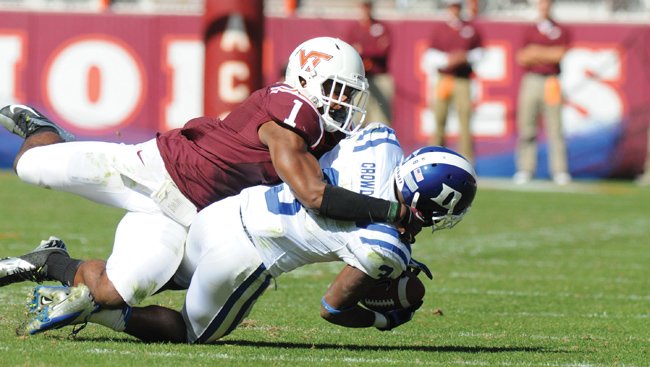 Some players are just lightning rods for attention. Of those, a certain few bring it upon themselves, welcoming it the way a toaster welcomes electricity. Others see it thrust upon them, surging volts that are simply beyond their control.
The list of sports' greatest lightning rods is quite lengthy, running from Alex Rodriguez, a three-time MVP whom Yankee fans love to hate, to Terrell Owens, a former NFL record-setting receiver known more for his loudmouth antics than his accomplishments, to Tiger Woods, at one time, the world's greatest golfer whose aloofness, and later, his infidelities, alienated many.
Such sports lightning rods aren't limited by geography or conference or levels or stadiums or teams. Even at Virginia Tech, with its predominantly blue-collar, scrutiny-dodging bunch of football players, lightning rods for attention pop up from time to time, and this past season, a certain young man drew his fair share from Hokie Nation.
The funny thing is, off the field, he really doesn't fit within the perception. He's certainly no Owens or Randy Moss or Ndamukong Suh. Far from it, actually.
Just consider the following:
• He sports a grade-point average of better than 3.0.
• He graduated in three years with a degree in finance, one of the school's most demanding majors.
• He comes from a well-grounded family, with both parents having their doctoral degrees – his father works as a dentist, while his mother helps run a home infusion therapy company.
• He works relentlessly on his game, often taking notes during film sessions and watching extra film during the evenings. Also, he works out multiple times a day during the offseason.
• He rarely goes out and has never come remotely close to having a run-in with any law enforcement officials.
Yet Antone Exum, he of the game- and season-saving interception against rival Virginia on Nov. 24, has been, to put it gently, a bit of a lightning rod for criticism this past season.
"With my personality and how I am, if I'm not doing something always right, you're either going to love me or not like me," Exum said, with a smile. "I've accepted it."
The redshirt junior from Richmond just wrapped up his second season as a starter, his first as a cornerback after being moved from rover. The season featured both ups and downs, but mostly ups after some early-season struggles. He tied for the ACC lead during the regular season with 15 pass breakups and finished tied for third with four interceptions. All that, and his 47 tackles, earned him second-team All-ACC honors.
That's how Exum answers his critics. His play speaks so much louder than his words or his occasional tomfoolery on the field. He even understands why some view him the way they do.
But he never lets that bother him. He possesses a bit of nonchalance toward his critics, that cockiness that coaches quietly love. His inner fuel tank runs low on fear and self-doubt, and instead brims over with confidence, that self belief that refuses to let him ever doubt his ability to beat his opponents.
That's just how Antone Exum, Jr., has always been. Lightning rod or not, that's never going to change.
Exum's path to football stardom began in a recreational flag football league in Richmond. He begged his parents to let him play, and they consented, even though their son was a year younger than the other kids. What he lacked in age, he made up for in size, and his stout physique earned him a spot unfathomable to those who know him today.
"I was an offensive lineman," he said, again, smiling.
That lasted all of a year. The following season, he found himself at quarterback and middle linebacker, and he played on both sides of the ball until he got to Tech.
He's always been passionate about the sport in season, whether it be football or basketball, another love. In the fall, that passion centered on football. He woke up in the pre-dawn hours on game days, put on his uniform, snapped on his helmet, and then stormed into his parents' bedroom to wake them. He was a human box of energy, wired to go off at kickoff – and kickoff couldn't come soon enough for him.
"I loved rec football," he said. "That's the purest form of football in my opinion. No politics or any of that stuff. Just guys out there having fun."
But Exum's passion, or energy, or whatever emotion one wants to choose, occasionally got the best of him. He never played just for the simple joy of playing. Other kids did that.
No, Exum played to win. He struggled to see losing as an option for his team's outcomes. Some of his outbursts drew stern lectures from his parents. They liked his competitive nature, but they reminded him to control his emotions.
He still fights that battle within himself, even today, when the stakes are higher and the scrutiny greater.
"It was way worse back then," he said. "I've gotten a lot better than I was in the past, as far as taking losses and how I act in games. My parents probably have more stories than I can remember. Being competitive has always been a part of me."
A big chunk of that competitive nature comes from his parents, two immensely successful people. His father, Antone, Sr., got his undergraduate degree at Hampton University before getting his doctor of dental surgery at VCU. His mother, Barbara, got her undergraduate degree at Maryland and then got her pharmacy doctorate degree at VCU. Both have thriving careers.
Exum's father served as his son's first basketball coach back in those rec league days and expected great things from his son. His mother was a good athlete in her own right and her expectations were high as well. Together, they expected great things in the classroom from both their son and their daughter, the younger of the two kids. Any grade below a B meant no sports.
Exum, of course, welcomed that challenge and all others – on the field, on the court and academically. He excelled in all phases, but his competitive nature never waned, even as he grew older. At times, it continued to get the better of him, even in family pickup basketball games in the driveway. On one occasion, he even cracked his dad's tooth.
"Yeah, I did," Exum admitted. "He'll say it was intentional, but I was just playing hard. I didn't want to lose."
And of course, there was the time when he hip-checked his mom into the garage door.
"My mom will say that was intentional, too," Exum said.
Needless to say, there was a competitive environment in the Exum household. Exum's parents set the standard high with their life's successes. Their son desperately wanted the opportunity to follow suit.
"I'll give them a lot of credit for where I'm at right now," he said. "They saw a lot of the characteristics that I use now on and off the field. Those came from them."
Those characteristics made him a great middle and high school player. They would later make him a great college one as well.
Exum attracted the notice of college recruiters after a junior season at Deep Run High School in which he scored 13 touchdowns rushing and threw for 12 touchdowns as a quarterback. But Jim Cavanaugh, the Hokies' cagey whips linebackers coach at the time and a man with a finger constantly on the pulse of the Richmond recruiting scene, knew of Exum long before any others.
Cavanaugh developed a close relationship with the Exums, and he watched as recruiters from other colleges tried to wedge themselves into the Exums' graces. Ultimately, the young man whittled his choices from 17 to two – Virginia Tech and Penn State – and after his senior season in which he accounted for 2,357 yards and 30 touchdowns, he chose the Hokies.
"What put Tech over the edge was that Penn State wanted me to play a slot receiver position," Exum said. "Tech told me I would either be a quarterback or cornerback or safety. One day after a couple of workouts in the summer (second summer session), Coach Cav (Jim Cavanaugh) pulled me in the office and told me they were going to start me at free safety."
Tech's staff saw free safety as the perfect fit for Exum, who came in at 210 pounds and ran well. After redshirting his first season, Exum started five games at free safety his freshman year. Then, he started 11 games at safety and three games at rover as a sophomore, and he earned honorable mention All-ACC honors after leading the team with 89 tackles.
But this past winter, Tech's staff decided to move Exum to cornerback because Jayron Hosley had made himself available for the NFL Draft and because of a lack of depth and experience at the position. They envisioned Exum being a Jimmy Williams type – a corner with size and speed who could lock down one side of the field.
"I always felt I could play that position despite how heavy I was," Exum said. "You don't see corners that size in the NFL. Now, I'm 220, and you definitely don't see corners that big. But that's the position I always felt I could play.
"I thought it would be a challenge to me, and I like the fact that it was a one-on-one mindset type of position. I liked that part of the position. When I heard that I might be moving, I was pretty excited just for a new opportunity."
Exum understood that, to be a good corner, he needed to become quicker and more flexible, and he needed to polish his technique. This past spring and summer, he spent countless hours watching film. He worked with a Pilates instructor. He also worked out religiously, both with the team and on his own.
He became attached to a hill that sits on the other side of Southgate Drive, right across from Tech's outdoor track and just below the Burrows-Burleson Tennis Center. At nights in the summer, he often drove from his apartment to the parking lot next to the track, where he'd park his car, get out and sprint up that hill, time after time after time.
This is the Antone Exum whom few Tech fans know. They see the confidence, the swagger as he calls it, on game day, when he celebrates after breaking up a pass or making a tackle or grabbing an interception, but they fail to realize that it takes hard work to become a player worthy of all-conference recognition. He undoubtedly possesses a supreme amount of confidence, but that confidence may be matched by his work ethic, one that rivals anyone on the Hokies' 2012 roster. The combination of both led to an All-ACC season.
"Yeah, I've had some bumps, like the pass interferences, but that's something you learn from playing," Exum said. "From the beginning of the year, I've progressed with certain aspects of my game. That's something I've focused on. I try to work on something each week and get better each week."
Exum thinks one game – the Hokies' loss to Cincinnati at FedExField – has led people to form a blanket opinion of him. In that game, he got flagged for two pass interference penalties and two face mask penalties, and Cincinnati receiver Kimbrell Thompkins hurt the Hokies with seven catches for 134 yards.
Tech's last-second loss only added to the frustration of Hokie Nation. Many took out those frustrations on him.
"That game sparked people's idea that I couldn't play that position, but I didn't see it like that," Exum said. "In my eyes, two of those penalties were legitimate and two were questionable. The receiver had eight catches for 135 yards or something like that, but he only had three of them on me and the rest were on other people. That's not trying to blame my teammates. I'm just saying things aren't always what they seem.
"When you're a corner … you'll be open to more criticism than any other position on the field. At quarterback or running back, you can mess up three times and no one will blink. But at corner, they catch two balls on you and people are wondering what's going on. It's just a different type of mindset with that position."
Tech's staff vehemently defended Exum after that Cincy game, particularly defensive coordinator Bud Foster. The coaches love the way he has played this season, too. His willingness to accept the challenge of playing man-to-man coverage – and his ability to do it – gave Foster a lot more flexibility with his schemes.
It's certainly hard to argue with the results. Tech didn't allow an opponent to gain more than 350 yards in the final six games of the regular season.
Antone Exum plans on coming back to Tech for his senior season. No matter what people say about him, he doesn't plan on conforming to what people want him to be.
If he wants to go with the dyed Mohawk look, as he did for the first part of this season until Tech lost, then he will. If he wants to make a video and upload it on YouTube, as he recently did once the Hokies beat UVa and extended their bowl streak, then so be it.
That free spirit makes him who he is. That confidence to accept any challenge makes him great, not just as a player, but also as a student. He graduated with a degree in finance in three years simply because so many refuse to accept that challenge. Not him. Now he's working on a second degree, one in marketing.
As for his critics, he knows they'll come around as long as he keeps playing well. He wants them to, because he's smart enough to understand their views. But he has to stay confident to be the player he wants to be – and the one they want him to be.
"For those who have not shown me too much love, I love them just as much as I love the fans who do show me love," Exum said. "The fans who critique me and are hard on me, that just keeps me driven. It's just extra motivation."
Not that he needs it. His motivation comes from a closer source – from within himself.
GETTING TO KNOW ANTONE EXUM
It's Friday night in the offseason, what are you doing?
AE: "Working out on the practice field. I go out every once in a while, but on a Friday night in the offseason, that will usually consist of me at home most of the night, and then later on in the night – because I like to work out at late hours – I'll come over here and run the hill across from the track. You can ask any of my teammates. That's usually what I'm doing."
Facebook or Twitter?
AE: "I have both. I think both have their pluses. I'm probably more active on Twitter than Facebook because that's a minute-to-minute thing. But Facebook has things that I like."
Who's your favorite football player?
AE: "It was Sean Taylor (former Washington Redskins safety who died in 2007 from a gunshot wound after intruders broke into his home) before he passed away. I used to watch his highlight film over and over and over the nights before games. Now, it would have to be Darrelle Revis (New York Jets cornerback) now that I'm at corner. Those are the guys I pay the most attention to in the NFL."
If you could trade places with someone for a day, who would it be?
AE: "Marcus Taylor. He's my god brother, and he's in prison right now. I'd trade places with him just so he could have a free day."
Ten years from now, what will you be doing?
AE: "Playing in Pro Bowls in the NFL."