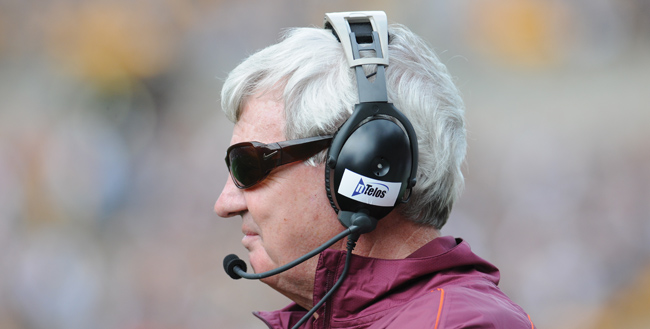 On Dec. 28, Virginia Tech's football team is going to take the field at Orlando's Citrus Bowl in front of who knows how many fans for a weekday afternoon drive-time bowl game against Rutgers.
It's not the bowl many fans were hoping for back in August when the Hokies were the overwhelming favorite to win the ACC's Coastal Division and The New York Post tabbed Tech as it's preseason No. 1 squad. Nobody anticipated the Hokies would finish the regular season with a 6-6 record.
Despite their rough season, the Hokies won their final two regular-season games, and as a result, history will be made when the Hokies take the field in Orlando. When that happens, Tech will become just the sixth team in the history of college football to play in a bowl game for 20 straight seasons. Tech will join Nebraska, Michigan, Florida State, Alabama and Florida as the only members of the "20-bowls-in-20-years club."
Let that soak in for a second.
Penn State has never done that. Or Oklahoma. Or Texas. Or USC. Or Notre Dame. Just five dominant programs in the history of the game have done this, and on Dec. 28, Tech will become the sixth.
Even more impressive is this fact: only three head coaches – Tom Osborne, Bobby Bowden and Bear Bryant – have coached in 20 straight bowl games. Tech head coach Frank Beamer will become the fourth.
"I think it says a lot about the consistency of the program, of our coaches, and the kind of people we try to recruit," Beamer said about the bowl streak. "For a while there, I wasn't sure if we were going to make it."
Beamer's not alone. When the Hokies were 4-6 and trailing at Boston College 13-3 at halftime a few weeks ago, there were many who thought the bowl streak might end. The Hokies, of course, rallied to win that day in overtime and then beat UVa on the final play of the game the following week to qualify for the postseason.
"There are no bad bowls" is one of Beamer's favorite quotes, and he's on target when he says, "The Russell Athletic Bowl has the third ACC selection and picked us over some other teams, including one that had a better record (NC State)."
With its $2.3 million per team payout, the Russell Athletic Bowl has one of the better revenue distributions outside of the New Year's Day bowls. And it's run by the Florida Citrus Sports group that's regarded as one of the finest organizations of its kind in the country. Year-round events culminate with the Capital One Bowl on New Year's Day, which features Georgia vs. Nebraska this year.
So what if it's I-Drive and Disney, not Bourbon Street or South Beach? That's just fine, actually. Osborne's bowl coaching streak included Nebraska's appearance in the Independence Bowl. The Bear coached the Tide in the Astro-Bluebonnet Bowl.
Even Bowden, in his 12th year as Florida State's coach, led his Seminoles to the Blockbuster Bowl in 1990, three years before FSU won its first national title. The Blockbuster Bowl, of course, is now the Russell Athletic Bowl.
"For whatever reason, it just never came together for this team," Beamer said. "We never got that consistent play. But at the end of the day, and at the end of two very big ball games that we had to win in November, we won them."
When Tech had to make a stop on defense, convert a fourth down, create a turnover or make a kick to force overtime or win at the gun, it did. And that made Beamer even prouder.
"There have been some seasons that we've played for the ACC championship. Sometimes, for more," Beamer said. "This team wasn't playing for that, but it gave everything it had down the stretch to keep this streak going, and I'm proud of the way they finished. If we can find a way to win this game and beat Rutgers and finish with three straight wins, that would say a lot about this team and the players we have in this program."
Going to 20 consecutive bowl games may seem like a minor accomplishment to some cynics. After all, there are 35 bowl games and a .500 record is enough to qualify for most teams in most years.
But seriously, Notre Dame's longest bowl streak is nine years. At Texas, the record is 12 years. And those schools have some in inherent advantages over … well… just about everyone.
At 6-6, the Hokies just barely qualified, but they're in a darn good bowl that featured FSU vs. Notre Dame last year. Now we'll see if they can finish the season on a three-game winning streak.
Orlando calls itself the "happiest place on Earth." And if Virginia Tech beats Rutgers on Dec. 28, Beamer will no doubt be the happiest guy in town.
After 20 years of bowling, who could blame him?
Top 10 All-time Consecutive Bowl Appearances
| | | |
| --- | --- | --- |
| Nebraska | 35 | 1969-2003 |
| Michigan | 33 | 1975-2007 |
| Florida State | 31 | 1982-present |
| Alabama | 25 | 1959-1983 |
| Florida | 22 | 1991-present |
| Virginia Tech | 20 | 1993-present |
| BYU | 17 | 1978-1994 |
| Tennessee | 16 | 1989-2004 |
| Georgia | 16 | 1997-present |
| Georgia Tech | 16 | 1997-present |
Holiday radio schedule set
Here's our bowl week broadcasting lineup. It's a hectic, but fun week.
Saturday, Dec. 22 – Tech vs. Bradley men's basketball game from Las Vegas, 8 p.m. EST tipoff.
Sunday, Dec. 23 – Tech vs. Colorado State or Portland men's basketball game from Las Vegas, 9 p.m. or 11:30 p.m. EST tipoff.
Wednesday, Dec. 26 – Tech Talk Live! from Orlando, 7-8 p.m.
Thursday, Dec. 27 – Tech Talk Live! from Orlando, 7-8 p.m.
Friday, Dec. 28 – Tech vs. Rutgers, 4 p.m. airtime, 5:30 p.m. kickoff from Orlando.
Saturday, Dec. 29 – Tech vs. BYU, men's basketball game from Salt Lake City, 2 p.m. EST tipoff.
Important offseason looming for Tech
Win or lose, the weeks following Tech's bowl game are going to be very interesting to watch.
First is recruiting. The Hokies have 18 verbal commitments (as of Dec. 4) in what could be a top-20 recruiting class. To be honest, this has to be a good class without many busts because of recent attrition and pressing needs at several key positions. Signing day is Feb. 6, which is 39 days after the bowl game.
I asked Tech receivers coach Kevin Sherman "On a scale of 1 to 10, how important is it for the Hokies to sign a great receiver in February?
His response? "11."
No idea if Tech will win on Dec. 28 in Orlando, but the Hokies absolutely must win on Feb. 6. Must.
Second item of note on the horizon is spring football and the re-discovery of Tech's rushing game, which vanished in 2012.
"We didn't block well enough. Or consistently enough," Beamer told me on the Dec. 2 edition of Virginia Tech Sports Today. "We had young running backs, and we wanted to get that thing down to one or two and really work with those. But nobody distanced himself. That's going to be a priority."
The statistics show that Tech was fifth in the ACC in rushing at 158 yards per game heading into the bowl game, but that's a deceptive number. The Hokies must run the ball better in 2013, or they'll struggle again to be consistent on offense.
Third is the 2013 schedule.
Tech was originally scheduled to play Duke, Florida State, Virginia and Georgia Tech on the road, plus Alabama in Atlanta. The 2013 home games were Miami, BC, North Carolina and Maryland, plus Pittsburgh as a non-conference game. But then Pittsburgh joined the ACC (and the Coastal Division), and the league flip-flopped from an eight-game schedule to nine and then back to eight.
When that occurred, Tech added a road game at East Carolina, and so now we have no idea if a.) the Hokies will even play at Florida State, b.) where Tech will play Pittsburgh and c.) will Maryland drop off the 2013 schedule completely?
When will we see the 2013 schedule? Well, the release date seems to get later each year.
2010: Feb. 4
2011: Feb. 14
2012: Feb. 27
Adding to the uncertainty is this: ACC senior associate commissioner Michael Kelly has been in charge of football scheduling since he joined the conference office in 2007, but he is leaving the conference to take over his new role as the COO of the new college football playoff. So that, too, could impact when the schedule gets released. Tech fans may not know until early March.