The Tech men's basketball team won its first seven games and got off to the program's best start in 30 years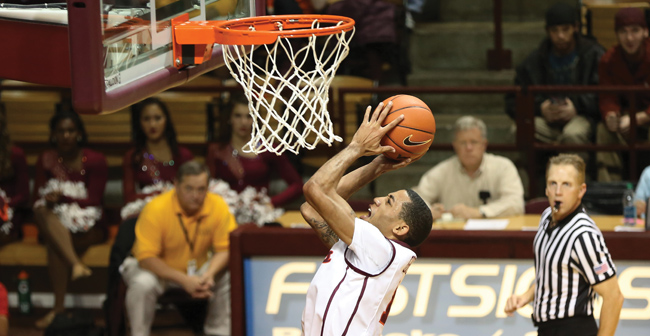 New Virginia Tech men's basketball coach James Johnson has done a masterful job of downplaying his team's victories thus far this season, but it probably took a little more effort following the Hokies' upset of Oklahoma State.
"Big win for the Hokies," he said after the game. "Big win."
Talk about understatements.
In a game in which leading scorer Erick Green picked up two quick fouls and spent a majority of the first half on the bench, in a game in which Tech trailed for much of the first half and at halftime, and in a game in which the Hokies had numerous reasons to cave, Tech responded by dominating the final 20 minutes in knocking off the No. 15 Cowboys 81-71 in front of a raucous Cassell Coliseum crowd on Dec. 1.
The win marked Tech's first over a ranked nonconference opponent in 17 years, dating back to a 1995 victory over UVa in Roanoke. It marked the Hokies' first home win over a ranked nonconference opponent since 1978 when they toppled Syracuse under coach Charlie Moir.
More importantly, it moved the Hokies to 7-0 heading to a game at West Virginia. The 7-0 start marked the program's best since the 1982-83 team started 7-0 exactly 30 years ago.
"I think people were sleeping on us because of the coaching change and because of the players that left," said Green, who scored 18 of his career-high 28 points in the second half against Oklahoma State. "But I hope that we've shown people we can play with anybody and that we're a great team. We've got to keep it going. Consistency is the key."
Certainly no one expected this type of start. After all, Tech was picked to finish 10th in the ACC by media members. The Hokies saw one player transfer and a top-notch recruit back out of his commitment during the offseason, and Johnson himself had never been a head coach.
But the Hokies have played confidently and with poise, both of which were evident in the win over Oklahoma State. Tech trailed at halftime, but opened an eight-point lead in the second half. Then the Cowboys cut that lead to one late in the game.
Yet behind Green, Tech made all 10 of its free-throw attempts in the final 1:16 and 13 of its final 15 free-throw attempts in the game. Green went 12 of 13 from the line and 8 of 8 in the final minute.
The win, and the Hokies' method for winning, may have surprised many Tech fans. But Tech's players never sold themselves short.
"I'm going to say yes," Jarell Eddie said when asked if he expected this team to start 7-0. "I'm not going to tell you that I doubted anyone on our team. I did think it was possible.
"We're not going to short-change ourselves. We're going into every game thinking we can win."
If they continue to do that, they'll prove all the naysayers wrong. Though Johnson doesn't want his team concentrating on that.
"Those guys out there are playing their hearts out right now," he said. "They're playing hard, they're playing smart, and they're playing together. I'm not trying to prove anything and the team isn't trying to prove anything. We're taking this thing day by day, game by game."
It's been a winning strategy so far. One that, for sure, Johnson won't be changing any time soon.
Johnson's debut
For the first time in nearly a decade, a new man was in control of the Virginia Tech men's basketball program. And as debuts go, Johnson's could not have gone much better.
Johnson's team jumped out to a 15-point first-half lead in the season opener against East Tennessee State and never looked back, cruising to an 80-62 victory at Cassell Coliseum on Nov. 10. Green scored 14 of his 21 points in the first half, as the Hokies shot 56 percent in the first 20 minutes and 52 percent for the game.
Johnson replaced Seth Greenberg in May after the school terminated Greenberg following nine seasons. Johnson had been an assistant under Greenberg for five seasons before leaving in April for what turned out to be a short, three-week stint as an assistant at Clemson.
As expected, several members of Johnson's family attended the game, along with friends and former college teammates. Johnson's parents, two of his brothers and his sisters came to the game, along with his former college coach, Bill Pullen, who coached Johnson at Ferrum from 1989-93.
After the game, though, Johnson downplayed the significance of his debut victory.
"I just wanted the guys to go out and compete and play as hard as they could and execute the things we've been working on," Johnson said. "I told them before the game that this was about us, and let's go out and execute the things we've been working on. We've been working so hard. The guys have been great since day one. I wanted this to be a really good day for them."
Johnson became the fourth straight Tech men's coach to win his debut, joining Greenberg, Ricky Stokes and Bobby Hussey. The last Tech coach to lose his debut was Bill Foster, whose Hokies fell to Richmond 84-51 to start the 1991 season.
Johnson also records win in road debut
The Hokies rolled to three straight home victories to open the season, but got quite a challenge in their first road game, one in which they managed to prevail over UNCG 96-87 at the Greensboro Coliseum on Nov. 19.
"We took a step forward," Johnson said. "We hadn't seen adversity like that in the three previous games, and we were on the road against a very good team. For those guys to keep their composure and to keep fighting and to execute down the stretch and make big free throws, I'm pretty pleased with that."
Tech trailed by four with 6:08 left in the game, but Green and Eddie took over at that point, sparking a 14-1 run that gave the Hokies the lead for good. Green and Eddie combined to score 25 of Tech's final 26 points.
"Me and Jarell, as leaders, we had to take over the game," Green said. "We hit our free throws and got the team together, and they rallied around us. We came together, thank goodness, because it was a dogfight to the end. I give UNCG a lot of credit. They're a good team."
Green, who scored 10 points in that 14-1 run, made all 12 of his free-throw attempts in the final 4:18 and all 16 of his attempts for the game. He finished with 26 points.
Eddie scored a career-high 28 points, hitting 7 of 9 from the floor and 9 of 10 from the free-throw line. He nailed all five of his 3-point attempts. His previous career high of 24 points came last season against Norfolk State.
Hokies hurrying to high point totals
Back in the 1980s, the Virginia Tech men's basketball team was known as the "Hurryin' Hokies" because of their up-tempo, high-scoring pace under Moir.
Well, older generation Tech fans are reliving those days, as Johnson has his team playing the up-tempo, high scoring attack that symbolizes his philosophy as a coach.
The Hokies scored 95 points or more in three of their first six games. They also scored 80 or more in six of their first seven tilts, including five straight at one stretch. The last time Tech scored 80 or more in five straight games was in 1994 when the Hokies scored that many in five straight games early that season.
"We've worked on it a long time," Johnson said. "Playing that way is something that you have to practice. Guys have to be physically in condition. We've got athletes. We've got guys who can get up the floor, and we're playing to that style – and the guys have bought into it."
To put Tech's scoring outbursts into perspective, the Hokies scored 80 or more points just three times all of last season and just nine times in the past two seasons – in a combined 67 games. Under Greenberg the past two seasons, the Hokies averaged 65.1 and 70.3 points per game, respectively.
The recent scoring outbursts are even more impressive considering the Hokies' roster consists of nine scholarship players, so Johnson needs to be judicious in resting players. He doesn't have the luxury of rotating players in waves. Yet his substitution patterns have not slowed down an offense that averaged 86.1 points per game in the first seven games.
"This is something new to these guys," Johnson said. "Erick Green has played a certain way for three years, and Jarell Eddie has played a certain way for a couple years. It's not something you can dive right into.
"I think some people think you just run up and down the floor, but it's not like that. There's a method to our madness. There are certain spots where guys have to get to on the floor. We've got to sprint. We talk about winning the first three steps. So it's not easy. Guys have picked it up well, but it's not easy. It's a lot of work."
Green simply torrid in the early going
Green stated before the season that he felt he was one of the best guards in the country. That may come across as bragging to some, but he certainly is proving it with his play on the court.
Green scored at least 20 points in the Hokies' first seven games this season, tying his career high on one occasion and then breaking his career high on three others. He tied his career high when he scored 25 in Tech's win over Rhode Island and then scored 26 points against UNCG and 27 against Appalachian State.
His best performance came in the Hokies' upset of Oklahoma State in which he scored a career-high 28 points. He hit 6 of 10 from the floor, 4 of 7 from beyond the 3-point arc, and 12 of 13 from the free-throw line.
The last Tech player to score at least 20 points in the first seven games to start a season was Bimbo Coles, who scored at least 20 points in the first nine games to start the 1989-90 season.
"I have a lot of freedom," Green said. "I understand the game a lot better than I have before, just with pick-and-rolls and finding my teammates. When I find my teammates, that opens things up for me. They (defenders) can't focus on me.
"Coach Johnson is giving me the ball and letting me do what I do best. I honestly feel that I'm in a great situation right now."
Before the Oklahoma State game, the Tech athletics department recognized Green for scoring the 1,000th point of his career. A short jumper early in the second half of the Hokies' victory over VMI at Cassell Coliseum on Nov. 15 marked his 1,000th career point. He became the 43rd player in school history to accomplish that feat.
At his current pace, he could break into the top 10 on Tech's career scoring list.
"A whole bunch of people were giving me crap and telling me I didn't belong up there," Green said, referring to his statement about being one of the best guards in the nation. "That's fine. That's what I wanted because that put a fire in me.
"Honestly, I hope that I'm proving that I'm one of the best in the country, and I feel that way. I honestly do. I've just got to keep it up. I've got to keep it up against good competition and show what I can do."
Tech gets win in ACC-Big Ten Challenge
The Hokies entered this year's ACC-Big Ten Challenge with a 2-5 record in the event, with both wins coming against Iowa (2006 and 2009). Well, Tech got its third win in the Challenge, again, at the expense of the Hawkeyes.
Green scored 16 of his game-high 24 points in the second half as the Hokies rolled to a 95-79 victory over Iowa to move to 3-5 overall in the event.
The Hokies took control of the game with a 19-1 run that spanned the two halves. Tech closed the first half with a 10-1 run and took a 46-38 lead at the break, and then Green scored the first nine points of the second half. Iowa cut the lead to 57-54 with 12 minutes left, but got no closer.
Green connected on 8 of 15 from the floor and 8 of 9 from the free-throw line. He saw his streak of consecutive made free throws end at 37 straight.
Doubling up
The Hokies came into this season with exactly one player who had recorded a doubled-double in his career – Eddie. He scored 12 points and grabbed 14 rebounds in the Hokies' loss to BYU last season.
However, Eddie and Cadarian Raines have already combined for four double-doubles this season after seven games. Eddie scored 17 points and grabbed 10 rebounds in the Hokies' victory over ETSU, and then scored 15 points and grabbed 12 rebounds in Tech's upset of Oklahoma State.
Raines had back-to-back double-doubles in the victories over Rhode Island and VMI. He scored 10 points and grabbed 12 boards against the Rams and followed that with 14 points and 10 rebounds against the Keydets.