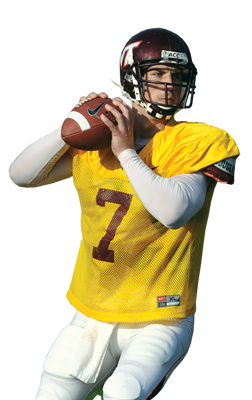 After helping lead the Hokies to the ACC title last season, Sean Glennon's hoping his atypical career ends this season in crowning fashion

The two-bedroom apartment resembled that of the typical college student, a slightly unkempt mess of furniture, clothes, pictures and posters. A rather nice Vizio television sat in one corner attached to an assortment of wires and cables, all of which intricately connected to a cable box, a DVR and video game control boards.
Ike Whitaker, Sergio Render and Devin Perez made themselves at home, and Sean Glennon certainly didn't care. They may not have been his genetic brothers, but they were his boys.
Glennon walked back to his bedroom, eager to show off his collection. Two stands sat on each side of his television and both were full. His collection of video games and DVDs numbers over 150 and featured a wide range of tastes – from his favorite, Braveheart, to Ocean's Eleven, Twelve and Thirteen to old episodes of Seinfeld and to Entourage, an HBO series. Lots of people collect stamps, and some collect coins. Glennon's addiction is movies.
As Glennon posed for photos, his buddy, Render – as 300-pound offensive linemen often do – first made the trek to the kitchen, where he reached into a cabinet and plucked out a small bowl. Then he got a spoon and opened the freezer. He scooped out a hefty helping of ice cream before heading back into the living room.
"Serg, you're eating ice cream this early?" Glennon questioned as he made his way into the living room. A glance at a watch revealed the time as not quite noon. "I wonder what Coach [Curt] Newsome would say about that."
A couple of friendly jabs later and the attention then turned to the television. One of them had loaded a video game. What started as a photo shoot turned into a battle of testosterone-filled wills – though not overly so. The jabs flew, but so did laughter.
It seemed so normal – four guys in Glennon's semi-clean apartment playing video games and poking fun at each other. Glennon himself seemed as relaxed as ever, a smile on his face and not a care in the world. Rather, on that day, he seemed like the typical college student.
Relaxed? Typical? Those adjectives describe most college students. But when you're a quarterback of a top-20 program, you can't be either.
Sean Glennon has found this out.

A man named Rowlie Dech started Glennon on this zany path many, many years ago. Suffice it to say, the man with the funny name is not exactly a household name.
Dech, pronounced 'Deck', is not a college coach. He's not a high school coach. And at the time he met Glennon, he wasn't even a football coach.
Dech served as the assistant coach for Glennon's Little League all-star baseball team when the Glennons lived in New Jersey. A pitcher, Glennon impressed Dech with a rocket right arm, and Dech saw potential in using that right arm in another sport.
"He asked me if I wanted to play quarterback for him on a Little League team that fall, and I said, 'Sure,'" Glennon said. "I had a good arm for baseball, so I guess that's why he asked me. I was playing soccer in the fall at the time, but I didn't like soccer that much. So I said, 'Sure, I'll play' and stuck to it."
He's been a quarterback ever since. It's really all he knows. Some kids bounce between running back and receiver and defensive back, or any combination therein. Not Glennon. He is and always has been a quarterback.
He's always been a winner, too. When he matriculated at Westfield High after a family move from Texas to northern Virginia, he proceeded to lose one game his final two years. He achieved perfection his final season, leading Westfield to an undefeated season and a state title in Virginia's highest classification.
Now, though, those days seem like decades ago.
"It's still fun," Glennon said of football. "There's a little more pressure now. In high school, there wasn't that much pressure. I just went out and had fun."
That Glennon says football is still fun given what has transpired for the past four years at Virginia Tech speaks more than volumes. It speaks encyclopedias.
His career has been unorthodox and anything but easy. He played as a true freshman and then redshirted when he couldn't beat out the second Vick for the starting nod. When university officials sacked Vick from school for an array of off-field transgressions, they all but left the program into the hands of Glennon.
Glennon then did what he's always done – win. The Hokies went 10-2 in the regular season in his first as a starter.
But for some reason, he never seemed to truly win over Tech fans. Perhaps they were spoiled by the ever-popular Bryan Randall. Maybe they expected more because of the possibilities that existed with the talented Vick. Or maybe Glennon's 11 interceptions served as the more practical reason.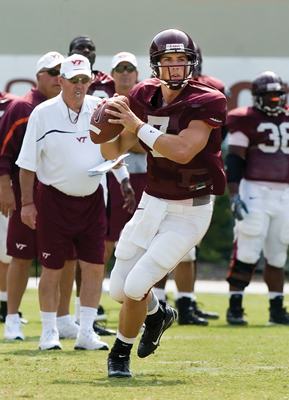 Unfortunately, the Chick-fil-A Bowl only made matters worse.
It was, without question, a horrific night. He turned the ball over four times in the second half as the Hokies saw a 21-3 halftime lead evaporate and ultimately turn into an ugly 31-24 loss to Georgia.
It wasn't entirely his fault. He spent most of that half running for his life. One time, when he fumbled, he nearly got decapitated by Georgia defensive end Charles Grant. He never saw Grant coming. On one of his interceptions, the ball was tipped – right into the hands of a Georgia defender.
After the game, Tech's players looked stunned. Most didn't know what to say, and a lot of them refused to talk anyway.
Not Glennon.
"I take responsibility for what happened," he said that night. "Regardless of whether they were bad breaks or not, they were still turnovers. It's hard for our defense to keep them from putting points on the board when they're constantly getting good field position."
For sure, it was a true showing of character.
Unfortunately, he'd get the chance to do it again.

It's not easy being the parent of a student-athlete. Regardless of the score, parents sit coiled for 60 minutes, clinching teeth and clasping hands while living and dying on every snap. They exhaust themselves more than the players without ever having made a tackle or caught a pass.
And if your son is the quarterback, your tension is ten-fold.
Ask Nancy Glennon, who, just because of her very nature, suffers more than most moms. Last year, she couldn't bear to watch.
Really, she couldn't watch.
Sean lost his starting job following the Hokies' disastrous 48-7 debacle at LSU – the worst loss in the Frank Beamer era. He was pulled from the game late in the first half in favor of Tyrod Taylor and Beamer, citing a need to get a more mobile quarterback in there because of some issues on Tech's offensive line, named Taylor the starter two days later.
"That," Glennon said of getting demoted, "was the worst."
It was a long flight back from Baton Rouge and the nightmare continued when Glennon hitched a ride with Eddie Royal back to his apartment. He could only shake his head when he looked at his Toyota 4Runner in the parking lot – it had been egged, which only added insult to injury.
The next Saturday, Nancy Glennon went to her usual seat at Lane Stadium with her husband, John, for the Hokies' game with Ohio. After hearing a few catcalls and seeing Sean suffering on the sideline and knowing the pain he felt, as only a mom could, she couldn't bear it.
She picked up her things and left the stadium. Then she proceeded to walk to the Drill Field, where she sat near the memorial commemorating those who lost their lives on April 16th and read a book during the football game.
"It's tough on a mom," she said. "I talked with Chad Henne a while back and his mother went through some of the same things when he was at Michigan. Those kids are out there trying their hardest. That's all they're doing. But when you're a quarterback, you're going to get most of the blame. That's just part of it. My husband can handle it, but it's tough for me."
Glennon's career appeared to be at a crossroads. Bitter at the world, he contemplated leaving Tech.
It would have been hard to imagine then that Glennon ultimately would play a huge role in saving Tech's season.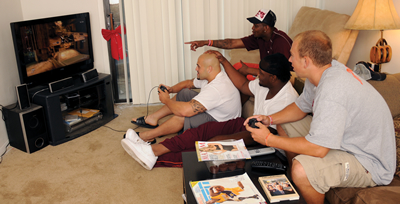 In addition to watching movies and playing video games, Glennon also loves to play golf as a way to relax. Outside of football, it's his favorite pastime.
"Once in a while, I'm pretty good at it," he said, smiling, when asked to handicap his game.
Down the stretch last season, he was the football equivalent of a scratch golfer at quarterback. On the third play of the second quarter against Duke, Taylor injured his ankle and in came Glennon, who proceeded to throw for 258 yards and two touchdowns in an easy Tech victory.
"I got so many positive e-mails after that Duke game," he said. "It was really, really nice. There are a few bad apples who are going to be jerks and say what they have to say, but I'm not lying when I say that nine out of 10 people [Tech fans] are supporting me."
His performance marked the start of a dazzling run to the ACC championship. He played well two weeks later against BC and then shredded Georgia Tech in Atlanta. Beamer and his staff ultimately decided to go with a two-quarterback system once Taylor returned, with Glennon starting, and it led to the Hokies winning their second ACC crown since joining the league.
"I was honestly OK with it," Glennon said of the rotation. "I mean, I thought, 'This was a lot better than what it was a few weeks ago.'
"I don't think this is a selfish statement because I think anyone would agree, but yes, I'd like to play every snap. If they left it up to me, I'd be out there every snap. Was it perfect? No. But could I live with it and work it? Definitely.
"I was going to make the most of it when I was out there, whether it was 20 sn
aps a game or 50 or 100. I was pleased with how I played when I was in there."
He should have been. In the seven games leading up to the Orange Bowl, he completed 98-of-152 (64.4 percent) for 1,311 yards, with 10 touchdowns and one interception. The turnaround culminated with him being named the most valuable player of the ACC championship game.
"I think one of the reasons I played so well at the end of last season was that I removed that pressure," Glennon said. "I took it back to high school and was just playing to have fun. I could care less about what anyone was going to think or say about me in the papers the next day. I was just going to play. That relaxed me more and I started playing the type of football I felt I should be playing."
Like a lot of great golfers, he kept grinding away. He's a pure example of staying the course, a calm hand in a driving storm. He gets described as being 'smart' and being a 'heady' quarterback, or a 'pocket passer.' All those fit, yet his work ethic and his competitive desire are underestimated. He refuses to be beaten down – or rather, he refuses to stay beaten down. He loves challenges and he's faced more than his fair share at Tech.
"When bad things happen to him, Sean just gets better," Whitaker said. "I think he thrives on it. He's not the type who's going to fail. He's only going to work harder and find a way to get better."

Glennon has one more season left. One more chance to respond to critics. One more chance to overcome challenges.
Yet he's not even guaranteed
a starting job, which comes as a surprise considering he's 16-6 as a starting quarterback at Tech, a winning percentage of better than 70 percent. The quarterback rotation, though, sputtered in the Orange Bowl, as the Hokies continued a disturbing trend of poor bowl performances with a loss to Kansas. Glennon did not play poorly, but not great either.
And the presence of Taylor looms. Glennon and Taylor came out of spring at the top of the depth chart, and Tech's staff hasn't ruled out using both again – just like last year.
It doesn't matter to him. He only asks for one thing – the opportunity. He wants the opportunity to win a second consecutive ACC crown and to put an end to the Hokies' recent bowl game struggles before he pursues an NFL career.
And that's the amazing thing. If he accomplishes those, he could be – and should be –remembered as one of the greatest Tech quarterbacks ever. But would Tech fans remember him in that way?
It's beyond his control.
"I've had a lot of ups and downs," Glennon said. "A lot of people have asked me if I wished I had gone somewhere else, to play in a system better for me or be in a better situation. If I could do it all over again, I'd do the same thing I did.
"Not everything has gone perfect for me, but I've won an ACC championship. I've played in a BCS bowl. I've had some stuff to deal with, but I think it's made me a better person. I've also had a lot of highs. Being named the MVP of the ACC championship game and playing in a BCS bowl and earning the respect of a lot of people, it's been great. I've had a lot of character-building experiences here, but I've had a lot of fun, too."
He hopes the fun continues. He hopes this season is as normal as a bunch of college guys playing video games and cracking on each other in a cluttered apartment.
Normal certainly is richly deserved for him. Yet even he probably would admit, given his past history, somehow normal probably won't be the case.
SEAN GLENNON PROFILE:
Favorite music: rap and R&B
Last song downloaded: Carter III album by Lil Wayne
Last book read: Angels and Demons by Dan Brown
Pregame ritual: listen to the same songs, wake up at 7 past the hour, pray
Favorite movie: Braveheart
Favorite TV show: Seinfeld, Curb Your Enthusiasm, Entourage
Professional goal: long NFL career, then broadcasting
GLENNON ON GOLFING:
Favorite course: Pete Dye River Course in Fairlawn, Va.
Lowest score: 82 at a course in Ocean City, Md.
Hole in one?: "No, but I've been within a foot or two."
Ever had lessons?: "Not really. I've gotten some tips from some people, but never really had a lesson."
When he started playing the game?: "In college."
Favorite playing buddies: Cody Grimm, Matt Reidy, Steve Borja, Grant Throckmorton.
Favorite pro golfer: "C'mon, who do you think? Tiger, of course. He may be my favorite athlete."