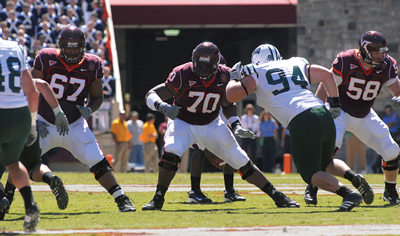 On most occasions – actually, on just about every occasion – watching an offensive lineman run sprints is a rather painful experience.
In fact, most don't run. Instead, they lumber.
But Ed Wang has been proving to people that he isn't 'most.'
During nearly every afternoon this summer, in the heat of the day, the 6-foot-5, 310-pound, Wang breezed through a series of 110-yard wind sprints and other conditioning drills designed to put him and every other player in optimal physical shape. His body glistened with sweat, while his long black hair flowed wildly behind him.
That hair and his broken leg suffered at the beginning of last season prompted a few members of the athletics communications office last year to coin him as 'Barbaro,' a reference to the former Kentucky Derby winner who later suffered a broken leg that ultimately proved to be fatal. Wang's injury obviously didn't reach those proportions and while he may not run quite as fast as that Barbaro, he certainly ranks as one of the main thoroughbreds on what figures to be a very good offensive line.
One of four starters returning, Wang stands as a key figure on the Hokies' 2008 offensive front. He takes over the critical left tackle position vacated when Duane Brown departed after an outstanding career that culminated with him going in the first round of this past April's NFL Draft to the Houston Texans.
"I'm looking forward to it," Wang said. "I had a feeling that I was going to be moved there and it hasn't been that big of an adjustment. Everything's reversed as far as what side you line up on and your stance, but basically, you're doing the same thing.
"The only real difference is there's more pressure. There's a lot more pressure at left tackle. One slip-up and that could be it for our quarterback. But that just pushes me every day. I know I have to get better."
Wang missed the first six games of last season after suffering a broken lower leg when a defensive lineman rolled up into him during a non-contact drill. It was the absolute worst position for the Hokies to suffer an injury because of a severe lack of depth along the offensive front. Not coincidentally, Tech's offense struggled, and then when he came back, that same unit flourished, as he stabilized the line.
With three other starters returning along with him, he doesn't anticipate the line incurring the same type of struggles as last season. Nor do Tech's coaches and fans. In fact, those who bleed orange and maroon are talking about the offensive line being a strength.
"I think we're going to be a lot farther ahead," Wang said. "We're working hard and everyone has stayed here the entire summer. We all took the initiative to do that and we had a good summer. But we can't take one day off.
"Every year, we've heard the criticism. We want to be the strength. It's not cool to always be the soft spot."
There should be nothing soft about this unit. In addition to Wang, starters Nick Marshman and Sergio Render return at the guard spots, while Ryan Shuman returns at center. After bouncing from position to position, Marshman, a 6-5, 339-pound redshirt senior, played very well at guard last season and figures to flourish this season now that he can stay there. Render, who has been a starter his entire career, stands as an all-conference type of player, and Shuman, an 11-game starter a year ago, is more than steady at center. Those four starters combined for 46 starts a year ago, thus giving the Hokies plenty of experience along the front.
The fifth starter will be right tackle Blake DeChristopher, a 6-5, 299-pound redshirt freshman. Tech's staff found itself tempted to play DeChristopher last season, but felt he needed to get stronger and needed to learn more and that move may pay huge dividends.
"He listens," Wang said as to why DeChristopher has moved into a starting role. "You don't have to repeat things to him. He's good and he's only going to get better. I think he'll be more than able to hold down the right side."
One thing that makes this unit stronger is depth. For the first time in a decade, Tech has talented back-ups at virtually every spot, albeit very young back-ups for the most part.
Richard Graham, a 6-6, 284-pound redshirt junior, ranks as the top back-up and the savvy, smart Graham possesses the ability to play just about every position on the line. Beau Warren, a 6-3, 281-pound redshirt sophomore, started two games last season when Shuman went down with a knee injury and played very well. Graham and Warren both got more than 200 snaps under their belt last season.
Hivera Green, William Alvarez and Jaymes Brooks will be fighting for playing time at the guard spots. Green did not see a snap from scrimmage last season, but moved into a back-up role after a very good spring. The latter two are talented redshirt freshmen who get better with each rep.
Greg Nosal and Aaron Brown serve as the back-ups – along with Graham – at the tackle spots. Nosal, a redshirt freshman who moved from tight end to tackle right before the start of spring practice, drew rave reviews for his work at his new position.
"We've got a young o-line," Wang said, a reference to having just two seniors on the unit. "But everyone is working hard and we have to keep doing that. ECU, you know they're working hard. They've got their front eight back and our line said last year that they were one of the best defensive fronts we faced. So we've got to keep working and get better."
Judging from the work that unit put in this summer, they're off to a great start, one that could lead to future success.
And after all, that's the reason they ran all those sprints and did all those tortuous conditioning drills – even if it wasn't pretty to watch.
HOKIES' 2008 OFFENSIVE LINE DEPTH CHART
RIGHT TACKLES
62 Blake DeChristopher (6-5, 299, r-Fr.) – Big, strong, tough and smart. Those traits should help him overcome a lack of game experience. Had an excellent spring and summer.
64 Richard Graham (6-6, 284, r-Jr.) – A smart, heady player who can play multiple positions, which is a nice luxury to have as a coach.
RIGHT GUARDS
70 Sergio Render (6-4, 308, Jr.) – Entering his third year as a starter. A bruising, physical player who plays with a mean streak. Possesses tremendous strength. Is getting better in pass protection. Has all-conference ability.
68 Jaymes Brooks (6-2, 304, r-Fr.) – A lot like Render, though not as big nor as strong. Still learning the blocking schemes, which caused him to be a bit inconsistent this spring.
CENTERS
58 Ryan Shuman (6-3, 293, r-Sr.) – Rugged player who missed spring practice following surgery on his left knee. A competitor who plays with great effort. Anchors Tech's line.
60 Beau Warren (6-3, 281, r-Soph.) – Gained valuable experience last season. Is undersized, but not afraid to battle inside. Added weight and strength will help him this season.
52 Barrett Mears (6-5, 291, r-Soph.) – A smart walk-on whom the coaches are high on.
LEFT GUARDS
67 Nick Marshman (6-5, 339, r-Sr.) – Settled in at guard at the end of last season and really played well this past spring. An athletic player for someone his size. Has his weight under control after staying in Blacksburg all summer.
69 Hivera Green (6-3, 304, r-Jr.) – Did not play from scrimmage last season, but was the surprise of spring practice. Limited athletically, but played physical football, which enabled him to move up the depth chart.
76 William Alvarez (6-4, 327, r-Fr.) – Is big and athletic. Still needs to get in better condition. Still learning the system, but made strides this spring and summer.
LEFT TACKLES
77 Ed Wang (6-5, 310, r-Jr.) – Strong, physical and athletic. The most athletic of Tech's offensive linemen. Still needs to be more physical at the point of attack. Could have an all-conference year.
75 Greg Nosal (6-6, 281, r-Fr.) – Made great strides after being moved to tackle this past spring. Has a nice frame. Will get better as he gets stronger, but shows good footwork in pass protection. Still learning the position.
71 Aaron Brown (6-6, 320, r-Soph.) – Had his best spring, but still has some improving to do, particularly in pass protection. Is solid in run blocking. Has been bothered by a shoulder injury in early practices thus far.