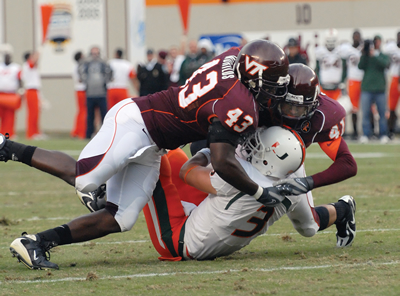 On a sweltering July afternoon, a large contingent of football players gathered on the practice field outside the Merryman Center to run a series of sprints as the 'conditioning' part of strength and conditioning.
It was a brutal task under an unforgiving sun, and some of Tech's players struggled to finish the sprints in the required time. At the end, as those same players tried to recover, Jason Worilds gathered the group in a circle and delivered a scathing tirade.
In short, he told his teammates what had just transpired wasn't good enough.
"I don't know if you'd call me the leader [of the team]," Worilds said. "I just refuse to let anyone slack off. When it's the weekend, you can rest, but during the week, it's time to go to work. It's a 'work' week. That day, I didn't feel like we had worked to the best of our abilities, so I let them know.
"That's the type of person I am. I'm going to say what's on my mind – no matter the consequences."
A combination of graduation losses along the defensive front and Worilds' sterling play this past spring give him a little more juice in the locker room heading into the season. His teammates always knew he possessed the ability to be a great player, but the 6-foot-2, 254-pound redshirt sophomore dazzled even his most ardent supporters from his defensive end spot during spring practice, making plays all over the field on his way to being named the spring's most valuable defensive player.
"I thought I took a step forward," he said. "But I'm not close to where I want to be. I'm just trying to get better, watching a lot of film and seeing things that I can get better at. Then I want to attack those things."
Tech will need the type of play he exhibited this spring from the rest of its defensive line as well, as the Hokies lost four key contributors off that front from a year ago, including three starters. Chris Ellis, Barry Booker and Carlton Powell departed, along with steady sub Kory Robertson. The four of them combined for 147 tackles, 85 hurries and 16 sacks.
In addition to Worilds, who recorded 17 tackles (4.5 for a loss) and 2.5 sacks last season, Orion Martin figures to carry some clout in Tech's locker room this season. Martin, the lone returning starter on the defensive front and a guy who will be at the other end spot opposite of Worilds, is a redshirt senior and a very good player in his own right. He finished seventh on the team in tackles a year ago with 58 and added 6.5 sacks. He also played fantastic football in the Orange Bowl, leading the way with two sacks.
Backing those two guys up will be Nekos Brown and Steven Friday. Brown, a 6-2, 245-pound junior, could be considered a starter. He played in all 13 games a year ago, finishing with 21 tackles (10 solo) and two sacks. Friday, a 6-4, 240-pound redshirt sophomore, made an impression this spring after getting bigger and stronger and has played his way in a back-up role after playing in just three games last season.
The tackle spots bear some watching. Booker, Powell and Robertson kept teams from pounding the Hokies up the middle, and Tech's staff hopes that some younger guys do the same. Coming out of spring, Cordarrow Thompson and John Graves led the way.
After battling weight issues for three years, Thompson, a 6-2, 303-pound redshirt junior, finally has gotten his weight into the 300 range. As a result, he enjoyed his best spring practice. Graves, a 6-3, 282-pound redshirt sophomore, possesses all-conference ability.
Demetrius Taylor, a 6-0, 256-pound junior, ranks as the third tackle. Though he lacks ideal size, he was the biggest surprise of spring practice and played his way into a prominent role.
After that, a bunch of freshmen will be trying to get on the field. Justin Young, Kwamaine Battle and Khalil Latif are all redshirt freshmen with some skills, but all lack experience. Courtney Prince enrolled this past January and will be given a look, but he may end up redshirting.
It's that unknown up the middle that causes queasiness among Tech fans.
"I think people who don't expect a lot out of us are going to be surprised," Worilds said. "We're going to be another typical Virginia Tech defense. We're going to be fast, physical and athletic."
If they follow his lead and work ethic, they'll be just fine. Worilds arrives in the weight room before any of his teammates and usually is the last to leave, constantly challenging Tech's strength and conditioning staff to come up with lifts to make him better.
It also bears mentioning that he took two classes during the second summer session and worked a part-time job.
"It was hard," Worilds said of his summer load. "But I don't make excuses. I do everything to the best of my ability and get it done."
If his teammates didn't know that before this summer, then they quickly found out. And if this line puts into it what Worilds has, then they should be very good in spite of their relative inexperience.
2008 DEFENSIVE LINE DEPTH CHART
STUD ENDS
6 Jason Worilds (6-2, 254, r-Soph.) – Probably the most physically gifted of all of Tech's defensive linemen. Is explosive and fast coming off the edge. Had an exceptional spring and appears poised for a breakout campaign.
82 Steven Friday (6-4, 240, r-Soph.) – A young player who has finally gotten strong enough to help on the defensive line. Hopefully he'll continue to improve and be able to work into the rotation at defensive end.
98 Jacob Gardner (6-0, 236, r-Sr.) – A walk-on who has worked some at defensive end, but may figure in more as a snapper.
ENDS
90 Orion Martin (6-2, 255, r-Sr.) - A fantastic person who serves as one of the leaders of this unit. Has made himself into a fine player with his tremendous work ethic and devotion to the strength and conditioning program.
47 Nekos Brown (6-2, 245, Soph.) – Has gotten bigger and stronger. Has all the tools, but needs to put it all together.
85 Chad Carlson (6-2, 241, r-Soph.) – A walk-on who had his best spring practice and provides depth at the spot.
NOSE TACKLES
91 John Graves (6-3, 282, r-Soph.) – An impressive-looking player who has all-conference ability. Has quickness and strength. He's going to be counted on heavily to help make up for the loss of former stalwarts Carlton Powell and Barry Booker.
56 Demetrius Taylor (6-0, 256, r-Jr.) – The biggest surprise coming out of spring practice. He's not big enough, but has incredible strength and a nice feel for getting off blocks.
92 Khalil Latif (6-3, 269, r-Fr.) – A young prospect with size and strength, but who's rough around the edges. Needs to learn the system better and be more consistent.
59 Courtney Prince (6-2, 257, Fr.) – A hard-working player with some tools. Needs to improve his quickness and learn the scheme. May be a year away from helping. Could still redshirt.
TACKLES
95 Cordarrow Thompson (6-2, 303, r-Jr.) – Has gotten into the best shape of his career, which should allow him to maximize his natural abilities. He and Graves should form a nice tandem inside.
96 Justin Young (6-3, 280, r-Fr.) – A player who is smart and has some tools. Tech's staff would love to see him turn it up and wreak havoc to help out the defensive front.
93 Kwamaine Battle (6-0, 271, r-Fr.) – Showed promise during preseason practices last August, but injuries to both shoulders forced him to redshirt. Underwent surgery on both and missed spring practice. Has some explosiveness and quickness, but hasn't been able to show them.