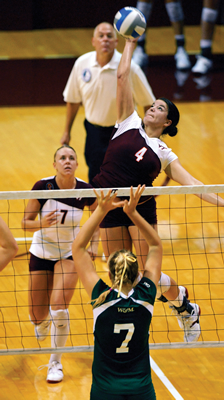 It was a sticky mid-summer afternoon and Taylor Parrish had just spent about 10 minutes in one of the back gyms of Cassell Coliseum discussing the outlook of the 2008 volleyball season. She spoke about how much she and the team had been playing throughout the summer, all the hours she had spent in the weight room since the beginning of June, and how well the seven freshmen were meshing with the returning players. But it wasn't until the interview was over that what she said really sunk in.

"Have a great night," she said as she scurried off to another workout, before catching herself. "Errr afternoon. I don't even know what time it is anymore – I'm here all the time."

For Tech volleyball fans, that's the best thing Parrish could've said – because it's true. If you happened to be strolling through the concourse of Cassell Coliseum at any given time on any given day in July, you were likely to see Parrish and the rest of the Hokies down on the court doing something volleyball-related. If it was 9 a.m., they were instructing children at one of the many camps that were held throughout the summer. If it was 5 p.m., they were just gathering for their daily intra-squad scrimmage, a player-organized deal that began at the start of the second session of summer classes when the freshmen arrived.

No matter how you look at it, the Hokies' summer dedication has given them a jump-start on a season that will hopefully better resemble the 17-14 (11-11 ACC) sixth-place finish from 2006 than the 14-18 (8-14 ACC) ninth-place finish from last year. There will be seven freshmen entering the fold this fall, but leading the way will be Parrish, an outside hitter from Nashville, Tenn., who was a freshman herself just two short seasons ago.

Now a junior, she finds herself in the unique role of being a team leader with half of her career still remaining. Sure, there are two seniors on the squad this season – middle blocker Kristen Cunningham and fellow outside hitter Sarah Munoz – but Cunningham just saw her first action in Blacksburg last year after transferring in from Kentucky and Munoz played a scaled-down role in 2007 compared to her first two seasons.

Meanwhile, Parrish has led the team in kills in back-to-back campaigns and she was the one at the forefront of this summer's training regimen.

"It's kind of surreal," she said when asked about the sudden onset of her status as a veteran. "A couple of the other juniors and I were talking about this. For the first part of the summer, we didn't have any seniors here, so we felt like we were the leaders of the team. And for the most part, we are the upperclassmen – we are the leaders. It's weird to think about it, but it's an easy transition for me. I like being put in that position."

Two of the juniors whom Parrish spoke of are Michelle Lang and Jill Gergen – both of whom will likely see important roles. Lang has served as the team's setter in each of her first two seasons, while Gergen will likely be given the first shot at supplanting the departed Amanda Cloyd as the starting libero.

But before anyone starts making any assumptions, know this – there are a lot of decisions still left to be made in terms of playing time and starting roles.

"Every spot is up for grabs," head coach Chris Riley said. "These [freshmen] coming in are so talented that we're not going to just give spots away because you've played there for two years or because it's your turn. This is Division I – the best players play. I want the best seven to be on the floor, and I think the team wants that, too. We'll see how much that experience pays off for the upperclassmen and see how quickly the freshmen can step in and contribute."

Riley said that meshing his sizeable freshman class with the returning players will be his staff's biggest challenge, and it will certainly be the story to watch in the early going. How much the freshmen end up contributing remains to be seen, but one thing's for sure – Parrish and sophomore middle hitter Felicia Willoughby have set the bar very high. Both made huge splashes when they were freshmen – Parrish was named to the ACC's all-freshman team in 2006 after finishing 10th on Tech's single-season kills list, while Willoughby was named the conference's freshman of the year last season after leading the league in blocks and setting several school records in the defensive category. It's a nice little trend the Hokies have going for them, but who's next?

"It's hard to tell … right now, all of us [upperclassmen] are fighting for positions with all of those freshmen," Parrish said. "I can see multiple freshmen coming in – Erin [Leaser] could come in and set sometimes, and Justine Record is a great outside hitter. Our middles are doing really well, too. Everyone is trying to fight for a role right now, and that kind of competition within the team is going to be really good for our program."

While Parrish is keeping the right mindset in saying that competition is still open, it would be silly to think that she wouldn't reprise her role as the offense's main weapon and that Willoughby wouldn't remain the key cog along the front line. But the question is, who will be joining them?

On attack, Munoz is the team's active career leader in kills with 891 and will look to bounce back to her sophomore totals after seeing her numbers drop as junior, and sophomore Amy Wengrenovich returns after debuting nicely in a part-time role. Jumping into the mix on the outside will be a pair of freshmen – Record from California and 6-foot-2 converted middle blocker Alison Blasingame. Record can play on either side, but she's a lefty and will prove to be most valuable taking her swipes from the weak (right) side of the net. Jessica Emanuele is back for her second year in the program, but did not play last season due to a knee injury. Finally, Jennifer Wiker is imposing at nearly 6-4, but will likely redshirt to gain experience and strength.

In the middle, Tech's opponents will certainly be on the lookout for Willoughby ("She's actually gotten better offensively than what she was last year," Riley said. "We're looking forward to the same thing. She's still going to be a big part of our offense, and she's obviously the best blocker in the conference."), but that doesn't mean there will be a hole in Tech's conference-best blocking wall when she rotates out of the front row. Betsy Horowitz, a junior, and Cunningham split time as the other middles a year ago and finished second and third, respectively, on the team in hitting percentage. Cunningham also chipped in the team's third-best block total in 2007, and freshman Kirsty Blue provides another option if she doesn't stick as a weak-side hitter.

Rounding out the Hokies' solid defense will be one of three liberos, Gergen or freshmen Kirsten Higareda and Jessica Woody. Gergen probably has the early advantage because of her experience and vocal leadership, but Higareda and Woody are both very athletic and will likely find some time on the court.

But Riley is not worried about his defense. That's easy to understand considering that Tech led the league in blocking last year with 3.26 stops per game, but he said that is nothing with which to be satisfied.

"As good as we are [at blocking], it's kind of a misleading stat because it's a small part of the game," he explained. "For a team to block 3.5 balls a game or a team to block 4.5 balls a game is still only a 1-point difference in the score. (And he's right. Looking at the ACC stats from last season, the per-game differential between the top team and the bottom team was just 1.3 blocks. Meanwhile, in the kill category, it was a larger figure of 5.69 per game.)

"So for us to be better, we've got to be better offensively. Our defense is good and our blocking is good, so if we stay exactly the same [defensively], I'll be happy with that. But if we can score more and out-kill opponents, we'll be a much better team."

For a team to get better offensively, a lot depends on the setter, and that will be one of the main areas of competition this season. Lang has done an admirable job in her two seasons and is invaluable in the front row as a blocker, but the team has had few other options. Walk-on junior Gemma Donovan has done a great job as a back-up, but her height (5-6) prevents her from playing in the front row. That's why the team is excited about the addition of Leaser – so much so that Riley is toying with the idea of using a 6-2 formation (where Lang and Leaser would lineup opposite from each other in the rotation so one is always eligible to attack) to keep them both on the floor.

"They're both solid setters, and for us, consistency is more important than athleticism," Riley said. "We'll see – it's good to have some competition in that spot."

Whoever ends up winning the various competitions will be determined in the preseason, but because of the Hokies' daily workout sessions in the summer, things are in better shape than they've been in quite some time. Just consider this little nugget that Parrish offered on that day back in July.

"We're a lot farther along than I ever thought we would be at this point in time," she said. "We're probably farther along now than we would've been halfway through the preseason had [the freshmen] not been here [for the summer]."

That's a bold statement, but why should anyone doubt her? After all, she's the one who's been living in Cassell Coliseum every night … errr afternoon.