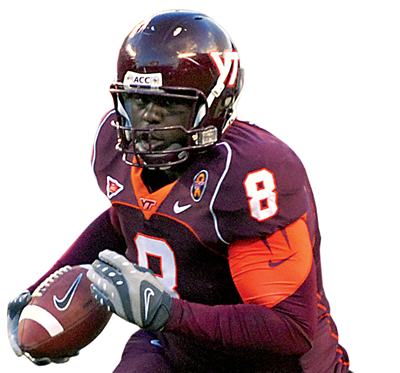 Greg Boone is starting to get really serious about football.
He's always been serious, but he decided to take that up to another level shortly after spring practice.
Boone, a redshirt junior from Chesapeake, Va., has battled weight issues since arriving at Tech. So shortly after spring practice ended, he made the decision to stay in Blacksburg for the entire summer. He sacrificed to work out with his teammates and get himself into prime physical condition.
"I'm glad I stayed, too," Boone said. "I'm in a lot better shape now than I would be if I had gone home. None of the coaches really told me to stay the entire summer. I just took it upon myself. I knew if I went home, I'd be lazy and come back out of shape."
The Hokies will need their spring offensive MVP more than ever heading into this season. Sam Wheeler isn't 100 percent yet. Plus, Tech lost four talented pass catchers off last season's team.
André Smith, a redshirt sophomore, returns following a season in which he played 13 games. Two redshirt freshmen also figure into the mix – Chris Drager, who played last season until tearing a ligament in his knee in the fourth game, and Andrew Lanier.
But eyes will be on the big guy – Boone. He came to Tech as a SuperPrep All-American quarterback. Injuries, weight problems and adjusting to a new position have prevented him from reaching his utmost potential.
That, though, may be changing.
2008 TIGHT ENDS DEPTH CHART
8 Greg Boone (6-3, 280, r-Jr.) – Big, strong, physical and fast. Is in the best shape of his life. Has good hands and is nearly impossible to bring down in the open field. Will be counted on extensively and could be a force this season.
88 André Smith (6-4, 260, r-Soph.) – Has the size and athleticism to have an impact this season. A solid blocker at the point of attack and a big target who can work the middle of the field.
86 Chris Drager (6-3, 238, r-Fr.) – A smart, young player looking to bounce back from a torn ligament in his knee.
18 Sam Wheeler (6-3, 269, r-Jr.) – Still trying to recover from a devastating knee injury suffered in the middle of last season.
94 Andrew Lanier (6-5, 263, r-Fr.) – Surprised many this spring by showing good hands and an ability to make plays.