Anyone questioning the motivation or intent of this year's women's soccer team needs to look no further than sixth-year head coach Kelly Cagle. She and her husband, Dan, welcomed their second child, a daughter, Nancy, on July 31st. And when the Hokies' preseason camp started not even two weeks later, Cagle was there ready to go. Not full-time yet – Nancy wouldn't allow that – but enough to start pushing the buttons of what looks to be a promising season in 2008.
"She's so committed," junior forward Emily Jukich said of her coach a few days after the birth. "She's hardly taking any maternity leave. She'll be back in like a week … two at the most. She just can't stand to be away. She's crazy … in a good way."
While Cagle tried to downplay her first few weeks as a second-time mother ("It's not like Blacksburg's a big town, I'm only a mile away," she rationalized.), one thing she couldn't downplay was her excitement and expectations for this year's version of the Hokies, one that could very well be the best in the program's 16-year history.
"If we can work tirelessly on a daily basis and support the concept that our team comes first, then along with the talent that we have, I think its going to be our best fall," she said.
Jukich agreed wholeheartedly.
"We are going to the postseason this year – I know we are," the Clifton, Va., native said. "It was by a tiebreaker rule that we didn't get into the ACC tournament, and I think everyone has a bitter taste in their mouths from that. That's everyone's No. 1 goal right now. No one wants to leave this season without taking our seniors to the postseason, and that's what we're all going to be working for this year."
If anyone is qualified to judge whether this team is Tech's best or not, it's Cagle. After all, the Hokies have only had three records of .500 or above in the history of the program, and all three have come under her watch (9-9 in 2003, 11-9 and an NCAA Tournament appearance in 2004, 8-7-3 and tied for eighth in the ACC at 3-5-2 in 2007).
"We've done a lot, but I think people lose sight of that because of the 10 years of struggles prior to that," Cagle pointed out. "But it's no longer good enough for us to simply be .500. We grew really fast over a short amount of time, and there's not one person involved with this program who doesn't have expectations to go to the postseason. It will be a disappointing year for us if we don't do that."
While the Hokies are looking to buck the trend of finishing in the vicinity of .500, one trend they certainly wouldn't mind continuing is the recent run of star freshmen they've had. In fact, Tech has placed at least one player on the ACC's all-freshman team in each of the past four seasons, and this year's crop of recruits presents no shortage of potential successors.
"This is one of the best recruiting classes I've seen," Jukich commented. "They all have tremendous potential to have a breakout season. I don't know if I could pick just one. I've seen them all play and I'm really excited for them to get here."
One rookie whom the Hokies are high on is midfielder Brittany Michels, a 6-footer who tackles hard and is great at winning balls in the air. She should impact the team immediately whether she starts or is in the rotation, and she has earned rave reviews for her work ethic and offseason commitment. From the defensive standpoint, Brittany Popko is another tall, central player who is vocal and could also start right away, and goalkeeper Kristin Carden is a phenomenal athlete who could push incumbent senior Ashley Owens for playing time. Meanwhile, Amanda Gerhard is a versatile midfielder/defender who could also make an early splash.
No matter which of the newcomers plays a significant role this year, they'll be joining a talented group of returning players who are about as balanced as one could ask for on a team. Tech's starting goalie is back in Owens, as are the Hokies' two best defenders and five top point scorers.
One might think that the strength of this team might be its attack, considering who returns on offense. Senior captain Laurie Beth (L.B.) Puglisi has tallied 17 goals in three seasons, Jukich has scored 10 in two, and sophomore Marika Gray netted eight in a rookie season that saw her named to the All-ACC second team. Meanwhile, junior Julian Johnson is already tied for Tech's career lead in assists with 17 after only two seasons. But ask Cagle, or even Jukich herself, what the identity of this team is and they will point to the defense. It's a defense that allowed just 20 goals in 18 games last year, and in the powerful ACC, you can't compete if you're always fighting from behind.
"The longer we can stay in each game by protecting our goal, especially with the likes of Marika and L.B. on our set pieces and Julian's long throw-in, we have the potential to score until the final horn," Cagle explained. "If we're in games defensively, I think we can be in games all the way up to the end with the attacking presence that we have."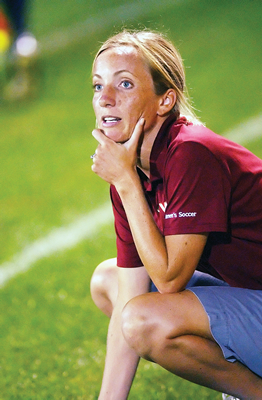 "I think we're going to have a really strong back four with Kim Hickey leading the way," Jukich added. "I think they're going to be a really tough four to get behind."
Hickey, a senior, and sophomore Kelly Lynch, who was one of those all-freshman team selections a year ago, played every single minute of every single game last year at the middle back spots, and Cagle can't speak highly enough about them. In addition to Popko, fifth-year senior Jordan Parsels and sophomore Kelsey Billups could also be looked to for help.
Integral to every defense, of course, is the goalie, and Cagle is delighted not only to have Owens back, but also to finally have some backups in Carden and fellow freshman Sarah Mather. Owens was the only keeper remaining by the end of last year, and after Owens suffered an injury late in the season, forward Robin Chidester was actually forced to play the net in an emergency role.
"Our goalkeeping situation last year was pretty thin," Cagle said. "It kind of hurt us and it put a lot of pressure on Ashley. We're going to get some depth in that position this year with the two freshmen. With the competition this year, I think it's going to prepare us a little bit more to help Ashley be as sharp as she needs to be or for us to be able to make changes if we need to. It's just going to give us some options."
There are options all around on this roster, and with options come wins. Cagle talked prior to last season about all of the Hokies' close losses, and how she was tired of 'knocking on the door.' With upsets in 2007 over then-No. 10 Boston College and then-No. 13 Tennessee, Tech finally kicked in the door, but they still got locked out of the postseason. That was likely due to a sloppy loss at George Mason and a tie with Loyola (Md.), so this year, Tech's staff is preaching the importance of consistency.
"Something we need to realize is that a 20-game season is actually very short," Cagle said. "We tried to press that point last year and I don't think [the players] really got it. We can't drop games prior to heading into our ACC season because that schedule is such a bear. We've got to set ourselves up for success in our conference."
While the losses probably stung more than the wins satisfied, it is important to take those confidence-building victories and move forward.
"[Those wins] were really important," Cagle finished. "It identifies you with being able to win at that level – we've beaten some big-time opponents in our early stages of growth.
"I don't want to say those wins were in vain, but because of some of our losses, we were kind of fighting more for our record at the end of the season than anything else. We want to be fighting for bids and placement in the NCAA Tournament."
And if the Hokies live up to their potential, that's exactly what they'll be doing.