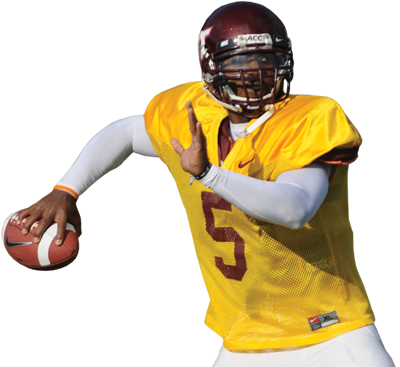 A lot of coaches around the nation are searching for a top-notch starting quarterback at this time of the year.
At Tech, the coaches find themselves in the rare situation of having to decide between two top-notch signal-callers.
Down the stretch last season, Tech's staff played both Sean Glennon and Tyrod Taylor, and for the most part, the system worked well. Tech's staff hasn't ruled out the possibility of rotating both during the 2008 season. In fact, they haven't ruled out anything.
So both worked hard over the summer and into August and both kept preparing. For Glennon, that also meant working a stint at the 2008 Manning Passing Academy, a camp in Louisiana put on by NFL quarterbacks Peyton and Eli Manning. The quarterbacks who worked as counselors also got to work on their own games.
"It was cool for us just to watch what they [the Mannings] do and how they do it," Glennon said. "But the most important part was just being able to pick their brains. The thing for me was being able to ask what they look for when they watch film and tips on how to make it to the next level."
This season needs to be played first, and the decision for the staff won't be an easy one. Competition brings out the best in each – and they'll need to be at their best this season. Tech faces question marks at both receiver and running back, meaning strong quarterback play is paramount.
2008 QUARTERBACKS DEPTH CHART
7 Sean Glennon (6-4, 224, r-Sr.) – A smart and tough competitor who makes good decisions and shows good pocket presence.
5 Tyrod Taylor (6-1, 206, Soph.) – A very good runner and an underrated passer who is still learning Tech's scheme.
12 Cory Holt (6-4, 215, r-Sr.) – Veteran presence who has moved back to QB from WR.