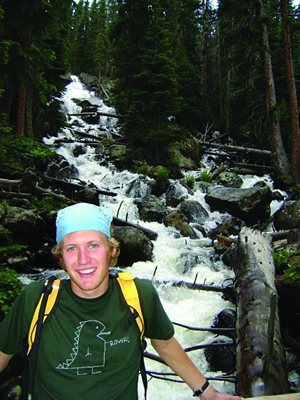 Go ahead and look up Estes Park, Colo., on Google Maps. Don't be alarmed when a large, green blob appears on your screen, though. That's not an error – that's the Rocky Mountain National Park.

Now click on the 'satellite' or 'terrain' options in the upper right portion of the map. What you see now are the Rocky Mountains. As well as Paul LaPenna's summer training trails.

Sometimes a student-athlete will forgo a summer of a relaxation at home to spend time in Blacksburg working out and getting in shape for the upcoming season, and they'll call it a sacrifice.

But LaPenna, a senior on the Tech men's cross country team, has taken it a couple steps farther – both figuratively and literally.

LaPenna has spent his summer living in the nether regions of Colorado, running miles upon miles thousands of feet above sea level.

He's there for another purpose, though. The Londonderry, N.H., native is involved in the Christian community on Tech's campus, and each summer, students have the opportunity to participate in leadership training at churches around the country. Virginia Tech is usually paired with a location in Wilmington, a sunny, sandy locale on the shores of southeastern North Carolina.

Always in running mode, though, LaPenna recognized that wouldn't be conducive to his other training – his cross country training. So instead, he flew off to Estes Park, a town located about an hour and a half northwest of Denver and about 8,000 feet above sea level. Sure, he has to make a special trip down the mountain and into civilization once or twice a week just to check his phone messages, but the hilly trails of the Rockies have proved to be invaluable to his preparation for the upcoming season.

"I don't know yet about racing an 8k or a 10k, but aerobically, I'm probably in the best shape of my life," LaPenna said from the Denver airport in late July. "It's good training. It's all in the national park so I'm on trails for literally every run. I figured it would be a good way to get ready for my senior year."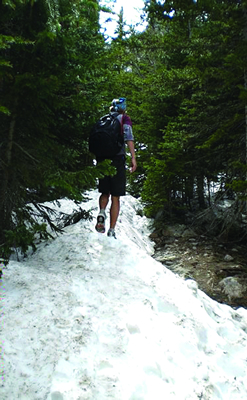 And ready he'll be, especially after turning in totals of 90-100 miles per week in the high altitudes. One of his more recent treks was a 15-miler that saw him climb a net total of 4,000 feet up and down one of the tougher terrains in the range, but he's not counting on that allowing him to coast through the fall season.

"Right when I get back, I'll have about two weeks where I feel like Superman, but it doesn't really last much longer than that," LaPenna explained. "You produce more red blood cells when you're training at a high altitude to compensate for a lack of oxygen. When I go back down to sea level, they will start being broken down, so I'm not really relying on that. Regardless of the altitude training, though, I still feel like I'm just very, very fit."

Tech head coach Ben Thomas outlined a 12-week summer training program for each of his athletes, and LaPenna has admitted that he's guilty of adding a few miles here and there. But that's just a testament to how determined he is.

"Paul wants to be good and he's always been committed," Thomas said. "He's worked through a lot with injuries and so on, but the key with him has always been to maintain his consistency. He's willing to work hard but his body hasn't always allowed him to stay healthy enough to get in the amount of work he needs to in order to be where he wants to go, which is an All-American level."

LaPenna has stayed healthy so far this summer, and he will combine with fellow senior Billy Berlin and junior Devin Cornwall to give the Tech men's team a trio that has a good shot at improving upon last season's finishes of fifth in the ACC and seventh at the NCAA Southeast Regional.

"It could be fun for the guys this year," Thomas said. "I'm excited because [LaPenna, Berlin and Cornwall] have all had good summers, and those are our key guys. To really have a chance at making nationals, those three are going to have to be at a high level – an All-ACC level and certainly an all-region level … top-15, even – and they're setting themselves up for that."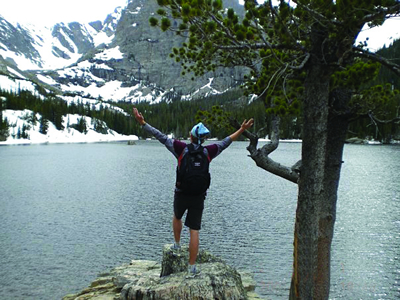 The key to success in cross country is having a solid pack of seven runners, and the Hokies have a group of five more who have the potential to narrow the gap to the big three. The Padilla twins, Chris and Phillip, have progressed in each of their three seasons and will be counted on to do so again as seniors. Then there are sophomores Eddie Judge and Ryan Witt, each of whom had strong track seasons after finishing fourth and sixth, respectively, in the 1,500 meters at the U.S. junior nationals and have the ability to develop into reliable distance runners.

Finally, there is freshman Michael Hammond from Midlothian, Va., a Foot Locker national semifinalist from a year ago (meaning he was one of top 32 high school cross country runners in the nation).

"He's excited and he wants to come in and contribute right away," Thomas said of Hammond. "And I think he can. He could very well develop into one of our top five guys."

Much like the men's team, the women's squad also has a solid group of three runners – seniors Tasmin Fanning, Jess Fanning and Erin Reddan – to lead the way in the early going. But unlike the men, there is big question mark after that.

"It's going to be an interesting mix," Thomas said. "After those top three, it's going to be up to some freshmen and returning sophomores to step in and try to close that gap."

In addition to Natalie Sherbak, whose cross country eligibility ended last season, the Hokie women lost one key contributor, and one with great potential, from a team that is only two years removed from advancing to the NCAA Championships and that took fifth place at both the ACC and Southeast Regional meets in 2007.

It figures to be a rebuilding year for the women, but with a runner as good as Tasmin Fanning, it's wise for Tech's opponents not to overlook the Hokies. Fanning qualified for nationals last season as an individual and ended up an All-American with a 12th-place finish, the best finish by a Hokie in school history. Then over the summer, she placed ninth in the 5,000 meters at the U.S. Olympic Trials.

"Having that whole experience and competing with the best American elite runners gives her all the confidence in the world," Thomas said. "The sky is the limit with her."

Jess Fanning is a three-time all-region finisher and Reddan has improved tremendously, but it's up to some youngsters – sophomores Lindsey King and Jess Trapeni and freshmen Sammy Dow and Laura Greene are some names to watch – to step up and fill some holes in the roster.

No matter who ends up stepping into prominent roles for either team, one thing's for sure. If they're preparing half as hard as LaPenna, the Hokies will be in good shape – in more ways than one.