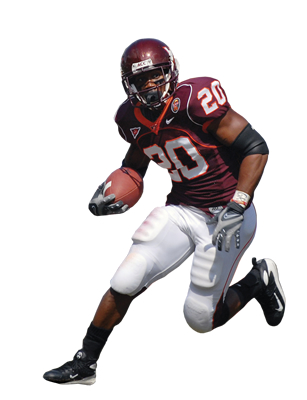 That Kenny Lewis Jr., came back sooner than expected from his serious shoulder injury comes as no surprise.
That he came back at least two months beforehand defies all logic.
Lewis suffered from a torn labrum that ultimately required surgery, and Tech's sports medicine staff predicted 4-6 months of rehab before full recovery. Yet two months before the four-month mark, he was cleared to do everything.
"Mike Goforth [assistant AD for athletic training] is probably going to get mad at me for saying this," Lewis said. "But I went online after my shoulder surgery and did some research on the rehab. I started doing things at week 1 that I wasn't supposed to do until week 5."
Lewis had plenty of motivation. His injury opened the door for Jahre Cheeseman, Dustin Pickle, Darren Evans and Josh Oglesby, and their improvement inspired him to get back. Then there's Ryan Williams, the hotshot incoming freshman from northern Virginia who ranked as one of the best high school running backs in the nation a year ago.
"The opportunity was just too great for me," Lewis said. "When Aug. 30th comes around, I want to be out there and I didn't want the injury to hold me back. If I'm not out there, I want it to be because I'm not good enough."
At the fullback spot, Kenny Jefferson leads the way, with Devin Perez and Kenny Younger behind him. These three give running backs coach Billy Hite a ton of depth.
Tech's staff hopes to run the ball better this season. The Hokies rushed for an average of just 133.6 yards per game last season.
"I'm going to tell you this," Lewis said. "Once we get our rotation set, we're going to have a punishing running attack. That's always been the emphasis at Virginia Tech and we're going to get back to it."
2008 RUNNING BACKS DEPTH CHART
TAILBACKS
20 Kenny Lewis, Jr. (5-9, 199, Jr.) – Is fully recovered from a torn labrum. Not overly big, but combines a tremendous work ethic with outstanding speed and quickness.
27 Jahre Cheeseman (5-10, 204, r-Jr.) – Is recovering from a broken left leg suffered in the spring. Not a burner, but is a tough, physical runner.
35 Dustin Pickle (5-10, 184, Sr.) – One of the most unselfish guys on the team. Will help out on special teams.
32 Darren Evans (6-0, 215, r-Fr.) – A big back who is physical and tough.
25 Josh Oglesby (5-11, 211, r-Fr.) – Has size and speed, and can make a move in the open field.
FULLBACKS
42 Kenny Jefferson (5-9, 216, r-Jr.) – Is an outstanding blocker who knows how to get leverage and get underneath people.
44 Devin Perez (5-8, 242, r-Jr.) – An incredibly strong player who will help extensively in goal-line situations and on special teams.
31 Kenny Younger (5-11, 227, Jr.) – One of Tech's top performers in the strength and conditioning program. Still getting a feel for the fullback spot.