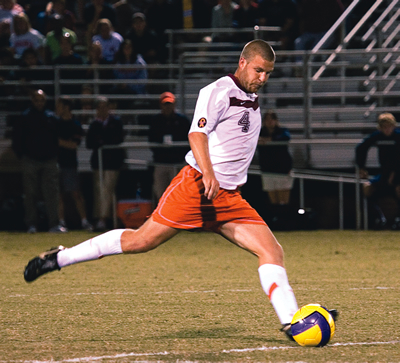 What's done is done. Live and learn. Don't rest on your laurels.

Each of these sayings is commonly used to describe when it's time to move on, either from something bad or something good. They're also sayings that can be used to describe the mindset of the Virginia Tech men's soccer team as it prepares for the 2008 season, though what they're moving on from is hardly anything bad. In fact, it couldn't be much better.

The Hokies had far and away the best season in program history – and one of the best in Tech's entire athletics past – in 2007 when they went 14-4-5 and advanced to the NCAA College Cup, soccer's version of the "Final Four." Though Tech lost in the semifinal to ACC foe and eventual national champion Wake Forest, what was accomplished last year will certainly be tough to match.

But if there's a man to lead the attempt at doing so, it's head coach Oliver Weiss, who enters his seventh season at the helm. He had bold expectations last year and met them, and he's likely to have similar expectations again this year. But like always, there are questions to answer and holes to fill, and how that is done will determine the Hokies' success.
WHAT'S DONE IS DONE
Watching the Hokies in the College Cup last December on ESPN was a little surreal for anyone who's followed the team. Men's soccer has a good following at Tech and many of the home games have large crowds and a big-time atmosphere, but to see the boys from Blacksburg as the subject of a full-blown telecast by the worldwide leader was a special thing to see.

Ask Weiss for his thoughts about it, though, and he offers no sense of awe.
"It was nice," he said bluntly. "But I live in the present. It was disappointing that we didn't get another game, but all of us agreed that it [the College Cup] was where we should've ended up on the year given our conditions, our talent and our lack of injuries. If we had not gotten to the College Cup, we would've underachieved."

While it may be tougher for others to temper their excitement similarly – such as rising sophomore James Shupp ("It was a great atmosphere, and to tell you the truth, for the first 10 or 15 minutes of the game, I was like 'Uhh, what do I do?'") – it's good for the man in charge to keep a level head. After all, he's got a lot of new minds to mold.

Only a handful of players with significant minutes return to the pitch in 2008, meaning more than half of this year's roster will consist of brand-new faces. The Hokies lost four seniors and each of their four one-year foreign students who played significant roles last year. But what made this year's recruiting class even larger (14 players in all) was three more recent losses that will leave Tech with a much different look.

A pair of would-be senior defenders, Alexander Baden and Bryan Collier, departed and left Shupp as the lone returnee on the back line. Collier opted not to come back for his fifth year of eligibility, while Baden went down with a torn ACL and is out for the season. The biggest loss of all, though, is All-American forward Patrick Nyarko, who was drafted after his junior campaign by the Chicago Fire in the Major League Soccer SuperDraft. So with much of his roster now gone, what's done is indeed done, but Weiss doesn't seem worried.

"It was hard to replace guys at the last minute unless I did something creative, so that's what I did," Weiss said. "I'm very happy with who we've got coming in here."

Weiss' creativity led to a diverse group of recruits. New to the team will be seven Americans, including Blacksburg High stars Michael Breske and Jeremy Williams, and seven foreigners – four from Germany and three from Ghana.

Two of the Ghanaians – Emmanuel Akogyeram and Philip Aseweh – along with Miami's Dade County player of the year, Luiz Yamashita, will be looked upon to replace some of the 37 goals that were scored last year by Hokies who are no longer with the team. The third Ghanaian newcomer, Demanya Dogbey, is a defensive midfielder who will join returnees Scott Dillie, Charlie Campbell and James Gilson in the all-important midfield.

"This is a new year and a new team," Weiss continued coyly, as if he's found some gems but wants to keep them under wraps until it's time to unleash them on the field. "These guys will be very good. The worst thing you want to see is someone tooting their own horn and then nothing happens.

"It's hard to say [how good] because I don't know the majority of the players inside and out yet. There are challenges to making this as good of a year, or even a better year, but the potential is there for it – I can guarantee you that."

LIVE AND LEARN
Playing in the atmosphere of the College Cup was an invaluable experience to all of the Hokies involved, but perhaps none more so than Shupp, the Downington, Pa., native who made the ACC's all-freshman team last year and returns as the young leader of a somewhat unknown defense.

"It's still heartbreaking every time I watch it because at one point, the game could've went either way," he said of the 2-0 loss to Wake Forest. "It seasoned me a little bit and should help me to play the regular-season games a lot more calmly and smartly. Having played in a game like that, now maybe I have something to offer to some of our new first-year players to help them be more comfortable."

That's something he'll definitely need to do, because he will be joined on the back line by three new yet-to-be-determined starters. Williams is an option, as are returning substitutes Taylor Walsh and Craig Burnell. Additionally, German natives Jan Hausfield and Tobias Hottner should see time because of their international experience and the ability to add offense from the back. Whoever it is, Shupp will be the one anchoring it all in the middle, and he's up for the challenge.

"Soccer is a common international language, so we know how to play," he said. "It's just a matter of learning to play with each other."

Because of the young nature of this year's squad, Weiss said it is imperative that many of his players act and lead a year older than they actually are.

And because of a slight gaffe in that season-ending loss to the Demon Deacons, Shupp is mentally prepared to do so. If you watched the game, you'll remember that Wake's first goal came off of a set piece, a free kick that was awarded because of a foul in the corner. A foul that was committed by an overly aggressive Shupp.

"Looking back at that foul, yeah, I did it," Shupp remembered. "Yes, it did create that opportunity, and yes, they did score on it. If I didn't commit the foul, maybe it would've stayed a 0-0 game and maybe we would have won – you never know. Do I regret it? A little bit, but I've learned from it and it's made me a much better and more mature player."

Shupp's newfound on-field maturity will certainly come in handy, as Tech can't reasonably expect to score 51 goals again, a figure that ranked fifth in the nation. The Hokies may need to rely more on their defense, and the chemistry developed between Shupp and junior goalkeeper Brendan Dunn will be paramount to its success.

"I think that's something that is commonly overlooked," Shupp said of a defender's relationship with his goalkeeper. "It's reassuring to know that once you get that connection with a goalie, you know who is responsible for getting any given ball. Him and I understand each other pretty well."

Dunn split time between the pipes as a freshman and was then relegated to a backup role last year behind German Markus Aigner. Weiss said he trusts that Dunn will get the job done this year, but Tech's two other keepers, third-year Canadian Stefan Caulfield and freshman Thomas St. Germain, are capable replacements.

"Dunn sat last year and he was humbled, but he got great grades and he has matured," Weiss said. "He earned that spot and now it's up to him to defend it against the other two."
DON'T REST ON YOUR LAURELS
Think Weiss is satisfied with what the Hokies accomplished in 2007? Think again. He's often said over the past couple of years how he was tired of Virginia Tech being the underdog of sorts and how important it was to stay the course in achieving elite national status. Well, guess what happened last year with that run to the College Cup? Exactly what he wanted to happen, but he's not about to get blindsided by the next wave of 'underdogs.'

"In preparation for playing us this season, I think every coach will remind their team that Virginia Tech was in the final four last year," Weiss said. "But if I pay too much attention to how other people view us, I'll lose track of my own team."

What his own team is trying to do now is capitalize on all of the good fortune that came its way last fall.

"When you make steady progress, you can't lose sight of [when you get to where you want to be]," Weiss explained. "Well, forget the progress, we're there. Now it's time to cash in on all the hard work that we did.

"The responsibility lies on us now to defend the status that we've achieved. We can't take it for granted – we have to realize that every game, people are looking at us as a team that should be ranked and competing for a national title. Can we understand that and use it to our advantage? That will be the deciding factor this year."

In fact, Weiss and the Hokies are already preparing for the 2008 postseason. They're doing so by playing their season-opening tournament in Oregon against NCAA tournament regulars Portland and Washington.

"West Coast soccer is very good," Weiss said. "We need to expose ourselves. We need to cover new ground and constantly improve on something. What if we get thrown into a second-round game out there like Cal did with us here this past year? If so, then we can draw on this experience. [The trip forces us] to go through it, learn something, and then the experience hopefully pays off at the end of the season."

Here's hoping the end of the season includes an epilogue to the storybook run that was 2007.

"It was very special and I'm hoping we can repeat it," Shupp concluded.