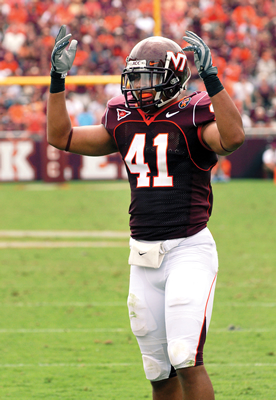 Cam Martin is trying to shed his image.
No, not the one in which he is a tremendous football player. No one wants that part of him to disappear.
And no, not the one in which he provides leadership. This year's defense needs that.
Instead, the whip linebacker is trying to become more of a vocal presence on Tech's defense, which belies his soft-spoken nature.
"I take on the leadership role by example," Martin said. "But I will speak up if something is out of place. I may be quiet, but I also want to win, and if something is not right, then I'll speak up. It's only right to step up and say something."
Martin finished fifth on the team in tackles last season with 78, and had 4.5 sacks and an interception. He missed some time with a knee injury suffered in the ACC title game and re-injured in the bowl game. It still bothers him somewhat – thus causing concern among the coaches – but he continues to rehab it and hopes to have it 100 percent before the opener.
Cody Grimm and Dylan McGreevy back up Martin at the whip linebacker spot. Grimm really understands the game and possesses the instincts to play several different positions.
Following Kam Chancellor's move to safety, Dorian Porch and Davon Morgan, who played last year as a true freshman, are battling for the starting job. Morgan could see a lot of action this fall as well even if he doesn't win the starting nod.
Martin, though, will be the leader of coach Jim Cavanaugh's group, and his expectations will remain the same.
"I've got to stay healthy and get better in everything," Martin said. "I want to win the ACC and that should be everyone's expectation."
2008 WHIPS AND ROVERS DEPTH CHART
WHIP LINEBACKERS
41 Cam Martin (6-1, 204, r-Jr.) – A tremendous player with all-conference ability. He's fast, strong and smart, and one of the main leaders on this defense.
26 Cody Grimm (5-11, 198, r-Jr.) – A solid back-up with the ability to start. A very good tackler for someone his size and he really understands the game.
46 Dylan McGreevy (5-11, 215, Sr.) – Made great improvement over the spring and provides depth. Will most likely help on special teams.
ROVERS
2 Davon Morgan (6-0, 190, Soph.) – Is a good tackler and has excellent ball skills. Is still making the transition to a new position, but should see plenty of action this fall.
24 Dorian Porch (5-11, 211, r-Jr.) – Put together a splendid spring, but is battling for the starting job. His physical skills were never in doubt, but he showed much more of an understanding of the game this spring and played much more consistently as a result.
30 Alonzo Tweedy (6-2, 184, Fr.) – Young prospect still learning the position. Can run and hit. May end up redshirting.