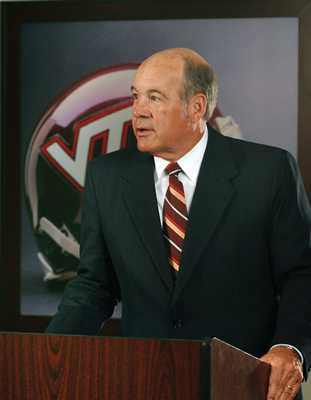 Virginia Tech is entering its fifth season in the ACC and there is a lot of going on within the athletics program. We sat down with Jim Weaver, director of athletics, as part of our annual Q&A to get his thoughts on a wide range of topics.

Q: Virginia Tech has won nine conference championships since joining the ACC, surpassing, we believe, everyone's expectations. What do you think has led to the school's success so far?
JW: I think the fact that being in the ACC has enabled our coaches to enhance their recruiting efforts and it shows that we had the right head coaching leadership in place, and that we were confident that we could be successful in this conference. We're fifth in the conference in terms of championships won since we joined the league. To do that in such a short period of time – that's something to be proud of.

Q: Facilities are a never-ending topic here at Tech. How is the basketball practice facility coming along since ground was broken on the project in late April?
JW: I think it's coming along fine. It's going to give our basketball programs the kind of facility they need to recruit to, and it'll allow us to compete with the top schools in the country for recruits.
Ours is an enterprise that if you don't invest in it, you won't realize the success. There are a lot of people aspiring to achieve the same things we are and it's important that we continue to move forward.

Q: What can you tell us about the next project – the construction of a new football locker room and players' lounge next to Jamerson?
JW: We have to go to the Board of Visitors and we're working on getting all that information in place. But that's our next big project and it needs to happen. We're working hard and trying to have that ready for the 2010 year. You don't wait until something is totally broke to fix it. You try to move forward while you have the momentum.

Q: Why this particular project as opposed to building a new field house, as you've stated in the past that you wanted to do?
JW: The field house is not as high of a priority. The football locker room is used on a daily basis whereas the field house is only used when the weather is inclement and for our indoor track teams or for some sports to get ready for the spring season. We still want to turn that into a full-time track facility and still build a field house. That'll be next on our list of priorities.

Q: What can you tell us about scheduling, and in particular, about perhaps playing Alabama in the season-opening Chick-fil-A College Kickoff next year?
JW: We made the decision back in the spring that we would avail ourselves to that opportunity and we were able to move the Cincinnati game to 2012 [season opener in 2009]. Talks with Alabama were in the works, and if it wasn't Alabama, then it would be another SEC team. If that doesn't happen, then we're guaranteed a home game next year by the TV entity [ABC/ESPN] without having to return the game at a later date.
As far as the rest of our scheduling, we're fully booked pretty far out [through the 2012 season]. We've also got Nebraska [2008-09], Syracuse [2010-11], Pittsburgh [2012-13], Ohio State [2014-15] and Wisconsin [2016-17] all on our schedule in coming years.

Q: There was a story in USA Today about Ohio State paying Navy $1.4 million to come to Columbus for a home game. Other schools are paying in excess of $800,000 for games. How does the rising cost of games affect your scheduling philosophy?
JW: It makes things difficult. The people who are paying those huge guarantees are the people who have 90,000-seat stadiums and above. We're at 66,000 so it's difficult for us to pay those guarantees.
The highest we had ever paid was $500,000, but this year, we're paying Western Kentucky $850,000 and I have a major problem with that. We tried to help out the Mid-American Conference when they wanted to push the Bowling Green game back to 2012. They said they would help us find an opponent and never did. And I was not going to play two I-AA teams [Furman is on Tech's schedule]. Unfortunately, we had to pay a huge guarantee.
Now, the money averages out this year [on a per-game basis] to what we'd normally pay because we're going to Charlotte [for the ECU game] and to Nebraska. But I'm still not happy about it.

Q: No one talks about energy costs related to athletics, but does that concern you?
JW: I'm worried to death about it. We've met as a staff numerous times about that subject matter and we have strategized how we're going to go about that. We have 2-3 different approaches that we're going to take to help our programs make ends meet. I don't want to get into those right now because we haven't talked with all the coaches about it.
By the same token, I think the energy crisis is going to push intercollegiate athletics to think about a number of things. I can see the foreign tours going by the wayside. I can see the non-traditional competitions going by the wayside. And certainly, I think people are going to have to schedule more on a regional basis. It doesn't make sense for a lot of sports to go to the West Coast to compete. I think that will all come to the forefront in the next year or two.