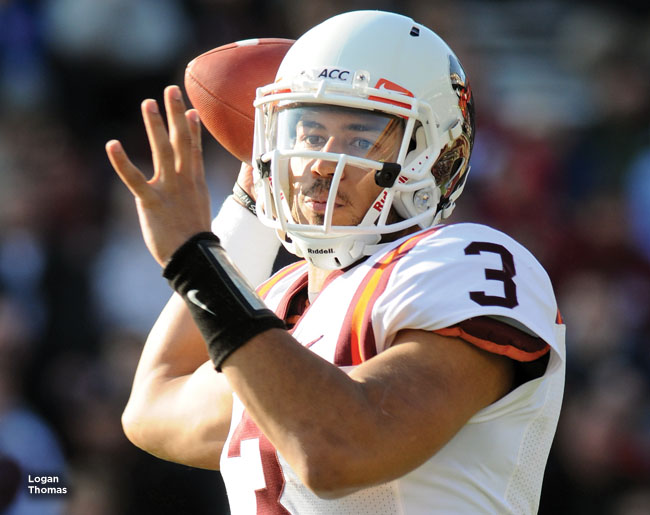 Toward the end of a rather busy summer for Tech quarterback Logan Thomas, he gave a brief assessment of his golf game, arguably his second greatest passion besides football. Like most non-professional golfers, he said he hadn't gotten to play a lot.
"I've been too busy," he said. "And I don't have enough money in the bank account."
Thomas' bank account probably would have been flush with cash had he decided to forgo his final season at Tech and enter the NFL Draft. But an NFL panel that advises underclassmen on these decisions couldn't guarantee Thomas of being selected in the first round. Besides, a disappointing 2012 left him with a bitter taste in his mouth, and after Frank Beamer brought in Scot Loeffler, who possesses NFL experience, to be the offensive coordinator, Thomas decided to stay for his senior season.
"It [last season] made it tough to leave because you don't want to leave on a 7-6 record," he said. "You don't want to leave on a bad note or with a bad taste in your mouth. That's a pretty big reason why I came back. Another reason is because I love the school so much and the area here and the people. That made it pretty easy to come back as well.
"It's nice not having people asking me what I'm doing in August [about leaving early and going to the NFL]. It's nice not having to worry about the next level for the next six or eight months, whatever it is, while I'm still in school. I can just focus on football right now, especially since I've graduated. I can focus on one game at a time and be excited and have these guys ready to go."
Thomas returns after a junior season in which he broke his own single-season record for total offense, finishing with 3,500 yards. He threw for 2,976 yards and 18 touchdowns, but he also threw 16 interceptions and his completion percentage dipped eight points from his sophomore year.
Loeffler worked with Thomas and all quarterbacks on mechanics and fundamentals, and Thomas enjoyed a good spring. But in the spring game, he threw three interceptions, and the offense's overall performance left some Tech fans wondering about the upcoming season.
"I think we made leaps and bounds," Thomas said. "I know people are going to say stuff about the spring game, but what Coach [Loeffler] told me was that I played 48 plays and 46 of the 48 were perfect. I just had two bad balls. I made the right read and threw two bad balls. That's the thing with the spring game, but throughout the spring, I got better and better and better."
Thomas, who led the team with 524 yards rushing last season, orchestrated summer workouts, leading 7-on-7 passing drills twice a week throughout the summer. He picked out the plays, making sure he and the receivers were on the same page with the stuff they all learned in the spring, while incorporating new material that Loeffler implemented after August practices began.
The work they put in over the spring and summer has Thomas and his teammates optimistic heading into the season opener against defending national champion Alabama.
"I'm ready to get it started because I think we've all got a bitter taste in our mouth from last year," Thomas said. "We've put in some good preparation this spring and summer, especially with some of the changes we've made. So I'm anxious to see how much better we'll be this year."
2013 DEPTH CHART
QUARTERBACKS
3 Logan Thomas (6-6, 254, r-Sr.)
6 Mark Leal (6-0, 217, r-Jr.)
16 Brian Rody (6-6, 236, r-So.)
9 Brenden Motley (6-3, 216, r-Fr.)
12 Trey Gresh (6-1, 209, r-Jr.)
A QUICK GLANCE
Returning starter: Logan Thomas (27 career starts)
Starter lost: none
Projected new starter: none
Top reserve: Mark Leal
Newcomers: Connor Jessop, Brenden Motley
Breakout candidate: Thomas
Notes: Thomas' 27 career starts rank tied for third on the team with Derrick Hopkins behind Kyle Fuller (33) and Antone Exum (32) … Thomas has thrown for more than 300 yards in two games in his career … Barring injury, Thomas should leave Tech with career records for total offense, passing yardage and touchdown passes … Mark Leal has played in five games in his career.