The former associate head coach replaced Pete Hughes, who departed for the head job at Oklahoma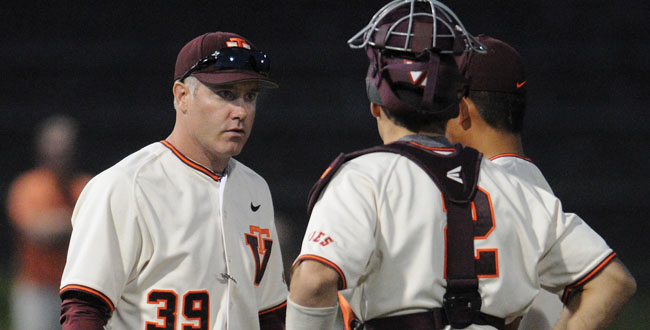 After 16 years in the college coaching profession, Patrick Mason finally got the news that he'd spent nearly all of his career working toward – he was in line for his first head coaching position.
On June 27, Virginia Tech announced the hiring of the former Hokies' associate head coach as the 24th head coach at the school, but just the fifth in the last 66 years of the program. Mason, who had been the associate head coach for the past three seasons, replaced Pete Hughes, who departed after taking the Oklahoma head coaching position.
On the job for about eight weeks now, Mason has taken the ball and gone with it.
"I think the first couple of days, it was a whirlwind, but as the dust settled and we started moving forward, it [being the head coach] has sunk in," he said. "With planning and preparation for the fall and continuing the recruiting cycle, not really looking to anyone else for answers any more, that really makes that transformation sink in a little bit quicker. When the final decisions are now being made by me, I better speed up with the process myself."
Mason, who came to Tech in 2010 after working stints as an assistant at both Framington State and Boston College, first filled out his staff. He promoted longtime Tech assistant Mike Kunigonis to associate head coach, and he named former North Carolina hurler Robert Woodard as the pitching coach. Mason used to serve in that particular capacity.
He has a couple of things to finalize, but Mason is thrilled with where things stand heading into his first fall as the head coach. Yet he does see how his new role shapes other people's perspectives.
"Transforming into this role, recruiting-wise, we haven't really missed a beat at all," Mason said. "We've been able to lock up some very solid commitments in the past month. Relationships with the current players have been great. Everyone we expected to come back is coming back, and we're now just getting into the planning phase of our fall season.
"I will say this – people seem to look at me a bit differently now that I'm a head coach, which I find a little bit amusing. That's been fun for me because, for whatever reason, they are looking at me through a different lens now, so I've been having some fun with that with some of the guys and colleagues I've run into."
A lot of veteran players off the 2013 squad departed via graduation and Major League Baseball's First-Year Player Draft (nine total), so the staff is certainly concentrating on how the fall season is going to take shape. More than a dozen new faces will be looking to earn spots on the 2014 roster.
"We lost a lot of players, so our fall is going to be very similar to the fall of 2010," he said. "We're going to intra-squad, we're going to compete – there are a ton of openings in our lineup and our rotation.
"With that being said, we still have a pretty good returning core, both numbers-wise and talent-wise, but there are some openings in innings that need to be won. So we want to make it as competitive as possible.
"We know we have a lot of talented kids, so hopefully we can create that atmosphere where guys will emerge into those roles, similarly to what [former starting pitcher] Devin Burke did last year. We want to make it as competitively as imaginable, but we don't really plan on changing too much."