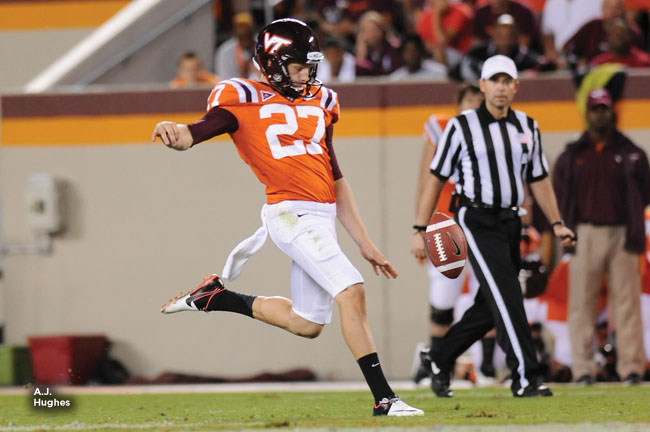 A.J. Hughes admitted that he was nervous for the season opener against Georgia Tech last September. It marked his first collegiate game after winning the starting job as the punter for the Hokies.
His first punt went for a mere 32 yards. His second punt never got in the air, as he dropped the snap, allowing the Yellow Jackets to start their possession at the Virginia Tech 24.
Talk about a rough beginning to one's college career.
"That was probably the best thing that ever happened to me, to be honest with you," Hughes said. "I kept telling myself that I wasn't nervous, but I was. It [the dropped snap] got me focused. Then I had a good game after that."
Hughes went on to have a rather solid season for the Hokies as a true freshman, earning a scholarship, starting all 13 games and averaging 40.6 yards per punt to rank a respectable sixth in the ACC. He hit 15 punts of 50 yards or more, and he placed 22 punts inside the 20.
It's been a meteoric rise to starting as a punter, considering Hughes only punted one season in high school. He served as a wide receiver and really only got into punting by accident.
"Steve Weatherford, the punter for the Giants, actually punted for my high school," Hughes said. "The summer before my senior year, he held a camp, and I punted with him, and he was like, 'You're really good.' Pat McAfee, the punter for the Colts, was there as well. He set me up with this guy, and he told me that I should go to this scholarship camp and see what happens.
"I ended up going, won the camp and was ranked 11th in the country, just from one weekend. I realized I could do this in college, and doors started opening."
Hughes hasn't rested on his laurels, though. He spent three days a week this summer working on his punting. He worked on things like his drop, his hang time, punting out of an end zone and pooch punting. He wanted to be consistent in everything.
He also attended a bunch of different camps, including one in mid-July in Wisconsin. He took a trip with former Tech kicker Brooks Abbott to Florida to meet up with Abbott's kicking coach, and he came away impressed with the results.
"We worked on my drop, my hold, my steps, keeping square … emphasizing stuff like that," Hughes said. "I didn't realize kicking was so complicated. I was just an athlete with it, kind of like Danny [Coale] was. I tweaked some things and did some fine tuning, and now I'm pretty confident."
Hughes and Cody Journell give the Hokies a good tandem of kickers. Journell returns as the placekicker and may handle kickoffs as well. Journell made 20 of 25 field-goal attempts last season.
With Kyshoen Jarrett returning as a punt returner (averaged 13.9 yards per return last season) and Demitri Knowles returning as a kick returner (averaged 28.3 yards per return last season), Tech's special teams appear to be in good shape heading into 2013. Those units need to be strong, too, as Tech's offense may need some time to jell early in the season.
The kicking game could certainly help that transition. For sure, these experienced kickers are anxious for the challenge.
"We have high expectations," Hughes said. "We're holding ourselves to a high standard. We want to turn some heads.
"I'm ready. Toward the end of the season, I started to get in the groove of things. My confidence was up. I was really comfortable, just adjusting to Division I football. I'm really excited about this upcoming season."
2013 DEPTH CHART
KICKERS
89 Cody Journell (5-11, 183, r-Sr.)
93 Ethan Keyserling (6-2, 199, r-Jr.)
PUNTERS
27 A.J. Hughes (6-0, 199, So.)
48 Hunter Windmuller (6-3, 177, r-Fr.)
38 Michael Branthover (5-9, 193, Jr.)
SNAPPERS
65 Joe St. Germain (5-11, 220, r-Jr.)
59 Eddie D'Antuano (6-6, 263, r-Fr.)
A QUICK GLANCE
Returning starters: Cody Journell (25 career games), A.J. Hughes (13 career games), Joe St. Germain (15 career games)
Starters lost: none
Projected new starters: none
Top reserves: Hunter Windmuller, Eddie D'Antuano
Newcomers: Windmuller, D'Antuano
Breakout candidate: Hughes
Notes: Journell has made 34 of 42 field-goal attempts in his career – 80 percent … Journell kicked off six times last season … Abbott led the team with kickoffs last season with 39, averaging 61.5 yards per kickoff (nine touchbacks), but decided to transfer before fall practices started.