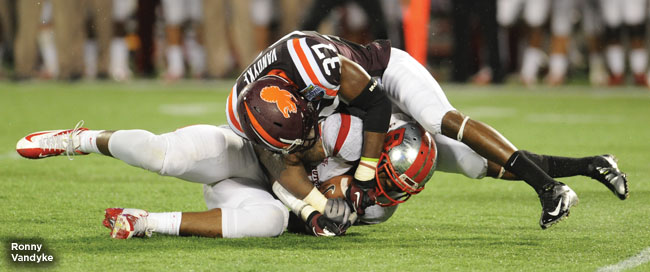 It turned out to be a rather eventful summer for Ronny Vandyke.
He spent 11 days in the Dominican Republic as part of a summer school course, he went home for a few days to celebrate the Fourth of July holiday and he saw his good friend and mentor, team chaplain Johnny Shelton, depart for a job as the chaplain of the NFL's Baltimore Ravens.
The last of those three hurt the deeply spiritual Vandyke.
"It's a huge loss, not just for us, but for the coaching staff as well," Vandyke said. "Him leaving is bittersweet. I'm excited for him to be the chaplain of an NFL team, but at the same time, we're losing a big piece of the program, certainly spiritually. We know he's going to find someone to replace him – well, no one is going to replace him – but he's going to find someone to keep us on the right track."
Whoever gets the job won't have much difficulty keeping Vandyke on the right track. The redshirt sophomore from Lorton, Va., takes care of business off the field and appears ready to take care of things on it during the 2013 season.
Vandyke goes into the season on top of the depth chart at whip linebacker after splitting time last season as a redshirt freshman with both Jeron Gouveia-Winslow and Alonzo Tweedy. Gouveia-Winslow started the first four games before defensive coordinator Bud Foster elected to go with his nickel defense, thus starting an extra defensive back in place of a whip linebacker. Vandyke started the Clemson and Miami games, but after the Miami loss, whips coach Cornell Brown went with Tweedy for the remainder of the season.
Vandyke finished with 21 tackles (17 solo), including two for a loss. He also forced a fumble.
"It was," Vandyke said when asked if last season was tough for him. "Going in as a redshirt freshman, I thought I knew the defense. I had a good spring practice, but there were a lot of things that I still didn't know.
"I'm not going to lie. It was tough at the time, but I needed that. I needed to take a step back and really learn from a guy [Tweedy] who could get the job done right now. Not saying that I couldn't and that I didn't have the potential, but there was still a lot that I needed to learn. It was easy for me to step back and learn because I like learning and I like getting better."
It has taken some time for Vandyke to adjust to his position. At South County High School, he played defensive back, earning all-state honors as a safety. But once he got to Tech, he grew out of the position.
Now, at 6-foot-3 and nearly 215 pounds, he certainly possesses the physical attributes to be another in a long line of very good whip linebackers. Tech's coaching staff wants to take advantage of that size by keeping him closer to the line of scrimmage and blitzing him when the situation calls for it.
"I really like the position," he said. "I'm closer to the ball. It allows me to react faster. It allows me the potential to make a lot of plays and come off the ball and blitz. I'm able to move around a lot, so I do like the position."
Vandyke leads two walk-ons at whip linebacker. Coming out of spring practice, Josh Trimble was second on the depth chart, with Derek DiNardo third. Both Trimble and DiNardo played at backer last season, but their skill sets probably fit in better at whip linebacker. All three figure in extensively on the Hokies' special teams, given their abilities to play in space.
2013 DEPTH CHART
37 Ronny Vandyke (6-3, 219, r-So.)
48 Josh Trimble (6-0, 216, r-So.)
41 Derek DiNardo (6-0, 216, r-Jr.)
11 Kendall Fuller (5-11, 193, Fr.)
A QUICK GLANCE
Returning starters: Alonzo Tweedy (four career starts), Jeron Gouveia-Winslow (16 career starts)
Projected new starter: Ronny Vandyke (two career starts)
Top reserves: Josh Trimble, Derek DiNardo
Newcomers: none
Breakout candidate: Vandyke
Notes: The three whip linebackers on the depth chart have combined for 35 tackles (29 solo) in their careers … Vandyke recorded five solo tackles in the Hokies' bowl win over Rutgers … Tweedy and Gouveia-Winslow combined for 184 tackles in their careers, with 14.5 for a loss and 4.5 sacks … Tweedy started the last three games of last season and had 17 tackles (10 solo), including 4.5 for a loss … Tweedy led all players a year ago with 220 snaps on special teams.