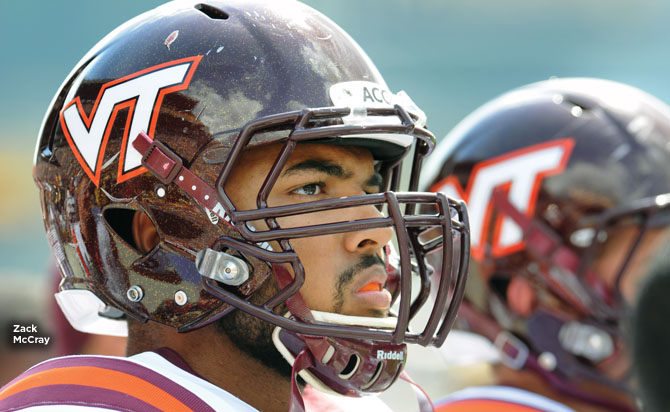 Zack McCray has been at Tech for three years and made small contributions on the field for the Hokies in each of the past two seasons.
But this spring, he started from scratch.
McCray, a former SuperPrep and Parade All-American out of Brookville High School in Lynchburg, Va., requested to be moved to the tight end position at the end of last season after three years as a defensive lineman (including his redshirt year). He played in all 13 games last season, but only 35 snaps from scrimmage (all on defense). Most of his action came on special teams.
His first real action as a tight end came this spring, and like the rest of the Hokies' tight ends, he got better as the spring went along. He finished strongly, catching four passes for 65 yards in the spring game and showing the athletic ability that made him a prep All-American coming out of high school.
"Going into it [spring practice], I was confident because I had played tight end before [in high school]," McCray said. "Once I learned everything and got caught up, the spring game was fun. I felt like I knew the plays and was able to do some things. Once I got comfortable and got there and got going, I made that first catch and everything just slowed down for me. I was able to just play ball and not worry about what I was doing."
Most of the concern about McCray's move to tight end centered on his ability to block and be physical at the point of attack. His athletic ability and his hands are his strengths, so he excels more in the passing game and playing in space.
He got better as a blocker, but still needs to work on that aspect of the game. The Hokies' staff has switched to a zone-blocking scheme, so everyone at tight end and along the offensive line spent the spring learning that scheme, and all hope it pays off this fall with an improved running game.
"It was different," McCray said of the zone blocking. "In high school, they didn't send me out on a lot of routes, and when they did, I knew I was getting the ball every single time. In high school, I blocked a ton, but this is a different scheme. We're doing zone blocking, and in high school, I was always blocking a certain man. It was more one-on-one. Zone blocking is a little simpler. If I do my job right, hopefully it gives the running backs a good read to go and make a play."
In a way, the change of offensive coordinators and the changing of schemes benefited McCray, as everyone spent the spring making the transition and learning all the new stuff. He was able to put himself into a position for playing time as a result.
He came out of spring practice behind Ryan Malleck on the depth chart. Malleck figures to be the starter, and he, like McCray, finished the spring strongly. He caught three passes in the spring game, including a 30-yarder for a touchdown.
"Coach Loeffler told us that he likes tight ends, but we had to prove ourselves," McCray said. "We had to want the ball and be able to carry the load. Otherwise, he'd find other positions and put them in motion, and things like that if we couldn't handle the load.
"I think we proved ourselves. I think we've got a lot of things to work on, but he [Loeffler] gave us a challenge, and that motivated us to go out there and get the job done. We're excited to be in this system where we're going to have a chance to get the ball. We're more involved in the passing game."
After two years of seeing little playing time, McCray is excited about this upcoming season, perhaps more than most. He likes his new position, and he likes playing for tight ends coach Bryan Stinespring, who recruited him out of high school.
"This is the happiest I've been since I've been in school," McCray said. "Moving around on defense, I enjoyed it, but after a while, I think this is the place [tight end] where I've found my home. In the spring, I was able to prove myself a little bit. I still have a ways to go. I have to continue to work hard, but I'm excited about this season, and the hopes I have for it are pretty high."
2013 DEPTH CHART
88 Ryan Malleck (6-4, 249, Jr.)
86 Zack McCray (6-3, 247, r-Jr.)
81 Duan Perez-Means (6-4, 242, r-Jr.)
33 Darius Redman (6-4, 256, r-So.)
49 Dakota Jackson (6-3, 267, r-Fr.)
A QUICK GLANCE
Returning starter: Ryan Malleck (seven career starts)
Starter lost: none
Projected new starter: none
Top reserves: Zack McCray, Duan Perez-Means
Newcomers: McCray, Dakota Jackson
Breakout candidate: Malleck
Notes: Malleck led all tight ends with 17 catches for 174 yards last season … He has yet to catch a touchdown pass in his career … Perez-Means played in all 13 games, but saw only 12 snaps on offense … Darius Redman played in five games last season, but saw only six snaps on offense.