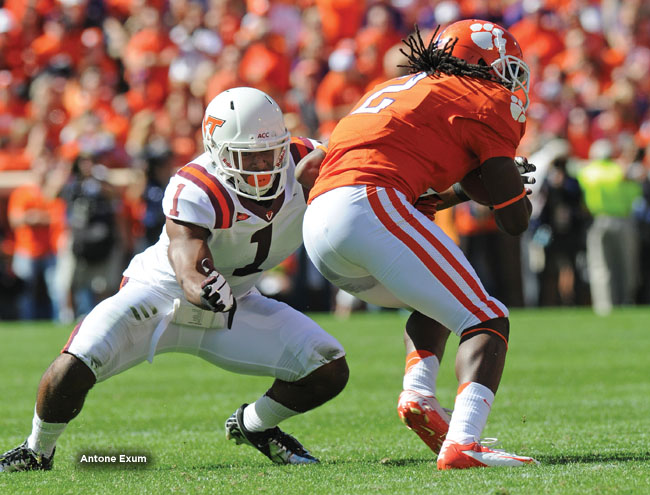 Last October, Virginia Tech cornerback Antone Exum and Clemson receiver Sammy Watkins battled each other for much of the afternoon down at Memorial Stadium in Clemson, S.C.
Then they battled each other again in late March/early April – on Twitter. Exum, even while rehabbing a torn ACL, told the world that he wasn't afraid to take on one of the nation's best receivers.
"It's all a friendly competition," Exum said, smiling. "We don't have any animosity toward each other. We're cool. We were able to laugh about it in the end. We're both competitive guys and think we're the best at what we do."
Exum still feels that way about his game, even though he missed spring practice and most of summer workouts while trying to get his knee at 100 percent for the 2013 season. The second-team All-ACC choice last year tore his ACL while playing in a pickup basketball game last winter and underwent surgery to repair it.
Rehab times vary for ACL injuries, and Exum received some disappointing news in early August from Dr. James Andrews, the noted orthopaedic surgeon who performed the surgery on Exum. Andrews wouldn't clear Exum for the season opener against Alabama and instead recommended increasing some of his rehab exercises. He wants to check Exum again in two months, thus meaning Exum will miss several games.
Tech's staff hopes to get Exum back for the Georgia Tech game – the conference opener.
"It's one of those things that takes time," Tech coach Frank Beamer said. "In a couple of months, they're going to re-evaluate. It needs to be right for him and for us. It is what it is."
Exum, who said he feels no pain in his knee, will headline what figures to be an outstanding secondary for the Hokies once he returns. All four starters return, including cornerback Kyle Fuller, a two-time All-ACC selection (honorable mention last year, second-team choice in 2011). Safeties Detrick Bonner and Kyshoen Jarrett round out the starting group.
These four guys combined to record eight of the Hokies' 13 interceptions last season, with Exum recording five of those to lead the team. They also led Tech to a No. 14 ranking nationally in pass efficiency defense (108.9 rating) and a No. 24 ranking nationally in pass defense (199.1 ypg).
Those rankings came even after they struggled early on last season, and much of the struggles came about because Exum, Bonner and Jarrett had changed positions. Bonner and Jarrett had been corners before the coaching staff moved them to the safety spots, and Exum went from rover to corner. In particular, Pittsburgh (283 passing yards, three touchdowns) and Cincinnati (392 passing yards, three touchdowns) enjoyed huge days against the secondary in the first half of the season before the secondary meshed and became a top-25 unit the latter part of the year.
"That could have been a part of it, just becoming acclimated to the new positions," Exum said of the early-season struggles. "The transition took a while for everyone to feel 100 percent at their positions. But this year, there shouldn't be any rough period. We should come out guns blazing from where we left off last year. That's what we expect of each other."
Exum's absence this spring and in August practices left Donovan Riley, Donaldven Manning and Brandon Facyson getting plenty of reps. Riley and Manning worked at Exum's spot this spring, while Facyson spent most of his time backing up Fuller at the boundary corner position. In August, though, Facyson and Manning were at the field corner spot, with Riley backing up Fuller at the boundary corner position.
Manning and Riley both played last year as true freshmen with mixed results. Manning came out of spring practice ahead by a slim margin, though Riley showed playmaking potential with an interception in the spring game. Facyson, who enrolled last January, played very well for a true freshman and appears likely to play this fall.
At the safety spots, Desmond Frye came out of spring practice as the backup behind Jarrett at the rover spot, while Der'Woun Greene came out of spring as the backup behind Bonner. Frye played last season as a true freshman and really played well this spring. Greene still needs to learn the position and play with better fundamentals, but he makes plays. He returned an interception 98 yards for a touchdown in the spring game.
Unlike a year ago, the group possesses some depth. But the success of the group probably hinges on the return of a healthy and playmaking Exum, whose skills allow defensive coordinator Bud Foster a little more flexibility in his schemes. Exum possesses the ability to neutralize any receiver – and he embraces that challenge.
That's why he hopes to see Watkins one more time in his career.
"I'm upset we don't play them [the Tigers] this year," Exum said. "I really enjoy going against the best guys, just to be able to showcase what I can do. You can't judge yourself by what you do against average guys. You want to go against the best and see how you do against them. Maybe we'll get a shot in the ACC championship game.
"I'm just real excited about the season. First, just excited to play football again. I haven't played in a long time, and I haven't been myself in a long time. I'm excited to get back on the field.
"Also, I'm very optimistic about what we can achieve as a team. I feel like we have all the pieces. We still need to continue to get better, but I'm looking forward to seeing what we can do as a team this year."
2013 DEPTH CHART
BOUNDARY CORNERS
17 Kyle Fuller (6-0, 194, Sr.)
2 Donovan Riley (5-11, 204, So.)
13 Davion Tookes (5-9, 167, r-Fr.)
6 Chris Caver (5-7, 180, r-Jr.)
FIELD CORNERS
1 Antone Exum (6-1, 224, r-Sr.)
31 Brandon Facyson (6-2, 188, Fr.)
30 Donaldven Manning (5-10, 181, So.)
14 Nick Bush (5-11, 181, r-Jr.)
ROVERS
34 Kyshoen Jarrett (5-10, 198, Jr.)
26 Desmond Frye (6-2, 188, So.)
12 Zach Snell (5-11, 204, r-Fr.)
FREE SAFETIES
8 Detrick Bonner (6-0, 194, r-Jr.)
23 Der'Woun Greene (5-10, 180, r-Fr.)
3 Greg Jones (6-2, 201, r-Fr.)
A QUICK GLANCE
Returning starters: Antone Exum (32 career starts), Kyle Fuller (33 career starts), Detrick Bonner (17 career starts), Kyshoen Jarrett (13 career starts)
Starters lost: none
Projected new starters: none
Top reserves: Donaldven Manning, Donovan Riley, Desmond Frye, Der'Woun Greene
Newcomers: Greene, Davion Tookes, Greg Jones
Breakout candidate: Jarrett
Notes: Jarrett started every game last season and finished second on the team with 83 tackles (58 solo) … Tech's starting defensive backs finished second, fourth (Bonner), fifth (Fuller) and seventh (Exum) on the team in tackles last season … Jarrett's 58 solo tackles led the team … Exum's five interceptions last year were tied for the most in the ACC … Exum's 16 pass breakups led the team … Tech's backups in the secondary combined for just 13 tackles last season.