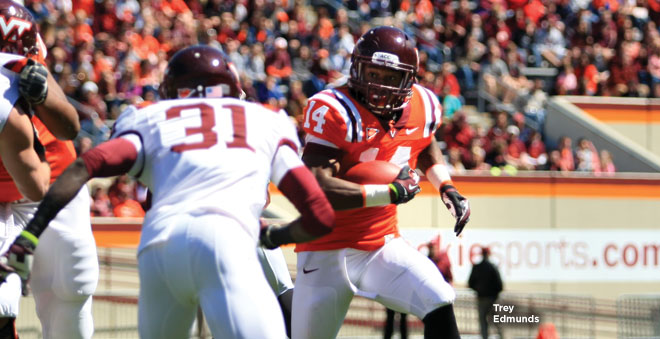 It's safe to say that Trey Edmunds puts his priorities in the proper order.
When asked in mid-July what Edmunds hoped to get done during the second summer school session at Tech, he responded without hesitation – and his response had nothing to do with football.
"First and foremost, I want to get through this math class I'm in," he said, referring to Elementary Calculus I.
Save for a few days visiting his grandmother in Michigan, Edmunds spent his summer working on summer school classes – he took three over the two sessions – and working in Mike Gentry's strength and conditioning program. His on-field education begins in earnest Aug. 31 when the Hokies take on Alabama at the Georgia Dome in Atlanta.
Edmunds will not be eased into his role. There is no introductory course for a freshman to prepare against a defending national champion. He very well may be the starting tailback for Tech against Alabama.
Edmunds' chances at doing that became more likely when the university's Student Conduct System decided to dismiss Michael Holmes in June. As most know, Holmes, who started five games at tailback last season, was involved in a well-publicized incident outside a Blacksburg night spot following Tech's spring game. While Holmes' charges ended up being reduced to misdemeanors, thus enabling him to be reinstated by Tech AD Jim Weaver, he never got the opportunity as the student conduct office made its ruling and ended Holmes' career at Tech.
"Me and Michael were starting to grow and be close friends," Edmunds said. "Playing the same position, we were able to spend a lot of time with each other and talk to each other about a lot of things. Him not being in the meeting room and not being able to crack jokes or not being able to help me when I don't know stuff is devastating. I think the whole situation is tragic. I wish the best for him."
Holmes' dismissal leaves the tailback position in the hands of Edmunds and J.C. Coleman. Edmunds, a big, burly runner with speed, redshirted a year ago as a freshman, while Coleman, a quick, darting type, played as a true freshman. He finished with 492 yards to lead all of Tech's tailbacks.
Both Edmunds and Coleman have shown the potential to handle the job and put up similar numbers of previous tailbacks. Coleman recorded Tech's only 100-yard rushing game last season (vs. Duke), and this spring, he won the President's Award that goes to the player who demonstrates the most leadership during the offseason program and spring workouts.
Edmunds, too, won an award this spring for his play, receiving the Frank O. Moseley Award, which goes to the player who exhibits the most hustle during offseason and spring workouts. Some expected him to be moved to whip linebacker this spring, but he showed that the 2,500 yards he rushed for during his senior season at Dan River [Va.] High School were no fluke.
"I am very happy at tailback," Edmunds said. "I like having the ball in my hands, and I've learned a lot at this position. Coach [Shane] Beamer [Tech's running backs coach] has done a good job of teaching me things I didn't know, and I'm anxious to get back there this year.
"I think I'm a better tailback than I was at the beginning of spring. I'm definitely more confident. I've started doing the little things more consistently. When your game is consistent, things start to get easier for you, and you make progress."
Edmunds, Coleman and the rest of Tech's tailbacks will be running behind a group of unproven fullbacks. Riley Beiro, who had been expected to replace two-year starter Joey Phillips, decided to give up football after last year's shoulder injury. Walk-ons Fuller Hoepner and Greg Gadell and freshman Jerome Wright now will be battling for the job in preseason practices.
The Hokies' rushing attack will find out just how much its improved rather quickly. A year ago, Alabama led the nation in rushing defense, allowing just 76.4 yards rushing per game and giving up just 2.43 yards per carry. Graduation and departures to the pro ranks robbed the Tide of some of its stalwarts, but they always are strong defensively under coach Nick Saban.
For Edmunds, it's quite a daunting task, considering the game represents his first as a collegian. His education in college football is approaching quickly.
"The thing is, it's where you want to start," Edmunds said. "There's no bigger stage than this – playing the reigning national champs in the Georgia Dome. It doesn't get better than that."
2013 DEPTH CHART
TAILBACKS
14 Trey Edmunds (6-1, 216, r-Fr.)
4 J.C. Coleman (5-7, 191, So.)
22 Tony Gregory (6-0, 187, r-Sr.)
28 Chris Mangus (6-0, 184, r-Fr.)
39 Daniel Dyer (5-10, 204, r-Jr.)
32 Maurice Taylor (5-8, 172, r-So.)
FULLBACKS
29 Fuller Hoepner (6-2, 258, r-Jr.)
42 Greg Gadell (5-10, 207, r-Jr.)
25 Jerome Wright (6-2, 221, Fr.)
A QUICK GLANCE
Returning starter: J.C. Coleman (six career starts)
Starters lost: Michael Holmes (five career starts), Joey Phillips (nine career starts)
Projected new starters: Trey Edmunds or J.C. Coleman
Top reserves: Chris Mangus, Tony Gregory
Newcomers: Edmunds, Chris Mangus
Breakout candidate: Edmunds
Notes: Coleman led all running backs in carries (109), rushing yards (492), receptions (21) and receiving yards (132) last season … Coleman may be the Hokies' kick returner after returning 19 for an average of 21.6 yards per return last season … Gregory started two games last season and rushed for 299 yards, with 69 of those coming in Tech's win over BC … A year ago, Tech's fullbacks did not log a single carry.