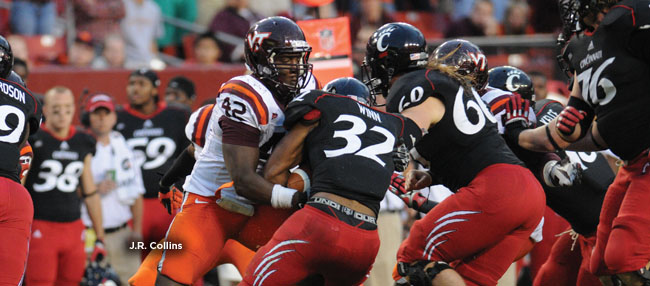 For the first time since high school, J.R. Collins did not spend the majority of his summer preparing for a football season.
But don't misinterpret that statement. He still worked.
Collins spent the first part of the summer in Los Angeles with Athletes in Action, a nationwide group of Christian athletes who use their platform as athletes to bring people to Jesus. The trip gave him the opportunity to step away from football and give him a perspective on life in a different part of the country.
"It was a summer project called 'Urban Project 2013' where we learned the gospel and then went and served and worked in different rec centers in L.A.," he said. "Most of the time, I was working with kids and meeting with other Christian athletes. I am a human development major, so it was good using the things I've learned and putting them into practice.
"This is my first summer off since way back in high school. It was good to step away and get some rest from it all. But I was happy to get back to being a Hokie and fighting to beat Alabama."
For Collins, his 2012 season was not a happy one. He finished with 31 tackles, but only nine solo ones. He recorded just 1.5 sacks after having six sacks the previous season – one in which he was an honorable mention All-ACC selection.
Collins started seven of the first eight games last season, but lost his job following the Clemson game. The decision had more to do with his off-field conduct than his on-field production.
"There was a lot I had to learn, and I learned it the hard way," Collins said. "I wasn't what Coach [Beamer] wanted me to be behavior-wise off the field. I was late to things. The best part is I learned a lesson for future purposes, like when I'm in a job somewhere. I learned what's right from wrong and to show up on time. Last season wasn't ideal, but this season, I'm going to take what I've learned from all my years here and hopefully have one great year."
By no means is Collins entrenched as a starter heading into the 2013 season. Tech's defensive line features five defensive ends capable of being starters, led by two-time All-ACC selection James Gayle, who had five sacks and 11 tackles for a loss last season. Others vying for a starting job at two spots include Corey Marshall, Tyrel Wilson and spring standout Dadi Nicolas. Nicolas won the Dr. Richard Bullock Award as the defensive player who showed the most improvement during spring workouts.
The defensive tackle positions aren't nearly as deep, though projected starters Derrick Hopkins and Luther Maddy certainly rival any tackles in the ACC. Hopkins finished sixth on the team a year ago with 51 tackles, including 10 for a loss, and 3.5 sacks. Maddy recorded 35 tackles and four sacks.
But the players behind those two are unproven. The group of backups includes rising redshirt sophomore Kris Harley and redshirt freshmen Nigel Williams, Alston Smith and Jarontay Jones. Also, Woody Baron, a true freshman who enrolled in January, worked his way into the mix. Harley played in 10 games last year and recorded six tackles.
The lack of depth at the tackle spots may lead to Collins or Marshall playing inside there in addition to playing at end. Defensive line coach Charley Wiles has done this at points in the past, playing Collins at tackle together with Gayle, Marshall and Hopkins.
"Over the past couple of years, we've talked about me playing tackle and end," Collins said. "I feel more comfortable at end, but there are some chances that I'll play some at tackle, depending on what our depth is.
"A lot of guys are battling to be among the starting four – Corey, Dadi and others. Coach Wiles wants his best athletes out there, and I have a lot of work to do to prove that I'm one of the best four out there."
Tech's defensive line spearheaded the Hokies' late-season surge on defense. In the final seven games, the Hokies allowed just 80.4 yards rushing per game and opponents converted on 22 percent of their third-down situations. In the bowl game against Rutgers, Tech's defense held the Scarlet Knights to 196 yards of offense – one of only three bowl teams to hold its opponents to less than 200 total yards (Alabama and Texas)
As a whole, Tech's defense finished in the top 20 in total defense. The defensive line figures to be the key to accomplishing that again.
"Expectations are high," Collins said. "A lot of the starting defense is my graduating class, and we've all been here and know what needs to be done to be great. So there are a lot of expectations.
"I have high expectations myself. I want to go out and reach my full potential. I want to go out and have fun. This may be my last year playing football, and I want to go out and give it all I've got."
2013 DEPTH CHART
STUD ENDS
99 James Gayle (6-4, 255, r-Sr.)
66 Tyrel Wilson (6-2, 230, r-Sr.)
91 Matt Roth (6-3, 239, r-So.)
87 Dewayne Alford (6-2, 240, r-Fr.)
43 Seth Dooley (6-5, 245, Fr.)
ENDS
42 J.R. Collins (6-2, 248, r-Sr.)
90 Dadi Nicolas (6-3, 224, r-So.)
96 Corey Marshall (6-1, 257, Jr.)
4 Ken Ekanem (6-3, 242, r-Fr.)
NOSE TACKLES
98 Derrick Hopkins (6-0, 311, Sr.)
60 Woody Baron (6-1, 265, Fr.)
94 Alston Smith (6-2, 281, r-Fr.)
TACKLES
92 Luther Maddy (6-1, 296, Jr.)
96 Corey Marshall (6-1, 257, Jr.)
93 Nigel Williams (6-2, 283, r-Fr.)
97 Kris Harley (6-0, 283, r-So.)
53 Jarontay Jones (6-2, 235, r-Fr.)
A QUICK GLANCE
Returning starters: James Gayle (26 career starts), Derrick Hopkins (27 career starts), J.R. Collins (23 career starts), Luther Maddy (16 career starts)
Starters lost: none
Projected new starters: none
Top reserves: Dadi Nicolas, Corey Marshall, Kris Harley, Woody Baron
Newcomers: Baron, Alston Smith, Nigel Williams, Jarontay Jones, Ken Ekanem
Breakout candidate: Maddy
Notes: Tech's defensive line returns a combined 102 career starts … The Hokies' 35 sacks ranked tied for 19th nationally a year ago and 23 of those were by returning defensive linemen … Of Tech's 99 tackles for a loss last season, 51.5 were by defensive linemen and 48 by returning defensive linemen … Gayle is on the "Watch List" for the Bednarik Award, which goes to the nation's best defensive player … Gayle's 11 tackles for a loss last season ranked 10th in the ACC.