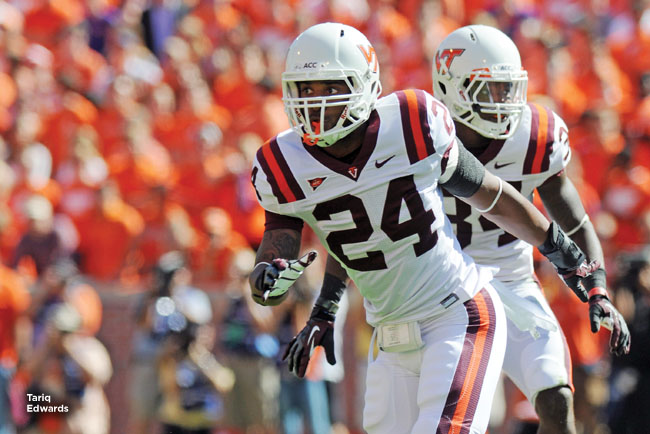 Tariq Edwards wanted to do something extreme for his college graduation. So the young man from the quiet country town of Cheraw, S.C., did something totally out of character for him.
He got his hair cut into the shape of a Mohawk – and then dyed it.
"I don't like standing out too much, but my twin brother [Tyrell] ended up doing it, and I went on ahead and did it, too," Edwards said. "It was just for graduation. A lot of the players like it. I've thought about cutting it, but they like it, so I may keep it throughout the season. I'm thinking about it."
Maybe doing something so extreme will shake up Edwards' luck. After all, though he played in seven games a year ago, he basically missed the entire 2012 season.
Edwards' 2012 nightmare actually began during the 2011 season – the one in which he started all 14 games and recorded 71 tackles. At some point during the season, he fractured his leg, though he continued to play despite the ever-worsening pain.
"I'm not even sure which game it was," he admitted. "I thought it was just shin splints."
Tech's sports medicine staff later diagnosed the fractured leg and originally prescribed rest. But later in the spring, the staff decided to operate on Edwards' leg, putting him out of commission for spring practice.
Then, in August, Edwards was bothered by pain in his knee related to a screw installed to keep his leg stable. That entailed a second surgery to remove the screw, and Edwards simply never felt well enough to contribute after that. He finished the season with four assists – and no solo tackles. He saw most of his action on special teams.
"It was very frustrating, just sitting out and watching everything," he said. "Then, we weren't having a good year. Knowing that you couldn't be a part of the team and help in some kind of way besides coaching people up was real hard. It was hard not being out there with my teammates."
Edwards, though, returned to his backer spot this spring, taking over for the departed Bruce Taylor, who had slipped over from mike linebacker to fill in for Edwards. Taylor's departure creates a void, but Edwards certainly possesses the talent and experience to make up for Taylor's on-field production.
As expected, he came out of spring practice at the top of the depth chart at the backer position. Two young players – Deon Clarke and Dahman McKinnon – were behind him and never mounted a serious challenge for the job, though they possess intriguing skills. Edwards' skill set was simply too much for them to overcome.
"I felt it was a recovering type of spring, just to get back out there and get my timing," Edwards said. "I was able to become more familiar with the schemes and work with my teammates. I didn't have a lot of action come my way, but if it did, I feel like I was able to make the play and take care of my responsibilities. I had pain during the spring as well, but I tried to keep pushing through it."
The concern among the coaching staff centers on keeping Edwards healthy. He stayed in Blacksburg over both summer sessions and made all his times in conditioning drills. But he still felt some pain in his knee.
The sports medicine staff gave him some orthotic inserts to place in his shoes, with the thought that these will provide added support. So far, he's been feeling better.
"I have collapsed arches, so they [Tech's sports medicine staff] think that's where some of the pain is coming from as well," Edwards said. "The orthotics have been working pretty well. I'm feeling pretty good. I'm getting close to 100 percent. It's getting there."
Edwards hopes for a big senior season. He graduated in the spring with a degree in psychology, which takes away from any added stress. He also gets to team with good friend and mike linebacker Jack Tyler again. Tyler subbed in for an injured Taylor in the ACC championship game against Florida State in 2010, and he and Edwards helped the Hokies to an ACC title. The two are important cogs at key positions for what figures to be a very good Tech defense.
This season is about redemption for the Hokies, who struggled last year. It's also about redemption for the new-look Edwards, his last shot at glory.
"I'm very excited," he said. "This is a comeback season for me, and I have to redeem myself. This is my last season out here in front of the fans. It's big for me, and I hope that it will be a special season."
2013 DEPTH CHART
MIKE LINEBACKERS
58 Jack Tyler (6-0, 230, r-Sr.)
36 Chase Williams (6-1, 220, r-Jr.)
44 Devin Vandyke (6-0, 218, r-Fr.)
25 Drew Burns (6-3, 218, r-Fr.)
BACKERS
24 Tariq Edwards (6-3, 234, r-Sr.)
40 Deon Clarke (6-1, 202, r-Fr.)
35 Dahman McKinnon (6-1, 207, r-Fr.)
27 Josh Eberly (5-7, 216, r-Fr.)
A QUICK GLANCE
Returning starter: Jack Tyler (18 career starts)
Starter lost: Bruce Taylor (33 career starts)
Projected new starter: Tariq Edwards (15 career starts)
Top reserves: Chase Williams, Devin Vandyke, Deon Clarke, Dahman McKinnon
Newcomers: Vandyke, Clarke, McKinnon
Breakout candidate: Tyler
Notes: Tyler was a first-team All-ACC selection by the coaches and a second-team choice by ACSMA (Atlantic Coast Sports Media Association) a year ago … Tyler led the team and finished tied for third in the ACC last season with 119 tackles … Clarke played in just three games a year ago as a true freshman … Williams started the Austin Peay game last season in place of an injured Bruce Taylor – his only career start.