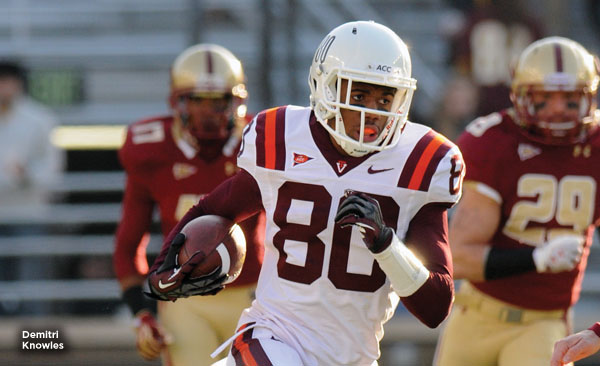 Demitri Knowles arrived in the United States from the Bahamas with the reputation of being an outstanding track athlete who just happened to play football, and even when he received a scholarship to play football for Virginia Tech, he planned on participating in track as well.
In two years in Blacksburg, his track career hasn't exactly gotten out of the blocks. But he's certainly sprinting toward future success on the football field – and he's fine with that.
"This is what I came to the States for," Knowles said. "If I wanted to run track, I'd have stayed in the Bahamas. But this is why I came. For some reason, I've always loved football. My mom used to ask, 'How are you going to play football? There is no football here.' But some way, some how, it happened, and I got here. I think it was meant to be."
Knowles enters his redshirt sophomore season penciled in at the top of the depth chart at the flanker position. A year ago, he served as a backup to Marcus Davis, catching 19 passes for 240 yards and a touchdown, but he wound up starting the final three games of the season, and perhaps not coincidentally, Tech won all three.
Given his experience, he is a virtual lock as a starter when the Hokies open the season against Alabama on Aug. 31.
"This is my first time as a starter, and I'm really looking forward to having to step up," Knowles said. "When an opportunity is given to me, I try to make the best of it. I'm really excited. This is what I came here for."
Knowles' transformation into a quality receiver has been a rapid one. Tech's coaches nearly played him as a true freshman, falling quickly in love with his speed. But his rawness, his lack of strength and his lack of knowledge with Tech's schemes held him back just enough to keep him on the sidelines that season.
Last year, he gained valuable experience in his backup role, and this summer, he worked on adding weight and muscle. The increased muscle mass came, but the weight still lingers around 180 pounds.
"I don't like breakfast, so I'm trying to work that in there," he said. "I think I'll be 185 by the time we play.
"I feel more confident in a lot of different areas, though. Now, when I see man [coverage], I'm excited because I know somebody is in trouble. That's the way I feel about it. Before, I felt a little iffy about it. But now, I feel pretty confident."
Tech figures to rely heavily on Knowles and D.J. Coles at least early on in this upcoming season. Outside of those two, the receiver spots lack experience.
The Hokies lost three receivers off last year's team to graduation – Davis, Corey Fuller and Dyrell Roberts. The three of them combined for 127 catches for 2,166 yards and 12 touchdowns. Outside of those three and Knowles, no other receiver caught more than two passes last season.
Coles missed the year while recovering from a knee injury, but two years ago, he caught 36 passes for 480 yards and three touchdowns. The redshirt senior goes into the season atop the depth chart at split end.
After Coles and Knowles, though, there is a lot of unknown. Receivers coach Aaron Moorehead liked what he saw this spring from Joshua Stanford, a redshirt freshman who caught three passes for 86 yards in the spring game. Also, Charley Meyer showed flashes, and Moorehead hopes that Joel Caleb, a redshirt freshman, can help. Caleb was one of the more highly touted recruits in the 2012 recruiting class, but he played quarterback in high school and is still adjusting to being a receiver.
Compounding the situation was the departure of Kevin Asante over the summer. Asante, like Knowles, played in spurts last season and would have been a redshirt sophomore.
"It is a concern, but I feel that somebody is going to step up," Knowles said of the lack of experience at the receiver positions. "That's what we came here for. That's why we're playing Division I football. Somebody is going to step up. I don't know who it is yet. But it's going to be somebody."
This person needs to step up quickly because Alabama, the defending national champion, is around the corner. Tech's offense needs more big-play capability and consistency to deal with the explosive Crimson Tide, and spring game headaches showed it.
"I don't let things get to me, but I was very upset with that spring game," Knowles said. "I had planned to go out that night, but I didn't even go. I just stayed home. It was very disappointing for me.
"It (that performance) just means we have to work that much harder."
2013 DEPTH CHART
SPLIT ENDS
18 D.J. Coles (6-3, 234, r-Sr.)
5 Joshua Stanford (6-1, 196, r-Fr.)
85 E.L. Smiling (6-4, 211, r-Jr.)
16 Carlis Parker (6-3, 185, Fr.)
FLANKERS
80 Demitri Knowles (6-1, 180, r-So.)
83 Charley Meyer (6-1, 215, r-Fr.)
15 Joel Caleb (6-2, 205, r-Fr.)
82 Willie Byrn (5-11, 179, r-Jr.)
A QUICK GLANCE
Returning starters: none
Starters lost: Dyrell Roberts (23 career starts), Marcus Davis (20 career starts), Corey Fuller (eight career starts)
Projected new starters: D.J. Coles, Demitri Knowles
Top reserves: Joshua Stanford, Joel Caleb, Charley Meyer
Newcomers: Stanford, Meyer, Caleb, Mark Irick, Carlis Parker
Breakout candidate: Knowles
Notes: Stanford played in the Austin Peay game last year and caught one pass for 6 yards, but missed the rest of the season with a knee injury and received a medical hardship waiver … Outside of Coles, Knowles and Stanford, only one other receiver has caught a pass in a game – Willie Byrn, who caught one pass in 2011.