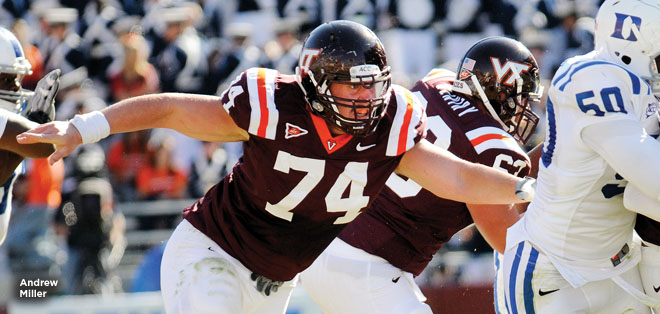 At the Hokies' team meeting on July 9, one that centered on the lifting schedules and academics for the second summer session, Andrew Miller and Brent Benedict showed up in old school tank tops, short shorts and aviator sunglasses.
Offensive coordinator Scot Loeffler liked the look and promised to dress similarly at some point over the remainder of the summer. Miller jokingly planned on holding Loeffler accountable.
"Absolutely," Miller said. "He's big on accountability. Well, I'm going to hold him accountable."
Miller actually spent much of the summer holding arguably a much more important group of individuals accountable – the offensive line – as he and his offensive line teammates prepared for the upcoming season.
This group may be the key to any success enjoyed by the Hokies this season. As a unit, they lack experience, but with Miller leading the way, they've tried to make up for that. He led the unit this spring and summer, making sure that everyone gave their all in lifting sessions and organizing twice-a-week workouts that focused on technique and fundamentals.
It marked a bit of a change of character for Miller, who prefers to lead by example. Yet Loeffler expected Miller and Logan Thomas to handle things over the summer, when coaches aren't allowed by NCAA rules.
"I accept that challenge completely," Miller said. "I think that's a role I need to take. You've got to hold each other accountable. That's the main thing this year. You have to do things right every day, in the weight room and on the practice field. Everything that happens off the field will dictate what happens on the field."
Hopefully, this unit jells and becomes a powerful force, particularly in the running game. A year ago, the Hokies, breaking in four new starters along the offensive line, ranked 79th nationally in rushing offense at just under 146 yards per game. Injuries made a mess of things, with guys like Michael Via and David Wang suffering through various leg ailments.
Making matters worse, Miller broke his ankle in the Duke game and missed the final six games of the season. Without him, the unit struggled, and therefore, the offense sputtered.
In the spring, new offensive line coach Jeff Grimes wiped the slate clean with this group, moving players to different positions to learn more about them and their skill sets. Miller, who had started 21 straight games at center, spent most of his spring at right guard, with Caleb Farris, who started the last five games of the season at center, working at the center spot.
"At first, I was a little skeptical," Miller said of the move. "But toward the end, I realized that this is what was going to be the best for our team. The team comes first.
"I just like playing the offensive line, no matter what position. Center is a little bit different than guard. You're usually helping the guard and then getting out on a linebacker. At center, you're making the calls. At guard, to tell you the truth, it's a lot easier. You don't have to snap the ball and then get out on your block. I'll be blocking someone one-on-one, and I'm usually better in a one-on-one situation."
Coming out of spring practice, the offensive line wasn't set, as Grimes continued the competition during the first couple of weeks of fall practices. Farris, Wang and Matt Arkema spent time this spring at center, with Benedict and Mark Shuman battling at left guard. With Miller at right guard, the interior of Tech's line possesses a lot of guys with some playing experience.
At tackle, things are a bit murky. Laurence Gibson, who saw just 22 snaps on offense a year ago, figures to be the right tackle, with true freshman Jonathan McLaughlin at left tackle. Redshirt freshman Augie Conte showed flashes at the tackle spot as well this spring.
"I like their work ethic," Miller said of the line. "Jon has been doing really well. He's shown everybody a lot. He's got a lot of natural ability. There is a lack of experience, but I think that is going to come. They're all picking it up fast and working hard.
"I think we're a tough bunch. We've been working hard this whole offseason. We got a lot better this spring. We've still got a lot of improving to do. We've worked out twice a week as an offensive line and as a team. We're getting better."
The line hopes to be much improved from last year's group. A year ago, Thomas paced the team in rushing with 524 yards – the second-fewest yards rushing in a season by the team's leading rusher since 1988 (Ralph Brown, 514). Thomas became the first quarterback to lead the team in rushing since 1965.
To put Tech's rushing struggles into perspective, the Hokies rushed for 1,896 yards last season. David Wilson nearly rushed for that by himself in 2011 (1,709 yards).
But one doesn't have to remind the offensive linemen of these numbers. They know them all too well. They want to be held accountable.
"That's what our base is going to be – running," Miller said. "The offensive line is going to start everything. Without us playing the way we need to play, with great technique, everything will not come together. It's that way with any team. The pressure is on us."
2013 DEPTH CHART
LEFT TACKLES
71 Jonathan McLaughlin (6-5, 312, Fr.)
70 Jake Goins (6-5, 273, r-So.)
62 Ross Ward (6-3, 303, r-So.)
LEFT GUARDS
55 Brent Benedict (6-5, 292, r-Jr.)
69 Mark Shuman (6-6, 295, r-Jr.)
CENTERS
79 Caleb Farris (6-3, 308, Jr.)
76 David Wang (6-2, 299, r-Sr.)
64 Matt Arkema (6-3, 296, r-Jr.)
51 Jack Willenbrock (6-2, 237, r-Fr.)
RIGHT GUARDS
74 Andrew Miller (6-4, 296, r-Sr.)
75 Adam Taraschke (6-5, 296, r-Fr.)
54 Marcus Mapp (6-4, 295, r-So.)
RIGHT TACKLES
63 Laurence Gibson (6-6, 290, r-Jr.)
72 Augie Conte (6-6, 302, r-Fr.)
67 Parker Osterloh (6-8, 318, Fr.)
A QUICK GLANCE
Returning starters: Andrew Miller (21 career starts), Caleb Farris (five career starts), Brent Benedict (six career starts), David Wang (10 career starts)
Starters lost: Nick Becton (13 career starts), Vinston Painter (13 career starts), Michael Via (12 career starts)
Projected new starters: Jonathan McLaughlin, Laurence Gibson
Top reserves: Mark Shuman, Matt Arkema, Augie Conte, Adam Taraschke
Newcomers: McLaughlin, Conte, Taraschke
Breakout candidate: McLaughlin
Notes: Miller is on the Watch List for the Outland Trophy, which goes to the nation's best interior lineman … Farris played 428 plays on offense in place of Miller last year … Wang missed much of spring practice with an ankle injury and keeping him healthy is crucial – he played 500 snaps on offense last year … Gibson played in 12 games last season, but most of those reps came on the field-goal and extra-point teams … Shuman has played 39 snaps on offense in his career, but may be a swing player this season (playing at both guard and tackle).