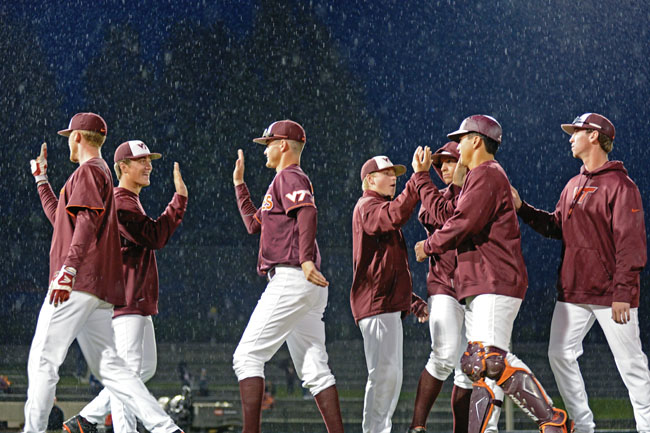 SUNNY OUTCOMES ON A RAINY DAY
The Hokies swept a doubleheader from No. 5 Virginia at English Field on April 27, giving the program its second series win over a top-five program this season (Florida State). UVa hadn't been swept in a doubleheader in five years.
The Student-Athlete Experience
"Thank you, Hokie Club, for your continuous support to Hokie athletics. My time with Virginia Tech baseball is something I will never forget, and it is your funding that makes it all possible."
-Eddie Campbell | Junior, Baseball
"Thank you very much for all of the Hokie Club support. Without you, athletics would not be possible here at Virginia Tech, which would be terrible because I have really enjoyed my time as a Hokie baseball player!"
-Matt Tulley | Freshman, Baseball
The Donor File
David & Erika Spracher
Hokie Club Level: Golden Hokie
Hokie Club member since: 2002
Currently Resides: Simpsonville, S.C.
What year did you graduate? David in 2002 (BS, ME), Erika in 2005 (BS, HNFE)
Family: Sons- David (3) and Camden (3 months)
Q&A
Q: Being a member of the Hokie Club and supporting Virginia Tech athletics is important to me and my family because…
A: I grew up a Hokie fan (as a third generation Hokie), and I have many fond memories from Tech football games throughout the years. Being able to support Tech's athletes and teams both on the home front in Blacksburg and on the road (especially here in South Carolina) is important (and fun) for us as Hokies. The university has meant so much to us, through our time in Blacksburg and since graduation, that it's a pleasure to be able to give back on multiple fronts.
Q: Do you have any game day or tailgating traditions or superstitions? If so, what are they?
A: Ha, I pick out a new "game day" t-shirt each season and wear that to every game. Also, up until last season, I wore the same pair of shorts to every game despite the temperature. We have a group of friends (Lot 13 Tailgate Crew) whom we've tailgated with for years. We quiz each other on roster names/numbers and toast to various players and predictions (pick-6's, etc.) throughout the tailgate. Erika and I received a Bud Foster-signed lunch pail as a wedding present from several of the tailgating crew, and it makes an appearance at every tailgate and sits by the TV for all the games we watch from home.
Q: You come from a large "Hokie family." What has it been like growing up in a family with a strong love for Virginia Tech?
A: Early on, following my dad wherever the Air Force sent him, it mainly involved explaining what/where Virginia Tech was, as no one had ever heard of it. My parents (and grandparents) did a good job of instilling Hokie pride in myself and siblings (Mary, class of '97, and Dan, class of '06/'07). Once my sister enrolled at Tech and the Air Force brought us closer, we began attending games much more regularly, and it all coincided with the beginning of Tech's bowl run and our family tradition of traveling to the bowl games (admittedly we've slowed a bit with children, but my parents and brother are still going strong!). Now, with my parents and brother residing in Blacksburg, coming "home" means heading to Blacksburg, and thus, Virginia Tech.
Q: You are involved with the Hokie Club in the Greenville, S.C., area as a Hokie Rep. How and why did you get involved and has it been a good experience for you?
A: I became involved soon after school as a continuation of my excitement for Tech athletics. I was already sending weekly emails and updates to a wide group of fellow Hokies and saw being a Hokie Club rep as an opportunity to help maintain and build that excitement among the large local Hokie contingent here in Greenville.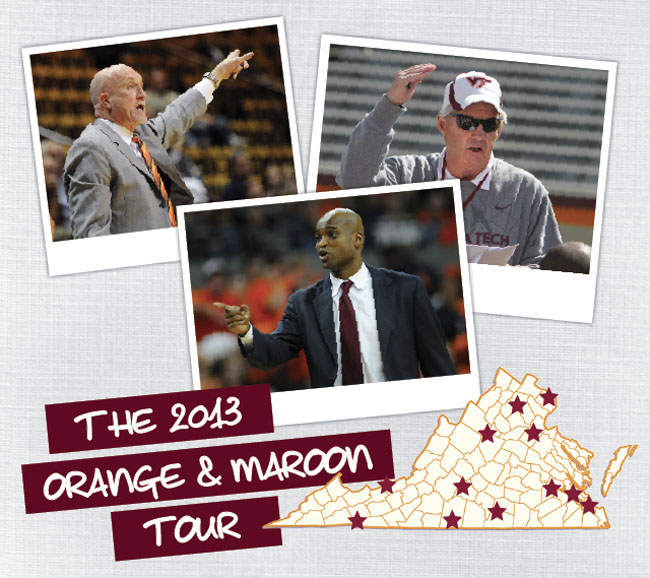 The 2013 edition of the Orange & Maroon Tour is now complete, and on behalf of the Hokie Club staff and Virginia Tech athletics, we would like to thank everyone who played an active role in making this year's tour the best ever! Spanning across Virginia and reaching into North Carolina, Maryland and West Virginia, the 2013 Orange & Maroon Tour made 16 stops and saw thousands of Hokie Club members and Virginia Tech supporters come out to interact with Tech coaches and athletics department administrators. We want everyone to know how much we appreciate your hospitality, attendance and support of Virginia Tech athletics. We know that we are successful because of you, and we are always excited to come into your communities for a visit. We are already looking forward to next year's tour! Go Hokies!