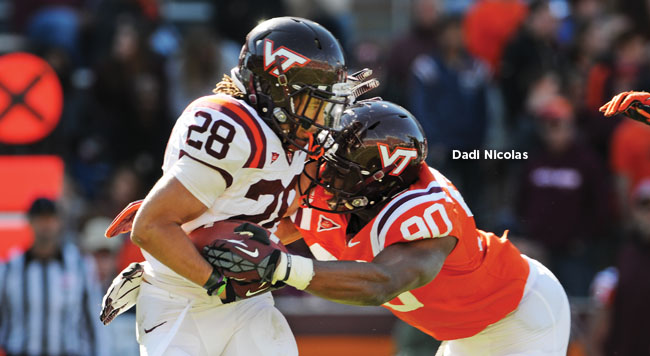 A year ago, thanks largely to a very good defensive line, the Hokies finished second in the ACC with 35 sacks.
Given that all four starters return and given their performance this spring, the Hokies should finish near the top in sacks again this upcoming season.
Defensive line coach Charley Wiles came out of spring practice generally pleased with his group. Tech features a bevy of quality defensive ends with the ability to put heat on an opposing quarterback and/or change the complexion of a game. James Gayle, who decided to come back for his senior season, led the group after pacing Tech's defensive line with five sacks a year ago.
"Last year was his junior year, and you had people asking, 'Are you coming out?' and all that crap," Wiles said. "We don't have that this year, so he was very focused and determined. He made the decision to stay in school, and he realizes this is a special opportunity."
On the other side, J.R. Collins and Corey Marshall came out of spring tied for the top spot. Wiles saw a different player in Collins this spring, as the young man was focused following a season in which he recorded just 1.5 sacks and ended up losing his job.
In fact, Collins did not start the last four games of the regular season, and though he started in the bowl game, he did not record a tackle. It marked a sharp decline for a young man who received honorable mention All-ACC honors as a sophomore, but his play and leadership this spring showed he may be ready to return to form.
"He's really straightened out his life overall – just being on time, not missing stuff, not being sleepy," Wiles said. "It's hard to do things half butt off the field and then be really sharp on the field. He's tightened up his whole life.
"Now, he may not start this year. There is competition going on, and he knows that. They watch the video, too. But I think he realizes that this is his last year, and he wants to have a great year – and you can have a great year from a lot of different ways."
The Hokies also return Tyrel Wilson, who started three games a season ago. Tech coaches raved about his play last year, but Wilson missed much of spring practice with a foot injury. That left an opportunity for Dadi Nicolas, a rising redshirt sophomore who was arguably the star of Tech's defense this spring.
Nicolas shined in the second scrimmage, one in which Gayle and Wilson sat out, recording six tackles and a sack. He also had numerous quarterback hurries, as Tech's offensive line struggled with his speed off the edge.
Rest assured, his continued development will result in additional playing time this fall no matter how many experienced defensive ends are on Tech's roster.
"He made a lot of plays now," Wiles said. "He's very explosive and is dynamic in space. He needs to continue to improve overall, but he shows up. You'll see he and James working together on the field at the same time more as we go on."
Wiles' main concern coming out of spring was depth at the defensive tackle spot. Tech returns starters Luther Maddy and Derrick Hopkins, but backup Antoine Hopkins graduated and none of the backups distinguished themselves this spring.
The group of backups included rising redshirt sophomore Kris Harley and a few redshirt freshmen in Nigel Williams, Alston Smith and Jarontay Jones, whom Wiles moved from end to tackle. Also, Woody Baron, a true freshman who enrolled in January, worked his way into the mix.
"We just don't have any depth," Wiles said. "We've got some bodies. But if we were playing tomorrow, we'd have to make a move and get an end in there. I don't know who that would be right now. We lost a really good player in Hop (Antoine Hopkins), just a lot of experience.
"All those young kids right now are all inexperienced. It's a tough position to play as a redshirt freshman. I see those guys getting better, but that's an area of concern right now. We have two that we feel can play at a championship level (Hopkins and Maddy). We've got to get to five."
Wiles wanted to see Harley take a step forward this spring because he played in 10 games as a redshirt freshman a year ago. But coming out of spring practice, Harley was listed third on the depth chart at one of the tackle spots. Heading into the summer, Wiles said the backups were Smith and Baron.
"I wish he (Harley) would play better," Wiles said. "He's on the ground too much. Alston Smith's on the ground too much, losing leverage too often. At times, he (Harley) looks quick enough to play the position, and at times, he doesn't. It's the same with Alston. I think Woody would be ahead of those two right now."
Wiles added that the Hokies may end up moving Marshall or Collins to tackle if none of the backup tackles develop. A year ago, he moved Collins to tackle, but said, "I'm not sure we got a lot done, to be honest."
Another option could be Wyatt Teller, an incoming freshman and one of the top recruits in the 2013 class. Teller was the Group AA defensive player of the year this past fall at Liberty High School in Bealeton, Va.
"He's going to get a lot of looks and see if he can do it," Wiles said. "He and I have been talking a bit. We'll see how quickly he can pick up stuff, but it's unfair to him. He'd have to be extra special. It'd be hard to count on him, but he's definitely going to get a look."