The men's team finishes second at the league's outdoor meet, while the women come in seventh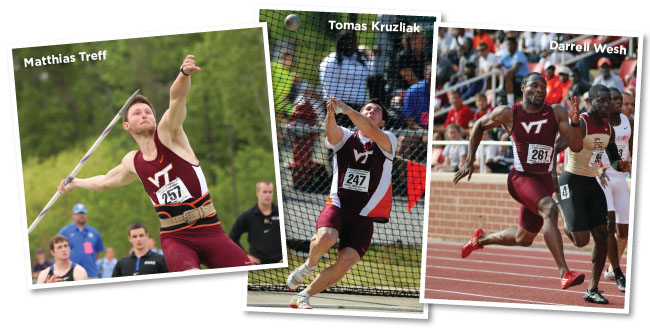 The Virginia Tech men's track and field team came up just short of winning its fourth straight ACC title, finishing second at the ACC Outdoor Track and Field Championships held April 18-20 in Raleigh, N.C.
The Hokies, who won last year's outdoor crown and also won this fall's cross country championship and this winter's indoor title, came just 12 points short of adding another championship trophy to their collection. Florida State won the event with 149 points, while Tech finished with 138. Clemson came in third with 114 points.
Still, it was a remarkable accomplishment for the Hokies, who lost standouts Alexander Ziegler (thrower), Will Mulherin (distance runner) and Michael Hammond (distance runner) after the indoor season. The eligibility for all three expired at the conclusion of the indoor season.
"I knew it could be close, but I knew we were thinner than we were indoors," said Dave Cianelli, Tech's director of track and field and cross country. "I thought we had pretty much a perfect meet. Florida State just had a little more depth than we had.
"I'm really proud of our team and the way they competed and all of the outstanding performances that we had. Even though we came up short, that's just the way it is. We had a couple people who were dinged up and not here, but that's the sport. You can say that for pretty much any team. For the guys whom we had here, we really had an outstanding meet.
"We had a great run here, and we're leaving after giving everything we had. I just don't feel like we could have done much more than we did."
The men's team won five individual titles, with arguably none more impressive than Matthias Treff's victory in the javelin. On his first attempt, he broke his own ACC record with a throw 249 feet, 1 inch (75.92 meters), and no one came close to that, as Treff won the javelin title for the fourth straight year. He became the first ACC male javelin thrower ever to win four titles.
Tomas Kruzliak continued Tech's domination in the hammer throw, winning with a toss of 232 feet, 5 inches (70.84 meters). This year marked the fifth straight time that a Tech hammer thrower has won the event. Kruzliak's teammate, Denis Mahmic, finished second nearly seven meters back.
The Hokies' sprinters and jumpers aided the cause, too, as Darrell Wesh and Ronnie Black took home titles. Wesh sizzled in the 200-meter dash, winning in a time of 20.70 seconds, and he nearly won the 100, falling by two-hundredths of a second to Florida State's Dentarius Locke. Black carried the crown in the high jump, winning in a jump-off against Maryland's John Hill. The two tied with jumps of 7 feet, 3.75 inches (2.23 meters), but in the jump-off, Hill missed at 7 feet, 2.5 inches, and Black cleared it to win.
Also, the distance runners helped the Hokies, as Tech got wins from Grant Pollock and Thomas Curtin. Pollock won the 1,500-meter run in a time of 3:44.18, while Curtin won the 5,000 in a time of 13:58.77.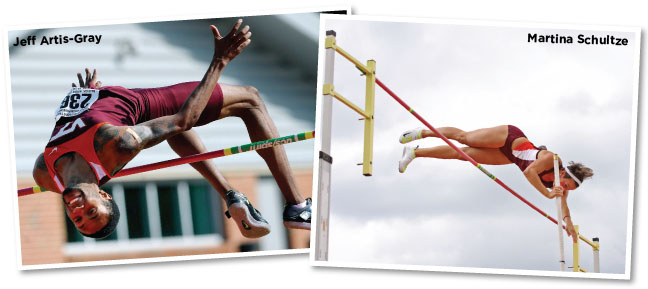 Jeff Artis-Gray, a senior and the Hokies' leader, scored in two events, coming in second in the long jump with a leap of 26 feet, .5 inch (7.94 meters) and finishing third in the 110-meter hurdles with a time of 14.21 seconds. Chris Uhle came in second in the pole vault with a vault of 16 feet, 8.75 inches (5.10 meters), and Tihut Degfae came in third in the 800 with a time of 1:49.40.
On the women's side, the Hokies finished in seventh place with 56 points. Clemson edged out Florida State for the title, accumulating 151 points to the Seminoles' 146 points. NC State came in third with 82 points, followed by Virginia (76) and Duke (76), and North Carolina (66).
Tech won two championships on the women's side. Annjulie Vester, a sophomore thrower from Homburg, Germany, won the hammer throw with a toss of 202 feet, 1 inch (61.61 meters). Vester, the defending champion in the event, set a new personal record with her winning throw.
Also, Martina Schultze won another ACC title. The sophomore from Uhingen, Germany, claimed the pole vault crown with a vault of 13 feet, 5.25 inches. The win marked her third straight ACC title in the pole vault and her second one outdoors.
Four other Tech women's performers finished in the top five of their respective events. Leah Nugent finished third in the 400-meter hurdles and fifth in the 100-meter hurdles, Shannon Morton came in fifth in the 1,500, Amanda Smith finished fifth in the 800, and Yvonne Amegashie was fourth in the 400.
"There were great performances all around, both from the men and women," Cianelli said. "Everyone who won titles this weekend really had to work for them because this conference is so good, and it's getting better.
"To get eight conference titles, I'm really happy about that. Now we'll regroup here and get ready for the regional meet next month."
The NCAA East Regionals will be held May 23-25 in Greensboro, N.C. The NCAA Outdoor Track and Field Championships will run from June 5-8 in Eugene, Ore.