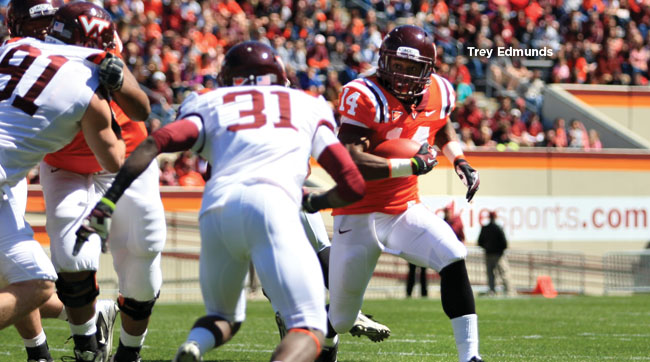 The Tech running backs received arguably more scrutiny this spring than any other position, as the Hokies tried to get their running game back on track. A year ago, J.C. Coleman led all Tech tailbacks with just 492 yards, while quarterback Logan Thomas became the first quarterback at Tech to lead the team in rushing since 1965.
Coleman went into spring practice at the top of the depth chart at tailback. But by no means did he have a stranglehold on the position. A three-headed situation emerged at the end of spring practice and the battle will continue into August.
"Right now, probably Trey (Edmunds) and Mike (Holmes) and J.C. are a little more consistent than the others," running backs coach Shane Beamer said. "From the mental standpoint, Chris Mangus is coming along. Chris is going to do a lot of good things for us this year, but those three guys have done well (this spring)."
Of course, Beamer said that before Holmes became embroiled in an off-field situation that has left him suspended indefinitely. It may be well into the summer before that situation gets resolved, thus leaving Beamer with Edmunds and Coleman as the top tailbacks heading into summer workouts.
Edmunds, a rising redshirt freshman, progressed nicely this spring. In the final scrimmage before the spring game, he rushed for 82 yards on just nine carries, and he scored two touchdowns. One of those scores came on a 50-yard jaunt. The scrimmage overall showed just how dangerous he could be as a tailback.
A year ago, pass protection held Edmunds back, along with not knowing all the nuances of Tech's running game. But he brings plenty of power and plenty of speed to the lineup, and he, too, will get a close look in August.
"I think the game has slowed down a little bit for him," Beamer said. "Pass protection wise, he knows what to do. There is a lot to know and do when the bullets start flying, but he's really doing a good job from that standpoint. He's doing what we expect from an execution standpoint.
"The game is important to him. He sits right next to me in the meeting room. He's practically in my lap. He knows what's going on. He writes stuff down. It's important to him. He takes a lot of pride in his work, and that's been the good thing. He wants to be the running back at Virginia Tech, and he's doing everything in his power right now to do that."
Daniel Dyer, Tony Gregory and Maurice Taylor round out the tailback spot. Gregory started two games a year ago and rushed for 299 yards, but he missed most of spring practice with a rib injury.
At fullback, Fuller Hoepner and Greg Gadell, two walk-ons who have impressed the coaches, led the way, but only because Riley Beiro sat out a lot of contact drills while rehabbing from shoulder surgery that ended his season last fall. He figures to be the starter once fall practice rolls around.