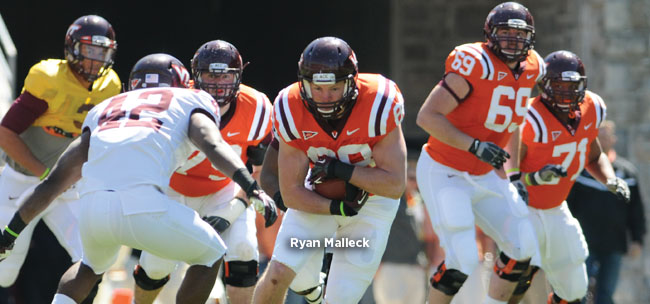 To get a feel for how the tight ends progressed over the course of spring practice, one only needs to look at the box score of the Hokies' spring game. The Hokies' tight ends combined to catch nine passes for 125 yards and a touchdown – an extremely productive afternoon on a day in which the offenses struggled to get any rhythm.
Their performance left coach Bryan Stinespring feeling pretty good about his group coming out of spring practice.
"I thought we got better as the spring went on, which was critical," Stinespring said. "The position needed to be better. Last year, we were never healthy across the board, and we didn't play as well as we needed to, or possibly could have. There were moments when we showed up in games, but we weren't consistent.
"But this spring, we got better. Even though we lost some seniors, I thought we were improved as a position."
Ryan Malleck came out of spring in the top spot at the position. That came as no surprise considering he started seven games a year ago.
He showed flashes of becoming a tremendous weapon for Tech's offense, and he put that on display in the spring game, catching three passes for 45 yards, including a 30-yarder for a touchdown.
"Ryan Malleck led the charge for us," Stinespring said. "He struggled with stingers last year and a pinched nerve, and that prevented his effectiveness, but he had a really good spring. He's stronger and he's got more confidence. We're excited about him.
"He's going to have to carry the load. He runs well, and he catches the ball. He had one scrimmage where he tried to do too much and dropped a couple. But the spring game showed what he has done all spring."
The depth chart behind Malleck is a little murky, though, with several battling for the No. 2 job. Zack McCray caught four passes for 65 yards in the spring game, and he displays an ability to make big plays in the passing game, but he needs to get more physical at the point of attack. Duan Perez-Means gives great effort and is improved, but still has a ways to go in terms of his technique, and Darius Redman started out the spring strongly, but leveled off. Dakota Jackson did some nice things. He's smart, with good hands, but needs to get quicker.
"After Ryan, we have a 'group,'" Stinespring said. "Each of them has certain strengths. Each of them does things a little bit better than the other, but we're still looking for a second tight end.
"As a group, I would have loved to have had 15 more practices. We really had a good spring game. We blocked well, and they were all effective in the passing game. We had no mental errors. I would have liked 15 more practices to build on it because I think they felt pretty good about where we were."