Britani Myers came to Tech expecting to pursue ACC championships as a middle distance runner, but she's
giving up her sport and moving to Nashville to pursue a career in music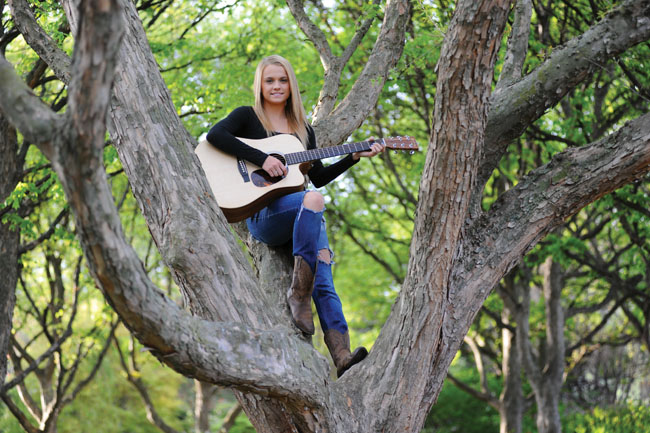 Track athletes tend to do everything fast. It's simply part of their DNA, rushing to a finish line regardless of whether they're actually on a track. They live life based on a stopwatch – and every second matters. Every lane is the fast lane for them.
Britani Myers is no different.
She isn't a household name in Tech's track and field program mainly because she just arrived in Blacksburg last August. She came to Tech as a middle distance runner from Winchester, Va., a town best known for being the home of the Apple Blossom Festival and Tech's superb basketball star, Erick Green. She boasts some pretty impressive athletic chops of her own, having won three state championships in high school and adding two others as part of relay teams.
But her career at Tech is ending almost as quickly as it began.
Things have been happening quickly off the track for Myers. Opportunities have presented themselves. Decisions have needed to be made. Her world has turned into a whirlwind.
Being a track athlete, she understands that, the breakneck pace at which life can happen. A recent opportunity promises to change her life, and it required a hair-trigger decision.
She's already made it.
She's sprinting for it.
---
Mommas love to hear their babies sing. It's one of life's truisms. That sweet crooning of a mother's child just needs to be bottled and preserved. Forever.
This is how Britani Myers' singing career got started.
Debbie Myers loved hearing her daughter sing, from her toddler years until she reached high school. That never changed. She even tried to get her daughter to sing in front of relatives, but the ultra-shy Britani refused. She preferred solo acts in front of one-person audiences – her mom.
That began to change during Britani's senior year at Handley High School. A terrific high school runner, she committed to Ole Miss for track and appeared destined for a future in that sport. Though disappointed that her daughter would be going so far away for college, Debbie supported her. Her only request was that Britani visit a friend of hers who had a recording studio, just so that Britani could record a song for her mom to listen to while her daughter attended college.
So Britani – a country music fan – recorded a cover of "I Wonder," a song by Kellie Pickler that talks about the personal experiences of Pickler's childhood, and gave it to her mom. A short time later, Britani's dad, Kevin Myers, took the recording to Q-102 FM, a local country music station in Winchester. Someone there knew someone in Nashville and decided to send the recording just to gauge any possible interest.
"That normally never works," Britani said. "But the CEO of Curb Records came over while that lady was listening to it and heard it.
"The next thing I knew, I was getting a call, and I was in a meeting with him. It was kind of lucky."
Wayne Fricks, the CEO of Curb Records, first called Kevin Myers, who in turn, called his daughter. She was at track practice. When she got home that night and returned the call, she nearly "freaked out."
The family ended up meeting with Fricks in Nashville in February of last year. But Britani kept her expectations low, preferring cautious optimism over unbridled hope. After all, she had never taken a voice lesson and never performed on a stage. How serious could this be?
"At first, I thought it was a scam, you know, one of those record companies who is like, 'Oh, you pay us this amount of money, and we'll produce CD's for you,'" she said. "I went anyway, and I sat in the meeting with my mom and my dad. As the meeting went on, he (Fricks) sounded serious, and I thought, 'This is crazy.' There are people who literally work their whole lives, going from door to door in Nashville to each record company just trying to get a deal.
"As time went on, I went back and back and had more meetings and then eventually he (Fricks) did offer me (a deal). It's all crazy because it happened in such a short amount of time."
The second meeting with Fricks consisted of her bringing someone to play the guitar for her while she sang. Then, before the third meeting, which occurred this past October, Fricks wanted her to learn to play the guitar, so she taught herself over the span of just a few months.
After that second meeting, Britani started to have reservations about going to Ole Miss for college. After all, it was an 11- to 12-hour haul from Winchester just to Nashville. Oxford, Miss., was even farther.
So coming back from that second meeting, the family stopped in Blacksburg to take a peak at Virginia Tech. She later signed with the Hokies, surprising many in Winchester who still thought she was going to Ole Miss.
She still planned on running for titles – and recording songs on the side.
---
Myers said she received her record deal from Sidewalk Records, a sister company of Curb, last October, and her first public performance came last November when she went back to Winchester for the Patsy Cline Classic. She said that her manager, Handley High alternative education teacher Ben Swartz, who also works in the school's audio visual department, managed to swing her a gig opening for country music superstar LeAnn Rimes at the event, which is held in the Patsy Cline Theater at the high school. Cline was a Winchester native and a country music singer before dying in a plane crash in 1963.
Curb artists normally headline the event – for example, Willie Nelson, the Beach Boys, Wynonna Judd and Rimes are all Curb clients and have headlined the Classic – but there never had been an opening act until last November when Myers took the stage before Rimes and sang a variety of cover songs.
"It was crazy," Myers said. "It's the biggest crowd I've ever performed in front of. It was well over 1,000 (people). She (Rimes) was really nice, and her voice was amazing. It was a good experience for me, especially since most people knew me as a runner. They heard I was singing, and they were like, 'What, Britani sings?' They were surprised. I got a standing ovation, which was good.
"That's the most nervous I've ever been in my life. Once the music starting playing and I loosened up, it just became natural."
According to her, she performed well, and that alone is quite the accomplishment considering her lack of experience. Myers had no public singing experience – none. She never sang in a church choir. She never took music lessons in high school. Her only music experience came from her time in the school's band, where she played the drums, and of course, from her solo performances before her mom.
But she loves singing and loves music. She only needed a start.
"I would always go to the concerts at my school that they would hold, and I'd be like, 'I wish someone would help me get to where I could perform in front of people,'" she said. "But I never really thought that it would happen for me. I always was a runner and thought I needed to stick with that. I didn't have time for other stuff.
"But then my senior year … it seemed like overnight my life changed. I went from being focused on running to having a music career that could actually happen."
This year at Tech, her days consisted of practices, classes, studying and then finding time to write songs – the next step in her evolution as a music entertainer. She said she has written about 10 songs so far, but admits the lack of time hinders her ability to put as much into her music as she would like.
That problem, however, will be going away once the semester ends.
---
A few weeks ago, Myers walked into Tech cross country and distance coach Ben Thomas' office a little nervously. She had made her decision.
Myers, who ran the 400 leg of the distance medley relay event at the ACC Indoor Track and Field Championships, told Thomas that this semester would be her last. She plans on moving to Nashville in July to pursue a career in music.
"He said he expected it," Myers said. "He wasn't as shocked as I thought he'd be."
Myers gave the decision a lot of thought. After all, she loves running, having done so since the eighth grade. She also loves her Tech teammates, making lifetime bonds with many of them, and she considers many of them sisters.
But she knows opportunities like this one rarely present themselves. She said Curb Records wants to put her with the same voice people who work with Rimes. She also needs to get in the studio and record, and she added that Curb wants to send her out to do some radio tours, which means traveling around to different stations and performing as a way to get her name out there. A possibility exists to go on USO Tours overseas and perform in front of military personnel.
All these things are done easier if based in Nashville. Right now, her father plans on living with her for the first month. After that, she will be on her own, a 19-year-old trying to make it in a highly competitive industry in which only the very best turn out to be successful.
"There is always that fear of, 'What if I don't make it?'" she said. "It is a scary industry, and my manager always reminds me of that. My dad is going to move down there with me for the first month, and then I am going to be on my own, which is really scary.
"But I'm prepared for anything. I'm still going to take online classes just so I'll have a backup plan because I think that is important. There is a big chance that I'll get down there, and it doesn't happen for a few years and I'm waiting around. We'll see how it goes. I've been lucky so far, so I'm crossing my fingers."
Her venture to this point has been a combination of things – talent, hard work, fate, and arguably, mostly luck. But good things tend to happen to those who do things the right way and with the right perspective.
She grew up in a small town, a shy girl with the ability to run fast. She came to Tech like so many others, pursuing a dream.
But dreams can change. Someone important thinks her unaltered voice possesses the ability to be special, the ability to produce something that could move so many people. She's decided to change course, switching into a lane that will take her in a direction in which she had never dreamed.
"It's not the typical country music story," she admitted.
It doesn't matter. Destiny is rarely a charted course.
Just remember Britani Myers is going places – fast. Just like she always has. Don't bet against her. After all, luck has been on her side.