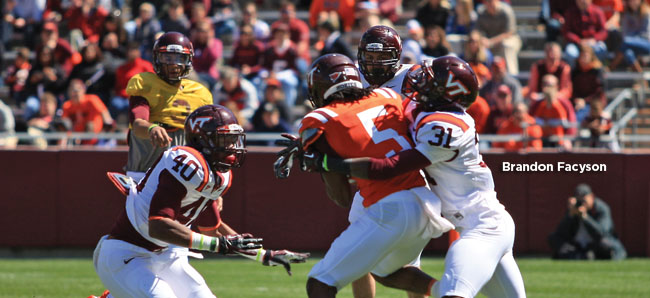 Torrian Gray came out of spring practice with pretty much the same thoughts as the Hokies' other assistant coaches. He got what he expected from certain players, he liked what he saw from some of his younger guys, and he's concerned about the slow development of a couple of guys.
He's also fully aware that the Hokies played this spring without the group's leader, Antone Exum, who is rehabbing from a torn ACL. Exum will be back, though, perhaps for the season opener.
Given all that, Gray felt okay about the secondary's work this spring.
"I was pleased with the guys I was expecting to be very good, which was (Detrick) Bonner, (Kyshoen) Jarrett and (Kyle) Fuller," Gray said in giving his overall synopsis of the spring. "I'm pleased with Brandon Facyson's upside, and I'm pleased with Desmond Frye coming along and giving us depth at safety. I'm pleased with Der'Woun Greene that, once he knows what he's doing, he's going to give us another guy.
"I'm not pleased with the field corner spot overall. That's the one thing that's gnawing at me. That's keeping me from coming out of this spring smiling."
Fuller anchored the boundary corner spot this spring. Coming off a subpar year for his elite standards, he built on an impressive showing in the strength and conditioning program this winter with an outstanding spring. He not only played well on the field, but he also displayed solid leadership skills toward the group's many young players.
"Kyle was excellent," Gray said. "I thought, last year, Kyle got complacent at times from a practice standpoint, which may have carried over into the season. Then he had some injuries, and it wasn't a great mix for him.
"He came out with a focus and an intent this spring to make sure he didn't have that type of drop off. He had a purpose, and I liked the way he approached practice and was a leader as a defensive back. He was excellent this winter and this spring."
But two unproven players got most of the reps at the field corner spot – Donovan Riley and Donaldven Manning – and both suffered their ups and downs. Riley played well at the first part of spring practice and then tailed off, but he made a huge play in the spring game with a 53-yard interception return for a touchdown. Manning started slowly and got better as practice went along.
Manning probably came out of spring ball slightly ahead on the depth chart, though the battle will continue in August – or until Exum returns.
"Manning started off a little slower than Riley, but from a technique and fundamental standpoint, he was very consistent and sound," Gray said. "He didn't make as many plays on the ball as I would have liked, whereas Riley made some great, great plays on the ball. But Riley gave up some things mentally, whereas Manning didn't give up the things mentally and technique wise. So that's where we're at with those two."
At the safety spots, Gray got exactly what he expected from upperclassmen Bonner and Jarrett. The two of them know what to do and both make plays.
Behind them, Frye enjoyed a great spring, and Greene caught Gray's eye with his ability to make plays. In fact, Greene electrified the crowd at the spring game when he stepped in front of a Logan Thomas pass near the goal line early in the game and returned an interception 98 yards for a touchdown.
Greene's emergence eased the pain of losing Greg Jones, who injured his shoulder early on and missed the rest of spring practice.
"I was impressed with how Desmond Frye picked up the safety position," Gray said. "We moved him to rover, and then Greg Jones got injured and Der'Woun Greene was new to the position (free safety), so we played Desmond both ways. He picked it up and didn't have many mental errors, if any. He made me feel good about having another safety guy.
"Der'Woun showed me that he's a tough kid. He showed that he has the ability to make plays, which is important, but mentally, he has to still learn it. He's a long way off from a technique and fundamentals standpoint. At the least, I think we've got a guy there who will be good enough for us.
"I didn't know if we had anyone behind Kyshoen (Jarrett) and Detrick (Bonner). But we ended spring ball with two guys who will give us a chance as they continue to get better."
Of all the young players, the one to watch may be Facyson, a freshman who enrolled in January. He played well backing up Fuller at the boundary corner spot and may play next fall.
"He's still a freshman," Gray said. "He still makes mistakes, but I like his learning curve. At least he made a lot of plays on the ball, which is the first thing because you can coach up the other stuff as he gets more reps. I was really impressed with what he did.
"Right now, he's in the two-deep. If he keeps progressing, he's going to stay in the two-deep. I think his upside is such that he's only going to get better with practices."