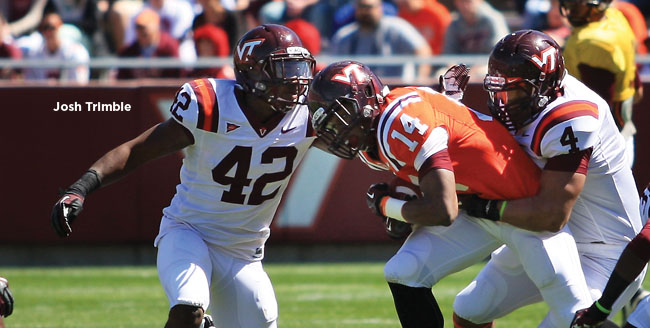 Last season, defensive coordinator Bud Foster played nickel defense early in the season, but he readily admitted that his unit's fortunes changed when he went back to his base defense, which included a whip linebacker.
Whips coach Cornell Brown hopes that Foster does the same this upcoming season, even though the Hokies lost Alonzo Tweedy and Jeron Gouveia-Winslow from last season's team. That's because Brown feels confident that Ronny Vandyke can do everything the position requires and then some.
Vandyke started two games last season as a redshirt freshman and played in all 13. His on-the-job training a year ago really showed up this spring, as he played with a lot more confidence because he knew his position. In return, he made more plays.
"Ronny was great," Brown said. "The little bit of playing time he received last year really helped his progress going into this year. He was a lot more conscious of things (this spring). He got a better grasp of the overall defense and what was expected of him.
"You really like his overall 'want to' and desire. The success of this team is important to him. He wants to excel, but he wants this team to be good and the people around him to be good."
Tech's staff moved two players to whip before spring ball started – Josh Trimble and Derek DiNardo. Trimble and DiNardo both served as backups at backer last season, but got most of their action on special teams.
Both of their skill sets probably fit better at whip, particularly Trimble's. He made a lot of tackles in space on special teams last season, and the whip position requires that players be able to do that.
"He's a guy with a lot of knowledge about the game and understands how to play the game," Brown said. "He's shown that he can make plays when given the opportunity, and by being at whip now, that gives him an opportunity to get more reps, which is what all young guys need.
"Derek has been a utility player since he got here. He's moved around. Last year, he played backer, like Trimble. Any time you can get those guys some real live action, where they can see those mistakes and feel those mistakes and see what they've done wrong, that helps make them better players and makes us a better team."
Both of those players got noticed for their work on special teams, and Brown hopes that some of Tech's other young defensive players take notice of that. Special teams can lead to bigger things.
Brown also liked what he saw from two walk-ons this spring – Quinton Taylor and Tyler Brydge. Both showed flashes and could help the Hokies in some capacity down the road.