Clark Labitan and Jake Joyce are polar opposites and the best of friends, and they continue to get
it done out of the bullpen for Tech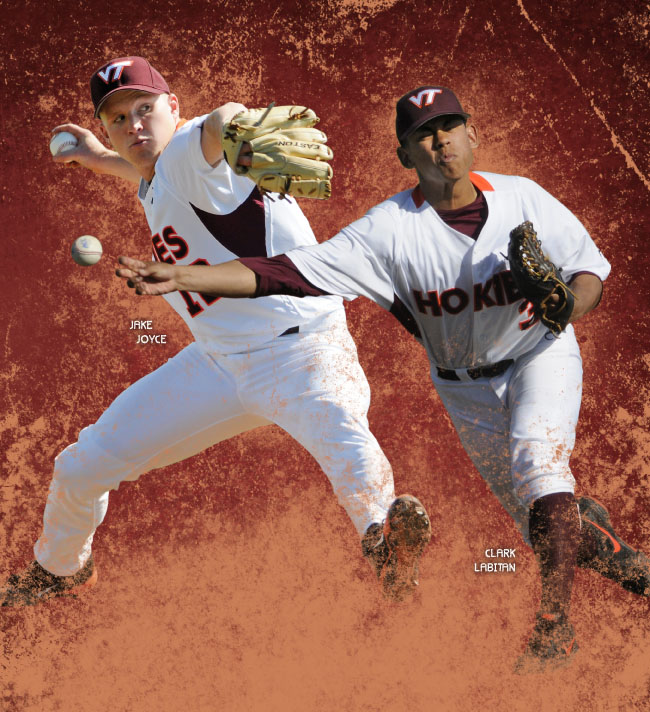 They call themselves "yin and yang." In fact, they have those monikers programmed into their cell phones when each other calls – and yet they have described themselves as polar opposites.
But they can agree on one thing. When the final pitch is thrown by a Hokie pitcher this baseball season, it will probably be tossed by one of these two young men – and neither would have it any other way.
Clark Labitan, a redshirt senior from San Diego, Calif., and of mostly Filipino decent, and Jake Joyce, a senior from Collinsville, Va., and of mostly Irish decent, have been Virginia Tech's top two relievers this year and have been best friends since the younger Joyce stepped on campus more than three years ago. The duo wants nothing more than the opportunity to pitch in the 2013 ACC Baseball Championship and beyond.
"The big picture we always preach is Omaha, but that starts with our first goal of making it to the ACC tournament," Joyce said. "That's usually when teams are really bearing down and locking in and trying to get ready for the postseason.
"So going into an ACC tournament game and facing that level of competition on that stage is something I really can't imagine. I experienced it a little my freshman year. I didn't get to pitch, but just being in the dugout, my energy and excitement in the dugout was unreal. I think it would be an awesome experience to get to pitch in it."
During that 2010 season, Labitan – the older of the two and the "yin" of the duo – was sitting out the year because of an injury. So neither of them has pitched in an ACC tournament game.
"I was unfortunate to miss probably one of the better teams Virginia Tech has had in its history, when we went to the ACCs and the regional in South Carolina," Labitan said. "I remember watching it on TV and how jealous I was. I know we feel pressure when we pitch at Florida State or against UNC, but I just can't imagine how awesome that (the NCAAs) would be.
"The ACC is probably the best conference in the nation right now, so if we can do well in that, why can't we do well in the NCAA tournament? It's (the ACC tournament) almost like a national tournament in itself."
Their paths to get to Blacksburg were – as stated earlier – polar opposites. For Joyce – the "yang" of the twosome – Tech was his dream school. His whole family loves Tech, and his cousin is Bryan Stinespring, the recruiting coordinator and tight ends coach on the Hokies' football team. So coming to Tech was not a hard decision for Joyce.
Labitan, on the other hand, wasn't recruited heavily out of high school and was just trying to get some schools interested in him. So he decided to attend a camp in Georgia, where he caught the eye of Dave Turgeon, the former pitching coach for the Hokies. Turgeon invited him to a baseball camp in Blacksburg.
"So I came out here all by myself without any parents or anything and started one of the scrimmages and hit – at the time, I was a hitter – and they (Tech's coaches) offered me that Sunday," Labitan said. "I acted like I was going to think about it, but as soon as they offered me, in my head, I was thinking 'This is awesome,' because no other schools wanted me as a pitcher.
"So I flew back home, and a couple days later, called them and accepted, and they sent me the papers. But that's (the camp) where Joyce first saw me."
"Yeah, it was funny because we were at the same camp," Joyce said. "I remember Coach Hughes had a meeting with the whole camp, parents and players, and he was talking about how he was going to offer a scholarship today to one of the players and that was Clark."
More than a year later, the two of them were reunited on the Tech campus. Labitan arrived in the fall of 2008, while Joyce started a bit oddly in the spring semester of 2010 because of a number of complicated factors. But they love to share the anecdote about Joyce's arrival to campus.
"I remember when Jake first came in here, he thought everyone hated him," Labitan said. "He was always picked on."
"I was a freshman, and the freshmen here were picking on me," Joyce added.
"Our roommates now came in when he did, and I remember everyone picked on him. It didn't matter who it was. He was the youngest one, and he had to wear it," Labitan said. "I don't even remember what it was. It was something about the Matrix or something, and ever since then, we had this stupid handshake and I never picked on him.
"I didn't even know him. He was country, but people made fun of me because I was from California. We were like polar opposites. I didn't like country. I thought they were weird, and then look at me – I end up going to live with him after every season and spend time with his family. I probably hung out and spend more time with his family than my family the past four years. And I actually call his parents 'mom' and 'dad.'"
"The first time we met, I was a freshman, and eventually I warmed up to everyone after they all got in their jabs at me, but I do remember him taking me in," Joyce said. "As an upperclassman, I thought it was awesome he did that. And we would go get lunch together and just talked about everything. Like he said, we were polar opposites, which made it interesting."
Speaking of opposites and parents, Joyce said that his parents may have missed two games in his career at Tech, "and I think both of them were midweek games at ETSU."
On the other hand, the Labitans have made just a handful, and just one in Blacksburg – last season's Miami series.
"My mom and sister made it out here for the first time since moving me in, but it was a good one to make," Labitan said. In that series, the Hokies won two games in walk-off fashion over the then sixth-ranked team in the country.
Joyce's parents have accepted Labitan as one of their own, though. They even refer to him by his own nickname.
"My dad (Kenny) calls him 'Kobe,' as in (Takeru) Kobayashi (the famous Japanese competitive eater), because he always makes fun of how much food Clark eats," Joyce said. "My dad is like 6-foot-7, 285 and Clark's like 5-7, 170, but they both crush food. They could both eat a lot, so they always just rag on each other about that."
But, as Labitan chimed in, Joyce's nickname tops everyone else's.
"It's 'Gerb,'" Joyce admitted. "When I came in my freshman year, I came in a semester late, so I was already the youngest kid on the team. Everyone already had their nicknames, and they were really trying to give me one, and they had a couple, but they ended up going with Gerb, because of the Gerber baby.
"They say I look like a 2 year old in the face, and that has stuck with me. Even with my summer ball teams, by a week or two, the guys on the summer team are calling me Gerb. So it's stuck with me the past four years. I still kind of think I look young, so it will probably stick with me even longer."
Labitan has his nickname as well, but that's saved for the field.
"My nickname started when I was at Coach Hughes' house for Thanksgiving dinner," Labitan said. "We were at the dinner table and his sister-in-law started calling me 'Chuck.'
"She said, 'You look like this friend of mine named Chuck Kim.' So everyone just lost it. But Coach started using it as a joke, calling me Chuck Kim, and now that's kind of become my persona. When I get on the mound and I'm in the zone, I'm Chuck Kim, not Clark Labitan."
Maybe part of Chuck Kim's persona is a Mohawk because Labitan grows his hair out every season and then shaves it into a Mohawk. This year, he urged Joyce to do the same – as a graduation present.
"I started growing mine probably over a month ago before the Miami series," Labitan said. "I usually do it every season, especially when I'm playing. I wanted to grow my hair out, but I don't really have the best hair on the team, so I just go with the Mohawk and just grew it out.
"I did well at Miami, so it's kind of a superstition, like with any baseball player, and I'm still growing it out and I said until the very last game of the year. I've always told Jake to grow out his hair in general because he's afraid to show off his red hair that he thought he had. But I told him to grow it out for me for my graduation present."
"You can ask anyone on the team. I literally cut my hair about once a week, and I go as low you can go on a set of clippers," Joyce said. "I don't think anyone has ever seen my hair longer than one week's growth. So Clark said for his graduation to cut a Mohawk.
"I probably cut mine for the NC State series, and I told him I would do it for his graduation present – not really certain if I could grow it out. So I'm three weeks into it and it's the longest my hair's been since probably first grade. I'm going to keep it going until the last game as well."
They describe each other with having the same mental toughness and having a bulldog mentality when on the mound. But each would love to have one thing from the other's pitching repertoire.
Joyce said, "I would love to have a sidearm fastball at 90 miles an hour that sinks a foot. I wouldn't mind having that and his attitude on the mound."
Labitan countered with, "He's probably got one of the best sliders in college baseball. It's big-league velocity in the high 80s. And his velocity in general, it's better than mine, and I'd love to have that strikeout pitch."
Ironically, the interview with the two men was conducted just before the weekend series in Blacksburg against No. 5 Virginia. When asked what is it like coming into a game mid-inning and what does Coach Hughes say to them, here were their responses:
"When I come into a situation in mid-inning, I'm not a strikeout guy. I'm more of a ground-ball guy," Labitan said. "So, he'll say, 'All right, we got a guy on. Let's get this double play, and then we'll get you that win or that save.'"
Labitan earned a save in the first game on Saturday against the Cavaliers after being called upon with two runners on and one out in a 5-3 game in the eighth. The result? He ended the threat by rolling a double play to end the frame and then worked a perfect ninth.
"I know a lot of times I come into some pretty sticky situations, and a lot of the times, it's a situation where we need a strikeout," Joyce said. "So when I come to the mound, he'll ask me how my stuff is, and whether it's good or not, I'll always tell him my stuff's on. Then he'll give me the ball and say, 'We need a huge punch out here.'"
Joyce closed the second game on Saturday, recording five outs, three via strikeout, as the Hokies swept UVa in a doubleheader and won a series over their in-state rival for the first time since 2009.
If all goes well in the final two conference regular-season weekends of the year, the Hokies should be preparing for their second trip to the ACC Baseball Championship under Hughes, and in turn, making their second NCAA Baseball Championship.
And there is no doubt, when the situation arises, either yin or yang will be called upon.