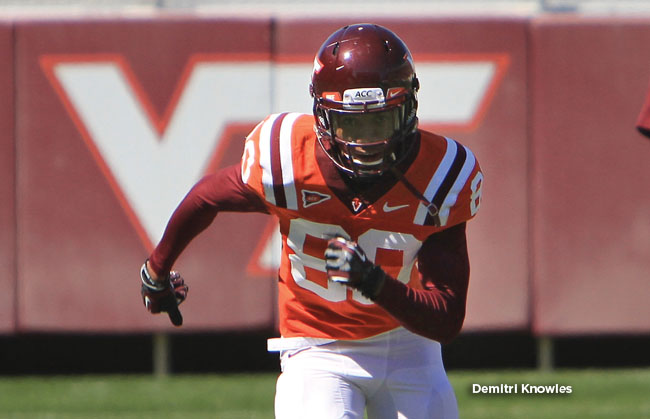 Last January, Tech head coach Frank Beamer hired a younger guy to coach the receivers in Aaron Moorehead.
Youth, though, was going to be served with this group anyway.
Tech's depth chart at the receiver position features exactly one senior – and D.J. Coles missed nearly all of last season with a knee injury. So Moorehead spent much of the spring just learning his players, teaching them the fundamentals of being a receiver and helping them learn a new offense. He liked what they got accomplished, but there is much work to be done.
"I wish we had another week to get some work done because they were just starting to understand how I was teaching and what I was teaching," Moorehead said. "The guys were starting to make some good adjustments, and those couple of extra weeks would have been nice.
"We have an inexperienced group. I don't think anyone will deny that. When you have a group of guys who haven't played in games, it's hard. You want to get them fundamentally sound before you start asking them to do anything else. It was a very 'fundamental' spring. As a group, we did a good job. The rest of the spring and summer is going to be very important for them to develop their cardio and their football skills. They've got to get out there and work their butts off this summer. That's what I've been telling them in my meetings with them."
Coles, a split end, serves as the leader of the group because of his experience, but he is, by no means, a finished product. His injury inhibited his ability to work out, and he got a little heavy. He also spent much of his spring just getting back his timing with quarterbacks Logan Thomas and Mark Leal.
Moorehead wants to see Coles get in top physical condition this summer, and he also wants him to lead the group in passing drills with the quarterbacks.
"D.J. was okay this spring, but he's got a ways to go as far as getting himself in the condition he needs to be in to get to the level he wants," Moorehead said. "Catching the ball, he didn't miss a beat. But he needs to develop his conditioning because that's going to help him have an outstanding senior season."
Coming out of spring, Joshua Stanford and Charley Meyer followed Coles on the depth chart at split end. Moorehead said Stanford, who caught three passes for 86 yards in the spring game, including a 57-yarder, gets better and better with every rep, and that Meyer just has a knack for getting open despite not being the biggest or the fastest guy around.
At the flanker spot, Demitri Knowles led the way after a terrific spring. He caught two passes for 41 yards, including a 30-yarder, in the spring game, and everyone knows he possesses big-play ability with his track-star speed. But he showed Moorehead much more this spring.
"He was a guy who was probably our most consistent player this spring," Moorehead said. "I didn't see as much up-and-down with him. He needs to live in that playbook this summer and make sure he knows what we're doing because we're going to add a bunch of stuff in the fall. But he's a fast guy, and he has better hands than people give him credit for. He even became a halfway decent blocker by the end of spring, which I was happy about.
"I'm excited about his potential. He's got a chance to be possibly our No. 1 guy in the fall."
Moorehead also liked what Kevin Asante did this spring and expects him to be even better in the fall. Joel Caleb and Willie Byrn follow Knowles and Asante on the depth chart at flanker.
"Overall, I'm happy with their effort," Moorehead said. "I'm happy with the way they worked. To a man, they said they wanted to work harder than any group on this football team. I think they did a great job, but I don't think they're quite there yet. I don't think they worked harder than everybody, but they're on the road, and that's the goal. That's step 1. Step 2 is going out and making play after play after play on Saturdays. That's the next step."