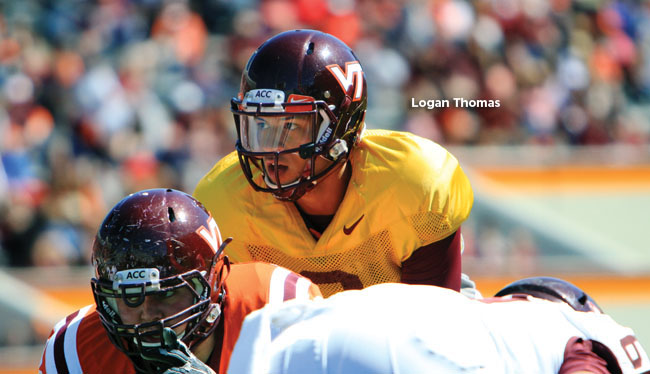 Spring game performance aside – when he threw three interceptions – Logan Thomas progressed over the course of 15 practices, as he moved into the role of conductor of the new offense installed by new coordinator Scot Loeffler.
Thomas got better with each practice and became more comfortable with his throwing mechanics and footwork. Loeffler spent a lot of time this spring working on mechanics with all the quarterbacks, and the strategy worked, as Tech's quarterbacks threw the ball with more zip and better accuracy.
Thomas obviously came out of spring practice in the top spot on the depth chart. Loeffler wants to see him carry that progress from this spring over into the summer and into August practices.
"The guy is just going to get better and better and better," Loeffler said. "Like I've said before, he reminds me of the guys I've had that play in the NFL. They pick things up fast. You can tell him something once, and he gets it. There are a lot of things he needs to continue to improve on, but overall, he's improving and he's improving fast. His mentality is the same as mine – we're against the clock. We've got to go."
Mark Leal enjoyed a solid spring as well, throwing a touchdown pass in the spring game. He gives Tech a young man perfectly capable of being a starter in the event of a Thomas injury.
But the quarterback position is a relative unknown after those two. Walk-on Brian Rody got most of the reps as the third quarterback and threw a touchdown in the second scrimmage. Connor Jessop, another walk-on, and Trey Gresh saw very little action this spring.
Unfortunately, neither did Brenden Motley, a rising redshirt freshman from nearby Christiansburg. Motley injured his knee early in spring practice, and the injury shelved him.
The final quarterback in the mix was Carlis Parker, the freshman who enrolled in January. Parker worked some at receiver as well, as Tech's coaches wanted to get a glimpse of what he could do at that position. He could still redshirt this upcoming fall.