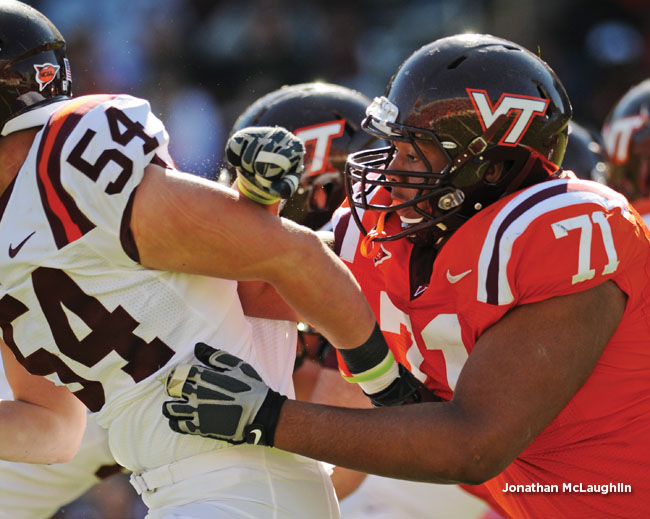 Coming out of spring practice, Tech's offensive line remains in a bit of flux, as new line coach Jeff Grimes spent the 15 practices getting to know his players and finding out what they do best.
Grimes did not come out of this spring with a starting five. That may cause some queasiness among Hokie Nation, but Grimes fully expected it and showed no concern over letting the line evolve over the summer and into August practices.
"We don't have to have that decision made right now," he said. "The bottom line is we don't have to make that decision until we get close to the first game.
"Most times, I go into a fall camp not knowing things for certain, and I'm perfectly comfortable with that. I actually like that better than knowing who the five are going to be because competition makes everyone better."
Heading into this spring, Tech basically returned four starters at three spots. Andrew Miller started seven games at center a season ago before being lost with a broken ankle. Caleb Farris replaced Miller and started five games, and Brent Benedict started six games at right guard. David Wang started 10 games at left guard.
So one figured that Grimes only needed to find two tackles among a large group of contenders. Not so.
Grimes spent most of this spring mixing and matching, moving guards to center and tackles to guard and playing younger, raw guys at tackle. He came into the spring with no preconceived notions, preferring instead to see for himself what certain guys could do at certain spots in certain situations.
"There have been times in my career when I've thought guys were best at a certain position, but then at some point later on, I moved them out of necessity and found out that they could do something else – and at times even better than I thought," Grimes said. "So I've learned over the years, especially early on with a group, to let them do different things and try to see where they fit best. Part of it is doing that on an individual basis and part of it will end up being based on getting our best five on the field."
As most know, Miller anchors the line, as he possesses the most experience of the group and is an all-conference type of player. But even he, with his 21 career starts at center, found himself being moved around. He played some at right guard this spring, working in coordination with Farris at center.
"No. 1, he's our toughest guy and the leader of the group and unquestionably the guy that the other linemen – and to some extent, the offense – feed off of, so he could play a lot of places," Grimes said. "He could probably play tackle for us. But in terms of where he ends up, it's just one of those things where I want to see him do some different things and see other guys work at center as well. I think he's got great potential and could play very well at either spot."
Miller and Farris are two of four players who worked at center this spring. Grimes also played Matt Arkema some at the spot and Wang, too, before an ankle injury halfway through spring practice ended Wang's spring.
Obviously, success on the offensive line starts at the center spot. That person needs to be smart enough to make the calls along the front in addition to getting the ball to quarterback Logan Thomas. Miller is a proven entity at the spot, but the rest of the group there needed reps – and got them.
"You can't have too many," Grimes said of centers. "You can move a tackle to guard or move someone from one side to the other at the same position. But snapping the ball and making the calls … that's a different animal. So you can't have too many guys who can do it. You obviously need three that you feel good about, with the C-Q [center-quarterback] exchange and the shotgun snaps and that kind of stuff. At some point, there comes a limit in terms of how many guys you rep there, but I've been in positions where I've had a solid back up at other positions, like when I was at Auburn, where our left guard was our back-up center. You can't have too many."
Grimes, though, faces more uncertainty at the two tackle spots than at the three inside spots. The Hokies saw their two starting tackles from last season, Nick Becton and Vinston Painter, depart (along with guard Nick Acree, who missed spring practice with knee issues and may be giving up football).
The depth chart at the tackle spots changed practically every practice, as – for the most part – Mark Shuman and Jonathan McLaughlin traded time working with the first team at left tackle, while Laurence Gibson and Augie Conte did the same at right tackle. Grimes even moved Shuman to left guard the final week of spring practice.
All showed flashes, but the battles will continue into the summer and during August practices.
"Laurence has really taken some big steps forward," Grimes said. "I'm really impressed with his attitude, his work ethic and his toughness. Shuman has gotten a lot of reps with the first group, and Jonathan McLaughlin has really shown some things that has warranted him getting an opportunity with the first group, so that's why he was in there. Then Augie Conte has gotten reps at tackle. Like with any position, I've been giving guys a lot of opportunities and waiting to see who is going to earn it."
Tech's offensive line may not be settled until a couple of weeks before the Alabama game. The unit improved over the course of the spring, and Grimes wants to see that continue through summer workouts.
The pieces are there for a productive line. It's just going to take some time to put them in the right spots.