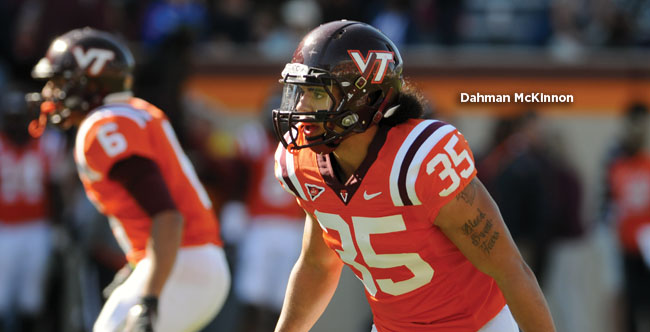 Tech defensive coordinator Bud Foster doubles as the linebackers coach, and one of his main goals for the spring was getting Tariq Edwards back to form.
As most know, Edwards basically missed last season because of a leg injury. Yes, he played in seven games, but he recorded just four tackles, and he wasn't close to the player who recorded 71 tackles, including 11.5 for a loss, as a redshirt sophomore.
But Edwards appeared to get his timing back at the backer spot this spring. He seemed more fluid and comfortable with his movements. He wasn't quite as fast as he was two years ago, but made some plays. Now Foster wants him to get in top physical condition over the summer.
"He was pretty good," Foster said of Edwards' spring. "He wasn't as flashy as maybe he was in the past, but he was consistent. He didn't have as many plays come to him, but he took a lot of plays away, like screens and draws, things like that. He was fundamentally sound and good in coverage.
"My biggest thing for him was getting his timing back, and I think he's got that. He's a lot closer. Now, I want him to get in great shape. He needs to be full speed. Those guys in the NBA get that type of injury and they come back and are running up and down the floor. He needs to get it in his mind that he's fine and just go out and turn it loose. There might be days when that thing is tender, and if so, we'll ice it and give him a break.
"But I want him to come back in great shape. That's where I'm really going to challenge him. But he's done all the right things."
Edwards will team with Jack Tyler, the starting mike linebacker, next fall. Tyler got relatively little action this spring simply because Foster knows what he has in Tyler, one of the ACC's best linebackers. Instead, steady backup Chase Williams, whom Foster trusts, got a lot of first-team reps, at least until an ankle injury in the last scrimmage shelved him.
Foster mostly spent his spring evaluating his younger linebackers, guys like backers Deon Clarke – who led all tacklers with nine in the spring game – and Dahman McKinnon and mike linebackers Devin Vandyke, Drew Burns and Josh Eberly. He likes the potential of the group as a whole, but he'd also like to see some more consistency.
"Deon Clarke does some really good things, but he's got to be consistent," Foster said. "I think moving Dahman McKinnon (from whip to backer) has been a great move for us. He's made more tackles in this spring than he did all last fall, including our camp scrimmages and our Monday scrimmages. That's (backer) a good position for him, and I think he'll be a good football player for us. He's physical, and he can run. He's just learning the position, just like Deon.
"Devin Vandyke showed some things, but he was battling hamstring issues. He looked like me out there running – and that's not very good. But at the same time, he showed flashes.
"I'm coaching all those guys hard because they're only a play away. They've got to have a sense of urgency that they've got to learn and grow. It's important to those guys."
Coming out of this spring, Clarke was No. 2 on the depth chart behind Edwards, with McKinnon challenging him. At mike linebacker, Williams stood in the No. 2 spot, with Vandyke and Burns listed as co-No. 3's.