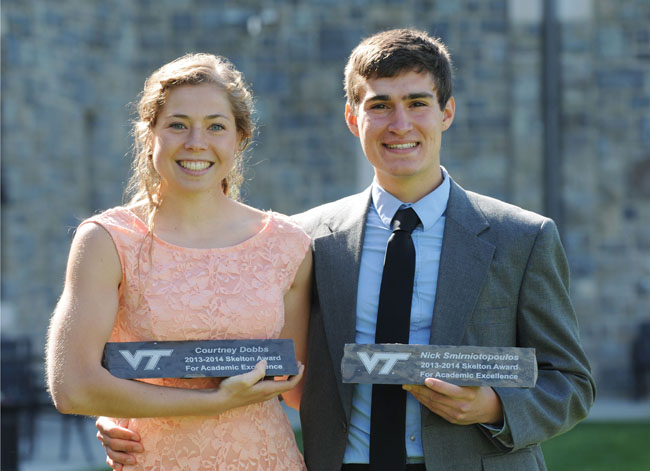 Men's soccer player Nick Smirniotopoulos and women's track and field and cross country runner Courtney Dobbs received the Skelton Award for Academic Excellence in Athletics – the highest designation handed out by the Tech athletics department – at the annual Athletics Director's Honors Breakfast held April 21 at the Inn at Virginia Tech.
The Skelton Award, named after the late Dr. Bill and Peggy Skelton, is presented each year to a rising junior, senior or fifth-year male and female student-athlete who has participated in intercollegiate athletics for at least two seasons at Tech. Each recipient receives a scholarship of $5,000 for the upcoming academic year.
Smirniotopoulos, a junior from Falls Church, Va., is a communications major, while Dobbs, a redshirt sophomore from Glen Allen, Va., is an accounting major.
In addition to the Skelton Award recipients, the members of the 2013 Athletic Director's Honor Roll were also recognized. The AD Honor Roll is designed to pay tribute to student-athletes who have achieved a grade-point average of 3.0 or better during one or both semesters in the preceding calendar year. Since its inception in 1988, the Honor Roll has recognized an average of more than 200 student-athletes each semester. This year, 395 student-athletes made the AD Honor Roll.
Also, three student-athletes received recognition for being honored by the ACC as three of 41 ACC student-athletes who were selected for the Weaver-James-Corrigan Award. The Weaver-James-Corrigan and Jim and Pat Thacker scholarships are awarded to selected student-athletes – three from each league institution – who intend to pursue a graduate degree following completion of their undergraduate requirements. Each recipient receives $5,000 toward his or her graduate education. Those honored have performed with distinction in both the classroom and their respective sport, while demonstrating exemplary conduct in the community.
Tech swimmer Laura Simon, track and field thrower Alexander Ziegler and javelin thrower Matthias Treff were the Hokies honored.
Simon, a senior from Simpsonville, S.C., scored in every ACC Championship throughout her career, including back-to-back top-10 finishes in the 1650 freestyle her sophomore and junior campaigns. A biochemistry major, she earned the Skelton Award for Academic Excellence in 2011, along with making the Dean's List every semester.
Treff, a native of Nuremberg, Germany, has finished second and third in his two trips to the NCAA Outdoor Track & Field Championships. His throw of 255 feet, 6 inches (77.88m) at the 2011 NCAA Championships in Des Moines, Iowa, broke both the school and ACC record, and earned him a runner-up finish. He later broke his school record when he won his fourth ACC title in mid-April. He is a three-time selection to ACC All-Academic Team and the USTFCCCA Division I All-Academic Team.
Ziegler, a back-to-back NCAA champion in the hammer throw and the 2013 weight throw national champion, earned All-America honors in each of his seven seasons, finishing no lower than third at any NCAA Championship. The Dischingen, Germany native was named to the USTFCCCA All-Academic Team during each of his three years at Tech, while earning a spot on the ACC All-Academic Team during six of his seasons. In 2011, he was named USTFCCCA's Outdoor Field Scholar Athlete of the Year. He is currently working on his MBA (master's of business administration) at Tech.
Simon, Treff and Ziegler were among 41 student-athletes from around the ACC honored at the annual ACC Postgraduate Luncheon presented by ESPN on April 17 in the Guilford Ballroom at the Sheraton Greensboro at the Four Seasons.