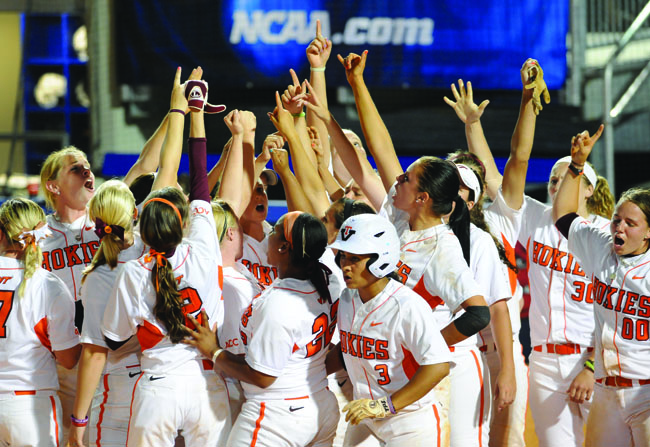 HOKIES END GOOD SEASON AT NCAAS
The Virginia Tech softball team made its second straight trip and sixth overall to the NCAA regionals and advanced to the championship game of the Lexington, Ky., regional. The Hokies fell 1-0 to Kentucky and saw their season come to an end. They finished with a 38-21 record for their third straight winning season.
The Student-Athlete Experience
"Going into my senior year, I can honestly say my time at Virginia Tech has been the most rewarding of my life. Thank you for giving me the best four years I could have asked for!"
-Courtney Liddle | Senior, Softball
"The memories I have collected the past few years at Virginia Tech couldn't never be replaced. I am so proud to be at such an inspirational school."
-Kylie McGoldrick | Sophomore, Softball
The Donor File
C. Taylor Quicke
Hokie Club Level: Hokie Club
Hokie Club member since: 2011
Currently Resides: Blackstone, VA
What year did you graduate? 2011
Family: Brittany Thomas (fiancé) and Henry (Golden Retriever)
Q&A
Q: Being a member of the Hokie Club and supporting Virginia Tech athletics is important to me and my family because…
A: I believe it provides so many benefits for the entire university. I know that in a small way each member helps build state-of-the-art facilities and gives scholarships to very worthy student-athletes. For reasons like this, I'm very proud to be a member of the Hokie Club.
Q: You are a recent graduate of Virginia Tech. What propelled you to join the Hokie Club?
A: Joining the Hokie Club was a given for me when I graduated from Tech. I've learned from both my grandparents (Bob '53 & Anne Quicke) and my parents (Dunc '81 & Myra Quicke '81) how important it is to give back to our great school. Supporting the Hokie Club is one of many ways to support our alma mater. I know that donations of all size are very beneficial to the success of the Hokie Club.
Q: Do you have a specific moment when you realized that you were a fan of Virginia Tech athletics and knew without a doubt that you were a Hokie?
A: I've been regularly attending football games since I was probably 3 years old. I would say I knew I was a true Hokie in the mid-90s when my brother, Morgan '09, and I would go down to the locker room after every game. As little boys, we'd stand outside and wait for players and coaches to come out. We'd have our sharpies ready, and we'd collect autographs on our game programs. Jim Pyne, Lee Suggs, and Bud Foster are just a few of our favorites.
Q: Do you have any game day or tailgating traditions or superstitions? If so, what are they?
A: Game Day in Blacksburg always starts at least three hours before kickoff. My grandmother's tailgate spread always draws a huge crowd. Whether we're tailgating at the GERMAN Club Manor or in Lot 1, it's always great to catch up with so many friends. Win or lose, we continue the tailgate after the game too.
Q: When you head into town for a game, are there any "must-do" things for you and your family?
A: A trip to Blacksburg isn't complete without a trip to TOTS (Top of the Stairs)in downtown Blacksburg. I also enjoy going back to the GERMAN Club Manor, which is where I spent a good amount of time when I was a student in Blacksburg.
Q: Virginia Tech has had a lot of successful teams and wins over the years. Do you have a favorite team/season or game that stands out the most?
A: There are many memorable seasons and games, but one that I will never forget is the season opener in 2007. It was the first time that many Hokies were back in Blacksburg after the tragic events of April 16. The day started with "GameDay" broadcasting from Blacksburg, and the entire day demonstrated how great being a part of the Hokie community is.
Letter from Lu
The 142nd year of the university concluded with graduation in Lane Stadium on May 17. We said, "Good-bye and good luck" to a number of outstanding student-athletes who will set out to make their mark in the world. We are grateful for all of their contributions to their sports, to the university and to the community. They brought us many exciting moments on the fields and courts this past year.
Our fundraising results for the fiscal year ending in June will be good, but will trail last year's record-breaking results. We are proud to report that the VTAF Endowment has reached an all-time high of $46.3 million. Earnings from this endowment paid approximately 19 percent of this year's scholarship bill, and coupled with money from our Annual Fund, we were able to meet the $11.2 million tuition bill for 2012-13. We know that tuition, room and board will increase in the fall, and our goal is to try to keep the Annual Fund at pace to meet the rising costs of educating our student-athletes. You can help us by inviting new Hokies and friends to join the Hokie Club.
The 2013 Orange and Maroon Tour was successful, as staff and coaches visited 16 cities and reached four states. We thank all of you who came out to support the events, especially those of you who bid generously on the auction items. Thanks to our Hokie presidents and Hokie Reps, whose work make the golf tournaments, receptions and dinners so enjoyable.
We are very pleased with the football seat and parking selection process that took place between late April and early June. Our staff was happy to aid those members who requested assistance, and we feel that the process went smoothly. The Ballena software product is simple and easy to use and has saved our office and the ticket office countless hours of manual work.
Hokie Club members who are season ticket holders for men's and women's basketball will receive information regarding the reseating of Cassell Coliseum scheduled for late summer. As a result of the reseating process, the deadline for ordering season tickets was moved forward to June 24 to allow time for the ticket office staff to process the requests and prepare for the reseating. A detailed "how-to" guide will be mailed in July to assist those fans who plan to participate in the reseating. Hokie fans will recognize the Ballena software package used in the football reseating and should find navigating through the selection process very similar to what they did when selecting football seating.
The Hokie Club office will lose two valued and long-term employees this summer when John Moody and Sharon Linkous retire. John will step away June 28 after 40 years of service, while Sharon will retire July 31 after 43 years of service. Both have seen the Hokie Club grow from the days of asking for $10 per year and recording gifts manually to now where our staff raises tens of millions of dollars yearly and our gift accounting staff enters thousands of annual gifts online. Their commitment and dedication to Virginia Tech athletics cannot be measured in years of service or Hokie Club members served. I know that I have learned much from both of them and will miss them. They have earned this opportunity to retire and can now enjoy being a Hokie fan on Saturday afternoons. We wish them both good health and Godspeed as they begin a new journey.
The Hokie Club is pleased to announce that Ben Hill has joined our fundraising team as an associate director of development for intercollegiate athletics. Ben is a 1994 Virginia Tech graduate, earning his B.A. in urban affairs and planning. He has enjoyed a successful career in the insurance field and has been active in the Williamsburg community. He will be relocating his family to Blacksburg this summer and looks forward to getting started and meeting with Hokie Club members.
I hope everyone has an enjoyable summer and we will see you in Atlanta on August 31st.
Go Hokies,
Lu Merritt
Senior Director of Development for Intercollegiate Athletics