Behind Tomas Kruzliak's win in the hammer throw, the Tech men's track and field team finished in 19th place at the NCAA Outdoor Track and Field Championships
Tech's national dominance in the throwing events continued at the recent NCAA Outdoor Track and Championships in Eugene, Ore., as freshman Tomas Kruzliak won the national title in the hammer throw, giving the Hokies their seventh title in the event in the past nine years.
Behind Kruzliak and Jeff Artis-Gray's fifth-place finish in the long jump, the Tech men's team finished 19th nationally with 14 points. It marked the program's sixth straight top-20 finish.
"It's nice to be in that top-20 group," said Dave Cianelli, Tech's director of track and field and cross country. "We've been top 10, and we've been top five, but to be in the top 20 in the country is still a really good accomplishment, and it keeps our men's team in the mix of being one of the top 10-20 programs nationally. We'll continue to come here with the goal of being in the top 10, and hopefully next year when we come back here, we'll move up back into that top-10 group."
Kruzliak, from Nitra, Slovakia, garnered the most attention among the Tech contingent and deservedly so. He joined former Hokie and fellow countryman Marcel Lomnicky as the only Hokies to win a national championship during their first year on campus.
Kruzliak recorded a throw of 226 feet, 1 inch (68.92 meters) on his first attempt and then increased that mark to 227 feet, 3 inches (69.26 meters) on his second attempt. His second throw turned out to be the winner, as no other competitor threw the hammer more than 69 meters.
"I felt pretty good physically throughout the whole competition," Kruzliak said. "I was confident, not nervous, but I still believe that I could have thrown farther."
Kruzliak claimed Tech's 14th individual national championship. Of those 14, 11 have come in throwing events. Tech has won the national championship in the hammer throw in four of the past five years, including three straight. The past two years, Alexander Ziegler won the national championship in the hammer throw.
"It feels good," said Greg Jack, Tech's throws coach. "That's just what we do. It's an event we can excel at, and we've really shown that. We'll just continue to build on that from here."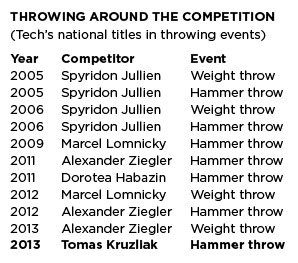 Competing in his last collegiate event, Artis-Gray finished fifth in the long jump, earning first-team All-America honors. The Chesapeake, Va., native's jump of 25 feet, 6.25 inches (7.78 meters) got him into the finals. Then in the finals, he moved up to fifth place with a mark of 25 feet, 9.25 inches (7.85 meters).
Four men's track and field athletes earned second-team All-America honors – Ronnie Black, Chris Uhle, Matthias Treff and Denis Mahmic.
Black, a senior from Newport News, Va., came in 11th in the high jump. His best jump was 7 feet, 2.5 inches (2.20 meters)
Uhle, a sophomore from Powell, Ohio, finished 15th in the pole vault. In his first attempt, he cleared 16 feet, 8.5 inches (5.1 meters), and then he set a personal record with a vault of 17 feet, 2.75 inches (5.25 meters) in his second attempt.
Treff, a redshirt senior from Burgthann, Germany, finished 15th in the javelin throw. His best throw was 217 feet, 6 inches (66.29 meters), but that wasn't quite good enough to get him in the finals.
Mahmic, a senior from Zagreb, Croatia, came in 17th in the hammer throw. His best throw was 202 feet, 11 inches.
On the women's side, Martina Schultze finished in eighth place in the pole vault to earn first-team All-America honors. The sophomore from Uhingen, Germany, cleared her first two heights of 13 feet, 3.5 inches (4.05 meters) and 13 feet, 7.25 inches (4.15 meters), and then she advanced after clearing 13 feet, 11.25 inches (4.25 meters). She moved on to 14 feet, 1.25 inches, but failed to clear the bar on three attempts and finished in eighth – five spots higher than her finish a year ago.
Annjulie Vester earned All-America honors after finishing 13th in the hammer throw. The sophomore from Homburg, Germany, posted a throw of 201 feet, 5 inches (61.41 meters) on her first throw, which turned out to be her best throw. She earned second-team All-America honors in her first appearance at the national meet.