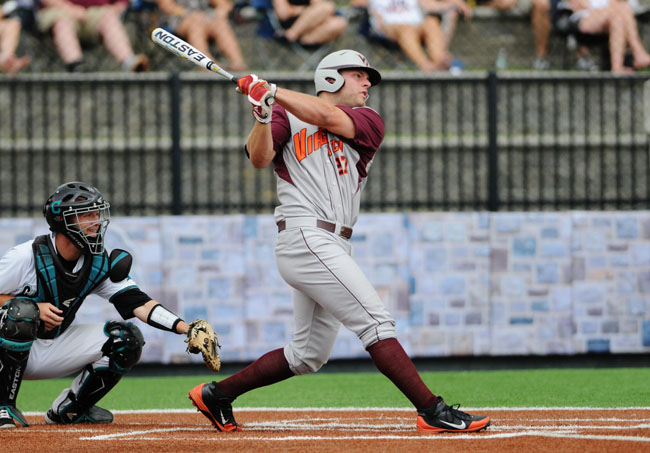 Tyler Horan | R-Junior | Middleboro, Mass.
For his exploits during the 2012 spring AND summer, Tyler Horan may have possessed a huge bull's eye on his back for the 2013 season. All he did was improve in almost every category and become Tech's 15th All-American in baseball.
Horan led the team with a .342 average and had 88 hits (tied for the fifth-most in a single season) in 257 at-bats (new school record). He hit 26 doubles (second-most all-time), four triples and tied for the team-lead with 11 home runs. His 155 total bases and .603 slugging percentage also led the team.
He was one of three Hokies to start in every game this year and his performance earned him an All-ACC first-team selection, an NCAA Blacksburg Regional All-Tournament team selection and a second-team Louisville Slugger All-America pick.
During the year, he was also named a Louisville Slugger National Player of the Week after a weekend that saw him smack four home runs in a pair of wins over Marist. That effort pushed his home run total to 10, and he became the first player since 2002 (Brad Bauder) to reach double figures in homers in back-to-back seasons.