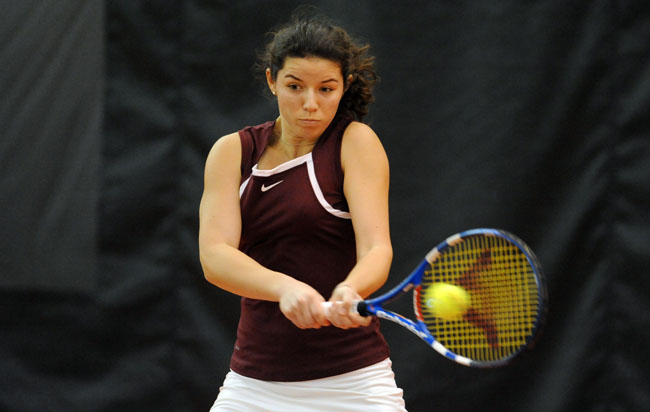 Ilinca Stoica | Freshman | Piatra Neamt, Romania
Illinca Stoica's overall singles record wasn't above .500, but she played all except two of her 59 matches – singles and doubles – at the No. 1 flight, and for what she what she accomplished as a freshman, she is the magazine's women's tennis athlete of the year.
Stoica posted a 12-12 mark in dual competition at the No. 1 spot and was 1-0 at the No. 2 flight, while finishing 1-3 in tournaments. She finished her first year with a 14-15 overall mark, was 4-7 against ACC competition and won two of the four matches the Hokies compiled this season against ranked opponents.
Stoica knocked off two top-55 opponents this past season. In early April, she knocked off then-No. 35 Joelle Kissell of NC State by scores of 6-3, 4-6, 1-0 (9) in the Hokies' 6-1 loss to the Wolfpack. Against Miami in mid-April, she defeated then-No. 53 Stephanie Wagner 6-0, 6-3, in the Hokies' 4-1 loss to the 'Canes. She also downed Louisville's Julia Fellerhoff 3-6, 7-5, 6-2, early in the season in Tech's 5-2 win over the Cardinals. Fellerhoff was ranked in the top 100.
Where she helped Tech the most was at the No. 1 doubles flight, pairing with fellow freshman Kelly Williford for a 13-9 record. Overall, Stoica was 17-13 as a doubles player.
The duo's best performances came in the ACC Championship, as they helped the Hokies win the doubles' point in a 4-3 win over No. 14 Duke in the opening round of the tournament. They were also squared at 5-5 against Virginia's No. 1 doubles team before the match was stopped because the point was decided.