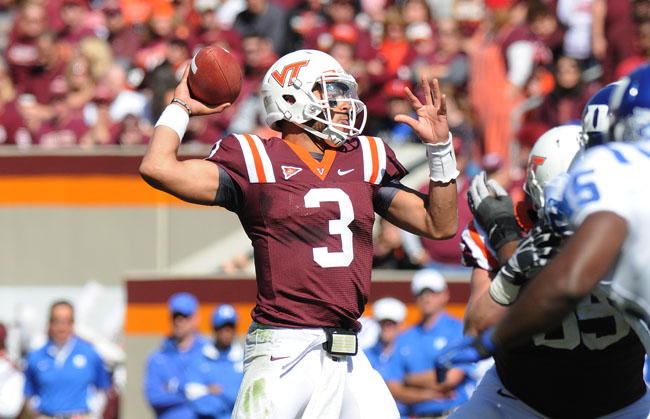 LOGAN THOMAS | R-Junior | Lynchburg, Va
Quarterbacking an offense that lacked experience this past season, Logan Thomas' numbers weren't quite as great as his phenomenal sophomore campaign. However, he still managed to shoehorn his way into the Tech record books, while guiding the Hokies to three season-ending victories, including a 13-10 win over Rutgers in the Russell Athletic Bowl.
Thomas completed 51.3 percent of his passes for 2,976 yards, with 18 touchdowns and 16 interceptions this past season. He also rushed for a team-leading 524 yards and nine touchdowns, thus playing a part in 27 of the Hokies' 38 touchdowns scored in 2012.
Thomas became the first Tech quarterback since 1965 (Bobby Owens) to lead the team in rushing. He also eclipsed his own single-season school record for total offense. His 3,500 total yards surpassed the mark of 3,482 that he set last season.
He also moved into third place at Tech in career passing yards with 6,096 and needs only 922 yards in his final season to surge ahead of Tyrod Taylor (7,017) and Bryan Randall (6,508) and move into first place on the all-time list. In fact, barring injury, Thomas should hold records for career passing yards and career total offense by the time his career ends at the conclusion of the 2013 season.