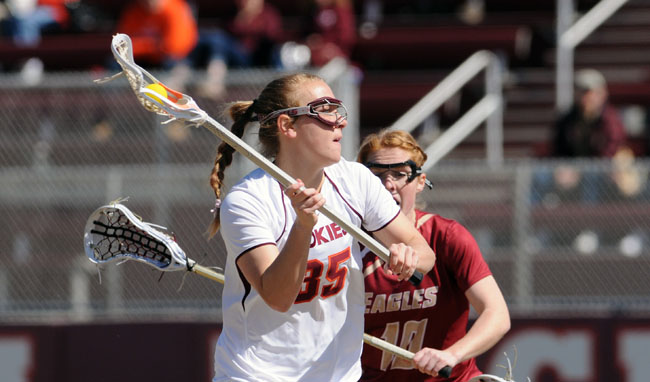 Megan Will | Sophomore | Bel Air, Md.
The Virginia Tech lacrosse team went 8-8 this past season, and a lot of credit for that goes to Megan Will, who handled a lot of the scoring duties for the Hokies.
Will started all 16 games for Tech at one of the attack positions, scoring 42 goals and handing out 12 assists for 54 points. She led the team in goals scored and points, while finishing third on the team in assists. Her 70 shots on goal led the team.
Will's best game came on the Hokies' spring break trip to California when she scored a career-high six goals in Tech's 16-7 victory over UC Davis. She equaled her career high of six goals in the Hokies' 14-8 win over Longwood. In that match, she tallied a career-high eight points (six goals and two assists).
Will also had big games against Liberty, Old Dominion and Davidson. She scored five goals against Liberty and added four each against ODU and Davidson. She scored at least one goal in 13 of the Hokies' 16 matches.
Will goes into her junior season with 72 career goals and 91 total points.